Android Enterprise Recommended accelerates with more devices, new partners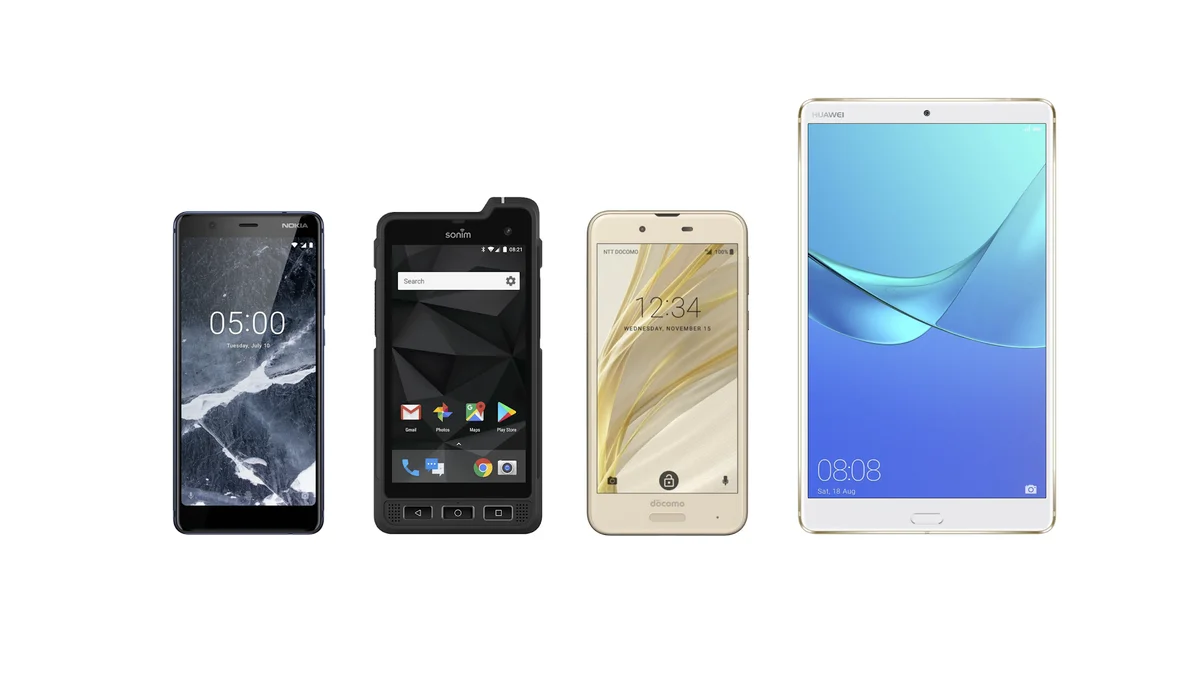 Recently we launched Android Enterprise Recommended, which gives customers confidence to select, deploy and manage devices that meet elevated enterprise requirements. The program empowers organizations to choose the right devices for their organization, knowing they will receive regular security updates and at least one major operating system update, work with zero-touch enrollment, and be available unlocked.
We started with devices from seven OEMs—including Sony, Huawei, LG, Motorola, BlackBerry, Nokia and Google. We're now expanding the program with new devices and OEM partners:
The Huawei M5 8.4 and 10.8 are the first tablets validated as Android Enterprise Recommended.

Two new OEMs have joined the program: Sharp, with the AQUOS SH-01K, and Sonim with the XP8.

Existing Android Enterprise Recommended partners have added more devices as well: Sony's Xperia XZ2 and XZ2 Compact; Motorola's Moto G6, Moto G6 Plus and Z3 Play; Huawei's P20 and P20 Pro; BlackBerry's Key2; and the Nokia 3.1, Nokia 5.1, Nokia 6, Nokia 7 Plus, and Nokia 8 Sirocco from HMD.
With these additions, we now have 39 devices from nine OEMs across a number of price points, from flagship devices to fleet phones to tablets that can be used to make global workers productive.
Companies worldwide have begun updating their device programs around the Android Enterprise Recommended requirements. HSBC, one of the world's largest banking and financial institutions, is using Android Enterprise Recommended to offer their teams a range of devices that meet enterprise-level requirements.
"We are only going to consider supporting Android Enterprise Recommended devices within our ecosystem." says John Burton, head of product management for client services with HSBC. "For us, that means we can set a baseline for the manageability of the device, the way it's enrolled, level of security patching it gets, and the consistency of the device."
Analytics firm SAS has also turned to Android Enterprise Recommended program to guide its teams to choose devices that are secure and easy to manage.
"We typically have stayed pretty close to certain OEMs because they tended to do security patches and updates in a timely manner," says Jay Robinson, the company's information systems engineer for mobile. "But now Android Enterprise Recommended is essentially doing that for us. We can say, 'Hey, these are the devices that we recommend for a good management experience.'"
In a recent customer survey conducted by Google, 75 percent of respondents stated that the Android Enterprise Recommended program would play a key role in their future device decisions. The overall response to this program has been outstanding and we look forward to continuing to raise the bar across the Android ecosystem.