Android Enterprise invests big in security and controls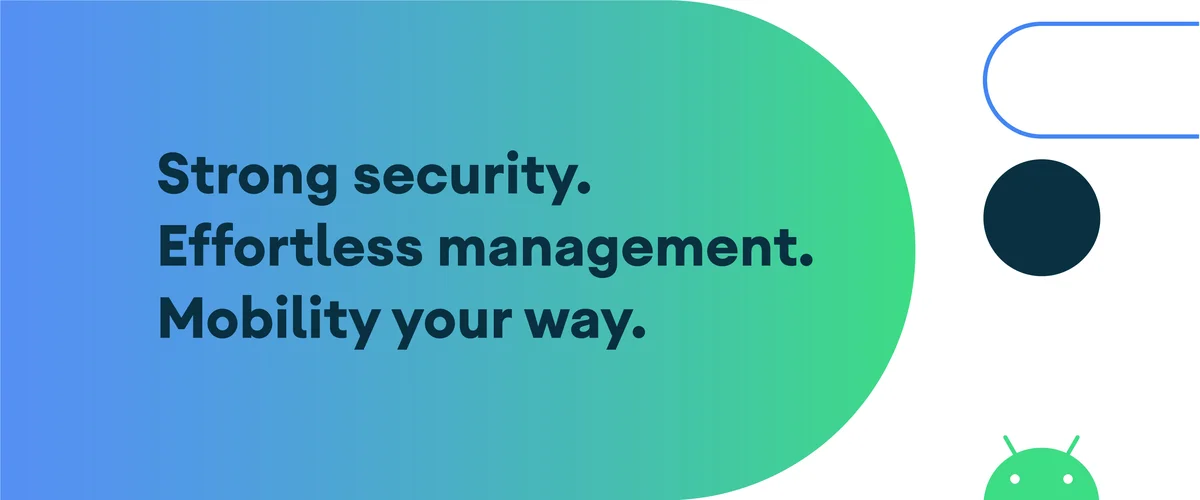 With hybrid and remote work as the new norm, effectively managing the growing number of mobile devices has become even more important for businesses. In fact, 84% of IT leaders are investing more in enterprise mobility, with mobile security and device management topping their list of priorities.
But just spending more on security and management solutions doesn't necessarily provide the right level of control over enterprise data. And it can often make device management overly complex and costly to maintain. For mobility to truly work in the long term, it's critical to balance strong platform security with effortless, flexible management that scales to specific needs around user choice, privacy and control.
Android Enterprise has made big investments to help businesses manage mobility on their terms, with strong, built-in and proactive security that is proven at scale; a spectrum of capabilities for every business; and effortless, consistent and cost-effective management. Today, we're sharing a number of new features and updates to help you successfully balance your needs and achieve your mobility goals with Android Enterprise.
A platform you can trust
For years, we've developed multiple layers of security for business customers — from hardware to Google security services and enterprise management tools. In fact, research firm Gartner has consistently awarded the highest security ratings for a mobile OS to Android's operating system with Google apps and services.
Android 12 extends our commitment to the multi-layered protections of Android.
With Android 12, we're introducing even more features for enterprise customers — including improving password complexity controls to make it easier to protect company data, and disabling USB signaling on company-owned devices to limit USB-based attacks. We've also launched additional privacy-preserving security controls for the Android work profile, like network logging of work apps. Read more about these Android 12 enterprise features.
Android 12 includes new privacy controls and transparency for employees
Android 12 already meets the most rigorous deployment requirements, including the United States Department of Defense's Security Technical Implementation Guide. And since we believe scrutiny and transparency are key to improving security, we've launched a new Android Enterprise category as part of the Android Security Rewards Program. We're offering a reward of up to $250,000 for a full exploit on a Pixel device running Android Enterprise.
Expanded support for Zero Trust
As more mobile workers access data from remote devices outside of traditional security perimeters, companies are increasingly pursuing a Zero Trust security model. This means trust is never assumed, and access to corporate resources is continuously verified. We've developed many APIs and tools to support Zero Trust on Android, allowing organizations to tier access based on extensive device-based signals and security information.
We're now supercharging the role of identity providers in Zero Trust environments on Android. Connecting their first-hand understanding of the user with a full breadth of device trust signals, identity providers can build a comprehensive analysis of trustworthiness before granting access to corporate resources. To make this happen, we are working with industry leaders to move beyond WebView for authentication and embrace Custom Tabs, which we believe is the best way for developers to integrate authentication into their apps.
While WebView is a flexible and powerful component for rendering web content, Custom Tabs are more modern and full-featured, allowing identity providers to gather device trust signals, improve employee security and enable single-sign-on across apps and the web. We're partnering with ForgeRock, Microsoft, Okta, and Ping Identity to move the industry towards modernizing authentication.
Effortless management
Every organization is different, and has different management needs. So we've built a range of device management capabilities that can easily serve businesses across all sizes and sectors — whether you are managing a startup or a highly complex enterprise.
Android Management APi is the recommended method of management for customers and partners
For companies who use Android Enterprise with an Enterprise Mobility Management (EMM) solution, we're making management even more powerful, secure and user friendly with Android Management API. Built by the Android team at Google, this cloud-based API ensures customers receive the fastest delivery of all of our enterprise features, with best practices and Android Enterprise Recommended requirements set by default. And with the newly launched Android Management API Extensibility framework, EMMs can adjust Android Management API capabilities on the fly using on-device signals to trigger immediate policy changes and solve for unique and evolving business needs.
With this update, we're publicly recommending Android Management API to customers and partners as our preferred method of management. More than 60 EMMs — including Microsoft, Citrix, and Google Workspace — have already launched solutions based on Android Management API with many more coming soon.
For our customers with fewer management requirements and IT resources, we launched Android Enterprise Essentials earlier this year to help provide automatic security. We're now expanding reseller support to Mexico, Italy and Spain this quarter.
Separation for work and private life
One of the unique features of Android is the work profile, which has helped employees boost productivity, keep their personal apps and data private, and achieve a better work-life balance. And for organizations, it's improved security for business apps and data. Previously, the work profile was only available on managed devices. Now, we're planning to bring those same work profile benefits to unmanaged users with a business identity, too.
The Android work profile will become available to unmanaged Google Workspace users next year
This will eventually allow anyone using Android for business purposes to separate work and personal apps in one interface and pause all work-related apps in one click. This will be available to Google Workspace users first starting next year, with plans to expand to more identity providers soon after.
Join us for the Art of Control
On October 27, we're hosting a special event to talk about these new security and management solutions — and even more to come — to help you manage mobility your way. Register for the Art of Control, and find out how we're bringing together security and management into one, uncomplicated offering. You'll also hear from customers like the FBI, Walmart, and Schneider Electric about how they're using Android Enterprise to achieve effortless control.