Easy data protection with Android Enterprise Essentials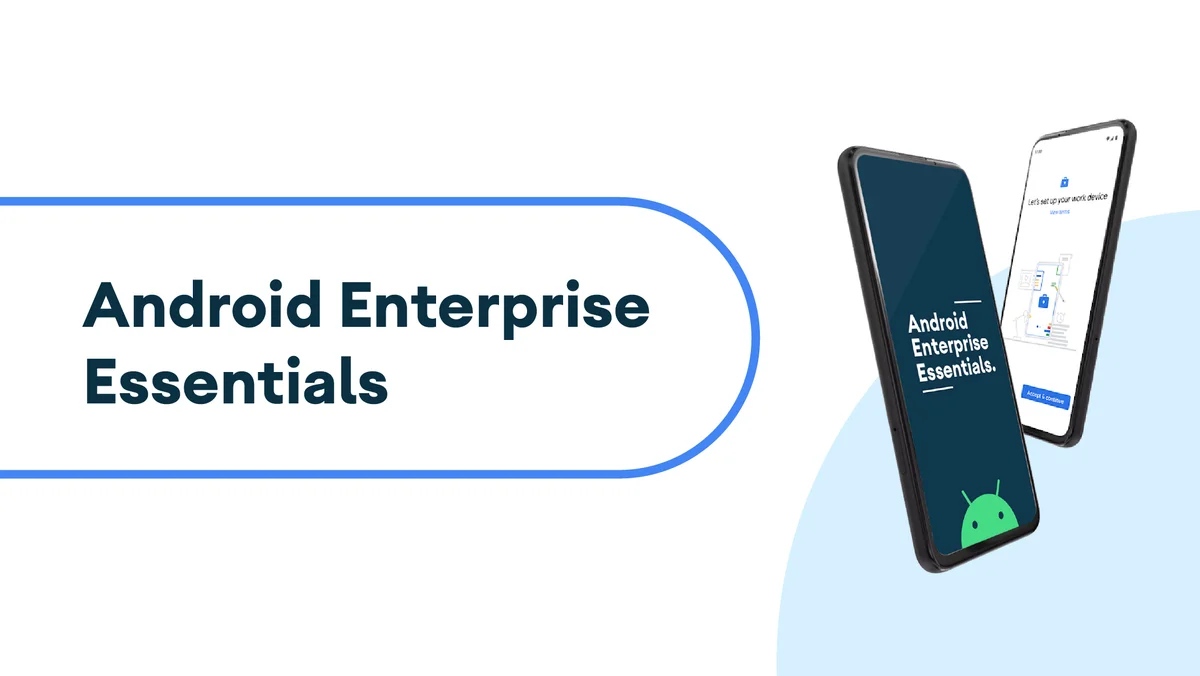 Mobility is critical to how businesses keep their teams connected, especially in a hybrid world where so many of us can work from anywhere. This trend is great for team productivity, and it gives businesses the tools they need to digitize their work and serve customers. 
Yet these businesses must be ever mindful of threats to device security — 47% of companies have seen an increase in cyberattacks since the work from home shift began. 
Security breaches can be devastating for any organization, especially with mobile devices being linked to a company's sensitive data. But unfortunately small to medium-sized businesses (SMBs) are less able to absorb the high costs of these security breaches. According to a National Cyber Security Alliance survey, after experiencing a breach, 10% of SMBs file for bankruptcy and 25% go out of business.
With limited budgets and IT resources, most SMBs must choose between management products that are costly and overly complex for their needs, or no protection at all. 
At Google, we take a security-first approach to our products, and are committed to helping businesses of all sizes keep their data safe and secure. That is why we built Android Enterprise Essentials — an automatic and affordable security service for businesses with simpler needs.  Essentials is designed and built by the Android team at Google, guided by our deep experience creating secure and helpful solutions for organizations. We've put the needs and realities of SMBs first to create a streamlined set of security and management defaults at an affordable price.


Available in more markets
After offering early access to Essentials through our launch partners, it is now generally available through additional partners in the U.S., the U.K, Japan, France and Germany, with more countries coming soon.
Essentials makes securing and managing devices a breeze. Devices with Essentials are automatically enabled with critical features enabled like remote wiping lost or stolen devices and enforcing a screen lock or preventing sideloading of applications. You can send devices directly to your employees, who can automatically set them up and put them to use right away with no training required. If you ever need to take action, you can view and manage devices via an easy-to-use, streamlined portal. And it all comes at an affordable price, with no additional IT investment required.
Essentials also works for larger organizations that wish to extend core protections to devices that don't need advanced device management. Essentials can serve as a starting point for customers who want to try out simple management at first, and consider upgrading to more sophisticated management solutions in the future.


Simple solutions for customers
National Services for Health Improvement (NSHI) is a U.K.-based organization focused on improving patient outcomes for its network of global healthcare clients. Essentials provided a quick method to mobilize its teams without a complex setup process.
Having Essentials applied to devices out of the box means we don't need to worry about training employees or having to spend time setting it up.
Morris & Perry, an asphalt and concrete supplier that has been in operation in the U.K. since 1928, wanted to help its drivers stay connected and access important data throughout the day. Essentials offered them a simple path to select devices and quickly get them into employees' hands with security features like remote wipe and PIN reset automatically enabled.
"Setting up our devices with Android Enterprise Essentials was fast and easy," says Will Vincent, financial controller with Morris & Perry. "It significantly helped our operations, as we can remotely reset PIN codes while meeting our security guidelines."
Get started today
Essentials is now available through a wider network of resellers. We're pleased to welcome The Barcode Warehouse and Telserve in the U.K.; LDLC Pro, DAMS and Saphelec in France; Brodos and Everphone in Germany; Synnex in Japan and Vox Mobile in the U.S.
Essentials brings much needed tools that help make mobility more secure and accessible for businesses. Check out our
Essentials website
to learn more. And if you're interested in becoming an Essentials partner, please visit the
Android Enterprise Partner Portal
to register for our partner community.