How Android helps you work smarter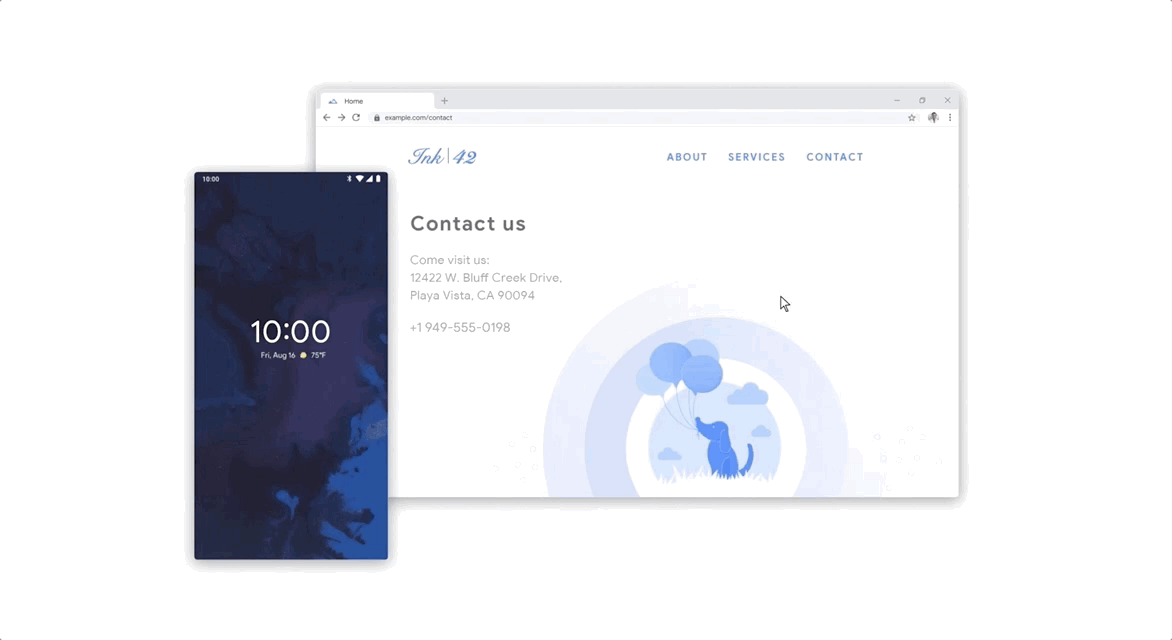 Technology should be there to assist you at work by solving problems in new ways. Android is built to be helpful with smart features that speed up everyday tasks and make work more accessible. From better communication tools to time-saving tricks, here are some of the ways that Android can help you be more productive. 


Faster dialing with Click to Call
Need to make a call while working from your laptop? Instead of awkwardly glancing back and forth between your computer and phone to punch in the number, which can easily lead to a misdial, Click to Call does all the work at once.
With Click to Call, you can send a phone number from the Chrome browser on your computer to your Android phone. Just right-click on the number, select your Android device from the menu, and this will send a push notification to your phone. Then tap the notification and the  dial button to start the call. Make sure you're signed in to sync on both devices.
Make phone calls quickly with Click to Call.
Save time with Smart Reply
In Android 10, Smart Reply gives recommended actions based on the content of a message you receive. For example, if a colleague sends you the address of a client meeting, Android will pull up directions in Google Maps. Or if you receive a Hangouts Chat message with a link to a Google Doc, you can open it directly and start editing. Smart Reply works in messaging apps like Hangouts Chat, Messages, and many third-party apps such as Signal.
Smart Reply sends you directly to just the right app.
Enhance communication with speech to text apps
Live Transcribe and Live Caption help you capture and follow conversations, presentations, or meetings. As part of Android's accessibility suite of tools, Live Transcribe captions speech in real time on screen and, if you choose to, saves the transcriptions on your device for up to three days. The app can help the deaf people and people with hearing loss more easily participate in conversations. Additionally, for business meetings it can provide clarity in communicating when one or more of the participants are not native speakers to the language used in the conversation.
Spoken words appear on your device with Live Transcribe.
Live Transcribe is available in the Play Store for all devices Android 5.0 and up. On Pixel 3 and Pixel 4 devices, the service can be enabled from the accessibility settings.
Live Caption, introduced in Android 10, automatically captions any media playing in real time on your device, even if you're offline. It's helpful for situations where you need to catch a company presentation or webinar, but it's not convenient to play the audio because you don't have headphones on you. Live Caption gives deaf people and people with hearing loss another accessibility tool for following along with a video conference or company presentation.
Live Caption is available on Pixel 3, Pixel 3a, and Pixel 4 devices running Android 10, and is coming to the Galaxy S20.
These are among the many ways Android is here to help and strives to provide new solutions for everything you need to get done throughout the day. Learn more about how Android is ready for work and transforming how businesses get things done.