How Android Enterprise helps IIFL Finance stay mobile and secure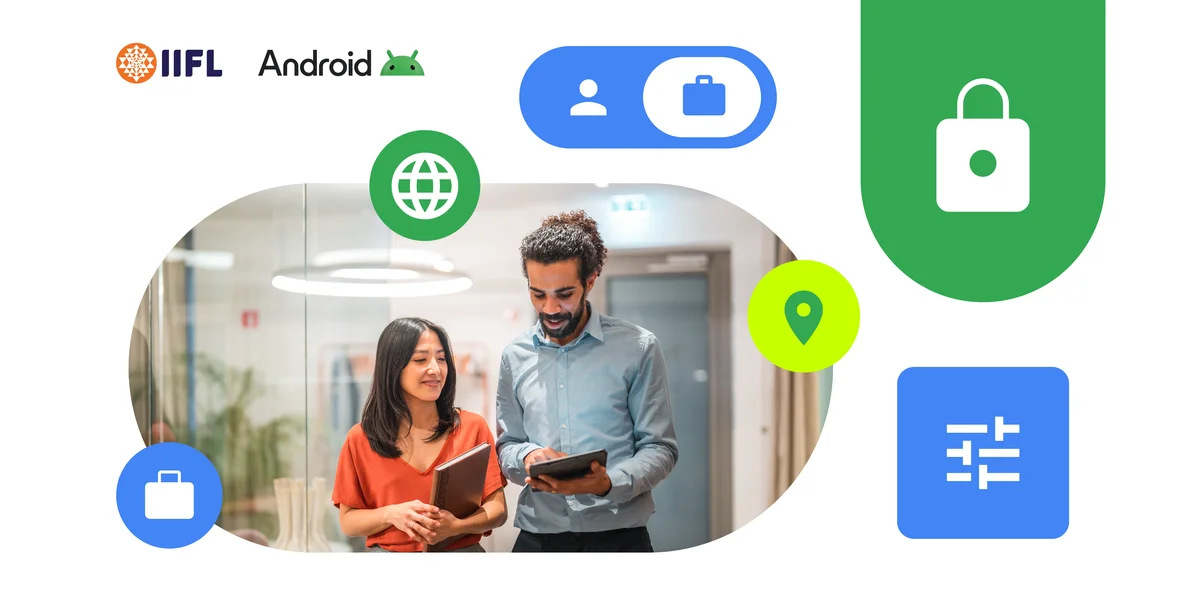 Editor's note: Today's post is by Godfrey Francis, Head of Digital Workplace at IIFL Finance. IIFL, based in Mumbai with more than 2,600 branches across 500 cities in India, provides services like financing, investment banking, wealth and asset management.
It's a tall order to provide our employees with devices that solve for mobility and data security — and also save time when it comes to provisioning and management.
We chose Android Lenovo tablets with Zoho Manage Engine Mobile Device Manager Plus because they met all of our needs at once: They're lightweight for a mobile workforce, easy for IT teams to manage, packed with the required computing power and help us stay compliant with data security requirements.
Easy management for a distributed workforce
Previously, securing laptops and desktops was time-intensive for our IT team of about 18 people, requiring frequent travel to IIFL offices. The devices needed antivirus apps, updates and software licenses installed so they'd be work-ready and compliant with industry standards.
So for our new solution, we needed devices that could be centrally managed and provisioned for our dispersed workforce. We also needed to ensure clients' private financial information stayed secure, especially as employees traveled between branches to meet with customers and colleagues.
Zero-touch enrollment1 makes it simple for us to enroll and deploy new devices. Once a device is set up, our IT team can manage it through a centralized dashboard and control policies for all devices to ensure security. And with Managed Google Play, we can control where and how apps are distributed — another tool for maintaining safety and security.
Protected customer data and employee privacy
Android Work Profile gives employees the option to use a managed device for both personal and work purposes, keeping business data secure while protecting employee privacy. In the managed Work Profile, we can remotely configure the settings and policies. For instance, we define which apps employees can access in the Work Profile without placing restrictions on the apps they can use in their personal profile.
Conversely, if an employee wants to use their personal device to access corporate apps like email, we can create a dedicated Work Profile on their device that's fully managed by us. And we can remotely configure the Work Profile settings, such as disabling screenshots or blocking cutting and pasting. When an employee leaves IIFL, we simply delete the Work Profile, keeping company data secure without impacting their personal device.
Customized and granular controls
With Android Enterprise, we have access to granular controls to set policies, permissions and settings by user profile for a large number of devices. That includes displaying notification messages on devices with their International Mobile Equipment Identity number and the user's name. So if we recover a lost or stolen device, we can easily identify its owner. If we can't recover a lost device, we remotely wipe it to clear all corporate information. We can also monitor which users haven't brought their managed tablets online in a couple of months. If devices aren't being used, we ask employees to surrender them.
As a financial organization, we also undergo regular audits and compliance activities run by governance teams. With the Android Management API and Manage Engine Device Manager Plus, it's easy to change policies and manage devices to keep up with the industry's evolving regulatory and security requirements.
The Android devices are user-friendly for both employees and our IT teams, who have management and compliance top of mind. And when we save time, we gain more time to serve clients, no matter where their financial future takes them.
Want to learn more? Find out why financial services companies choose Android Enterprise.