Schneider Electric secures its teams through Android Enterprise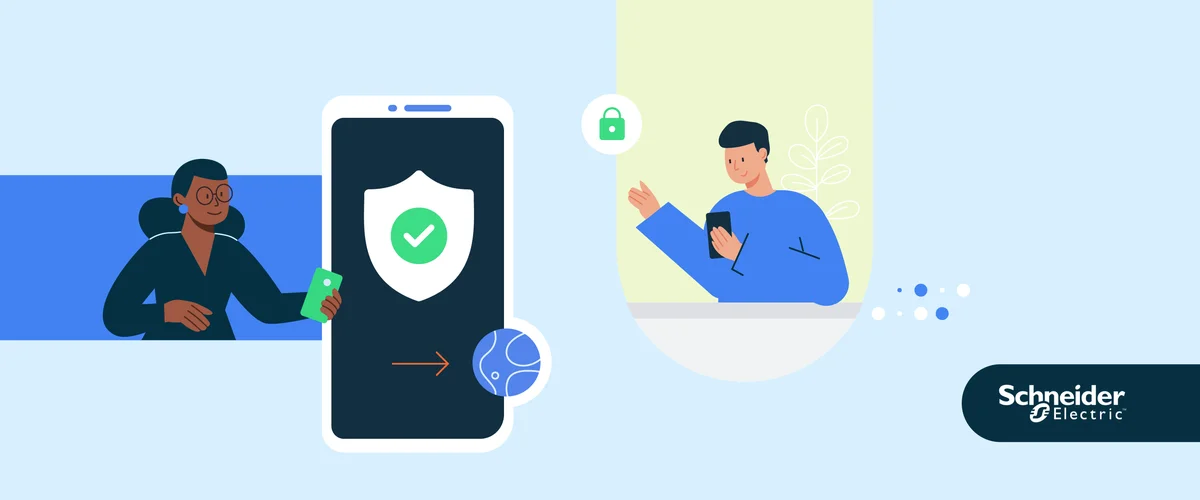 Editor's note: Today's post is by Simon Hardy-Bistagne, Director of Solution Architecture for Schneider Electric. The global company specializes in energy management and automation, with operations in more than 100 countries.
At Schneider Electric, we are responsible for providing sustainability and energy management systems for a global customer base. As the Director of Solution Architecture for our digital workplace, I lead a team that ensures our employees have access to all of the collaborative tools they need from wherever they're working.
Android Enterprise is key to securely and flexibly managing Schneider Electric's global workforce devices. We support a wide range of device-use scenarios for our employees, from fully-managed devices to personal smartphones securely enrolled with the Android work profile. The extensive, customizable and secure controls available with Android Enterprise ensure we are giving our teams the resources they need no matter where they're working while protecting critical corporate applications and data.
Flexibility for every use case
We manage devices in over 117 countries. Android Enterprise has helped us shift to new working styles and embrace employee choice and work-life balance with powerful controls that meet our security needs. By enrolling personal devices with the Android work profile, we know that we are not only protecting our data and services, but we can prove to our employees that, with the work profile, "What you have here is your work life, what you have here is your personal life." And that has revolutionized the way our teams use their mobile devices.
Security is at the core of everything we do, both from the perspective of servicing our customers and protecting our own corporate resources. So when we talk about implementing security and management services through Android Enterprise, it's fundamental to get those basics right. Through Android Enterprise, we have powerful tools for safeguarding devices — like preventing the installation of unknown applications, disabling debug mode and preventing devices from being rooted. Putting these requirements and other key security configurations in place for both personal and company-owned devices is essential for our global business.
Thanks to the flexibility of Android Enterprise, we can also support a wide range of device use cases. For some employees, we use fully-managed mode for devices dedicated to specific tasks. Others who only want one phone for work and personal use can use a device with the work profile. And with managed Google Play, we can make both internal and public apps available on devices.
Ready for a hybrid work reality
Enrollment choice is important as well. We use devices from a variety of vendors, and we can set up those devices with the method that works best for each situation — like zero-touch enrollment or Samsung Knox Mobile Enrollment. With these options, end users can get the applications they need on their corporate devices and use them right away.
We also value the flexibility of allowing our end users to purchase their own Android device, or ask our IT team to enroll a personal device they've used for a couple of years. They can bring their device and easily enroll it into our managed estate with Android Enterprise.
Hybrid work is our present and future, and Android Enterprise is helping us navigate that. It gives our employees the flexibility in device choice and management mode, and it gives my team comprehensive and effortless management tools that meet the security needs of our global operations.
To hear more about our mobility strategy, watch my discussion with Android Enterprise Security Specialist Mike Burr from The Art of Control digital event.