Android Wear 2.0: Make the most of every minute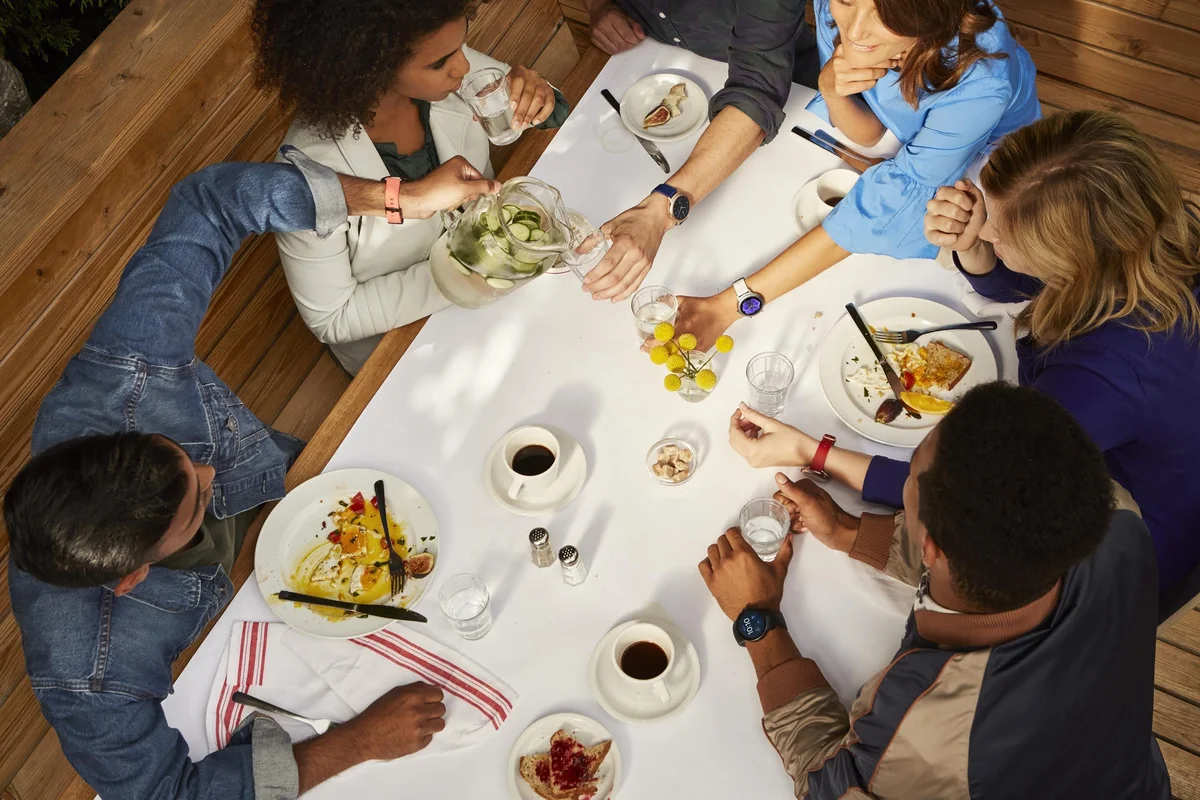 While traditional watches tell the time, Android Wear watches make the most of your time. In an instant, you can check when and where you're meeting a friend, whether you'll need an umbrella tonight, or how many minutes you've been active today—all without reaching for your phone. Today, we're announcing Android Wear 2.0 to give you more informative watch faces, better workouts, new ways to use apps, more ways to stay in touch and on-the-go help from the Google Assistant. We're also introducing two new watches that run Android Wear 2.0.
More personalized, helpful watch faces
You can now personalize your Android Wear always-on watch face with information and actions from your favorite apps. Simply glance at your wrist to check your next appointment, stock performance, progress on fitness goals, or whatever is important to you. A quick tap on your watch face lets you instantly order an Uber ride, start a workout, or get in touch with your significant other. Interested in different info throughout the day? Just swipe to switch your watch face as you go from the office to the gym to dinner with friends and home again.
Better ways to work out
Google Fit, the pre-installed fitness app on most Android Wear watches, now lets you track your pace, distance, calories burned and heart rate* as you're walking, running or cycling. You can also measure weight-lifting reps, in addition to push-ups, sit-ups and squats. When you work out with a cellular-connected Android Wear watch, you can stay in touch with calls and messages, stream tunes from Google Play Music and still use your favorite apps right on your watch.
New ways to use apps
With Android Wear 2.0, you can choose which apps you want on your watch and download them directly from the new on-watch Google Play Store. If your watch has a cellular connection, you can make calls and use your watch apps no matter where your phone is. Whether you use an Android phone or iPhone, you'll be able to use apps built for Android Wear 2.0, like AccuWeather, Android Pay*, Bring!, Foursquare, Google Fit, Google Messenger, Google Play Music, Lifesum, Robinhood, Runkeeper, Runtastic, Strava, Telegram, Uber and many more.
More ways to respond to messages
Now it's easier than ever to read and respond to a message right from your watch. When you receive a message, you can expand the notification and tap to respond by dictating, typing or handwriting your answer, or drawing an emoji. Try it out on apps like Facebook Messenger, Glide, Google Messenger, Hangouts, Telegram or WhatsApp. Need to respond quickly and discreetly? Use Smart Reply, which instantly and intelligently suggests different responses based on the message you received.
The Google Assistant on your wrist
Android Wear 2.0 brings the Google Assistant to your wrist, so you can find answers and get things done—hands free. Ask your Google Assistant about the weather or remind yourself to bring an umbrella. Make a restaurant reservation or navigate to work. You can even update your shopping list right from your wrist. To ask for help, just hold down the power button on your watch or say "Ok Google." The Google Assistant is available in English and German on Android Wear and will be available in other languages in the coming months.

Introducing LG Watch Style and LG Watch Sport
The first watches with Android Wear 2.0 are the LG Watch Style and LG Watch Sport—both designed in collaboration with Google.
The LG Watch Style is thin, light, beautiful to look at, and comfortable to wear. It's available in three classic designs and finishes—silver, rose gold and titanium—and compatible with snap-and-swap 18mm leather and silicone bands out of the box, so you can quickly switch bands to match your look or the occasion. The rotating power button lets you easily scroll through your stream, bring up the app launcher, or get help from your Google Assistant.
The LG Watch Sport is Android Wear's most powerful watch yet. Available in titanium and dark blue, the LG Watch Sport comes with a high performance elastomer strap, NFC for payments, GPS for tracking exercise and navigation, a heart rate sensor for your workouts, and cellular connectivity. With dedicated buttons for Google Fit and Android Pay, plus a rotating power button, it lets you instantly launch your favorite apps. From phone calls to payments, LG Watch Sport is pretty much everything you need whether you're running the trails or just running some errands.
If you're in the U.S., you can find the LG Watch Style at Best Buy and the Google Store and the LG Watch Sport at AT&T, Verizon and the Google Store, starting February 10. These watches will be available at carriers and retailers across Canada, Russia, Saudi Arabia, South Africa, South Korea, Taiwan, UAE and UK in the coming weeks.
Android Wear 2.0 will be available for all supported watches in the coming weeks. We hope Android Wear 2.0 lets you stay more informed, organized, healthy and connected to what matters most.
*  Some features require hardware sensors which are not available on all Android Wear watches.
---
Current watches getting Android Wear 2.0 include: ASUS ZenWatch 2 & 3, Casio Smart Outdoor Watch, Casio PRO TREK Smart, Fossil Q Founder, Fossil Q Marshal, Fossil Q Wander, Huawei Watch, LG G Watch R, LG Watch Urbane & 2nd Edition LTE, Michael Kors Access Smartwatches, Moto 360 2nd Gen, Moto 360 for Women, Moto 360 Sport, New Balance RunIQ, Nixon Mission, Polar M600 and TAG Heuer Connected.