Android
A dozen things to love in Android 12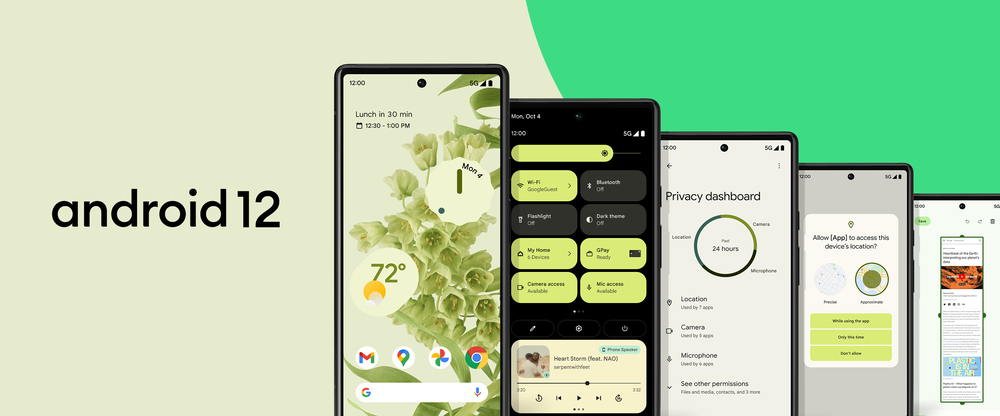 Android 12, which starts rolling out on Pixel 3 and above today, delivers even more personal, safe and effortless experiences on your device. It features a totally reimagined and personalized user interface, new privacy features that are designed for your safety, and more seamless ways to get right into your gameplay or even switch to a new device. Here are a dozen of our favorite new features that are coming to Android 12:
Our most personal OS yet
Three phones each showing a series of widgets on a green floral homescreen

Material You brings redesigned widgets that are dynamic and customizable.

Four phones showing the new Material You design across different phone UI surfaces

Change your wallpaper and see the entire Android 12 experience change to match its colors.

A phone zoomed in on a weather widget in the middle of the screen

A new window magnifier lets you zoom in on a part of your screen.
When you change your wallpaper, the entire Android 12 experience changes to match its colors, thanks to advanced color extraction algorithms and the gorgeous Material You design. Easily personalize the look and feel of your entire phone, including the lockscreen, notifications, settings, widgets and even apps. This new dynamic color experience is available on Pixel first and will be coming to more device makers and phones soon.

Make way for new widgets! Material You brings redesigned widgets that are more dynamic and customizable than ever. By the end of this month, you'll be able to try out over a dozen totally new or refreshed widgets from your favorite Google apps right on your home screen.

New visibility features make Android 12 more accessible than ever. A new window magnifier lets you zoom in on a part of your screen while preserving the rest of the screen context. Extra dim screen lighting is perfect for night-time scrolling or other situations when even the lowest brightness setting is too bright. You can even adjust text to bold or colors to grayscale for easier reading.
Privacy that puts you in control
Phone showing a video recording and microphone & camera indicators popping up in the status bar

A new indicator will tell you when an app is using your microphone or camera.

Phone toggling between precise and approximate permission options.

Choose between giving apps access to your precise location, or an approximate location.

Phone showing the new privacy dashboard which highlights location, camera and microphone permissions usage.

With the new privacy dashboard, you can check your privacy permissions in one place.
4. You can now see when an app is using your microphone or camera thanks to a new indicator in your phone's status bar. And if you don't want any apps to access your microphone or camera, you can completely disable those sensors using two new toggles in Quick Settings. Simply flip the switch.
5. Keep your precise location private. Android 12 allows you to choose between giving apps access to your precise location or an approximate location instead.
6. Check out your privacy permissions at a glance. A new privacy dashboard gives you a clear and comprehensive view of when apps access your location, camera or mic over the past 24 hours. If you see anything that you're not comfortable with, you can manage permissions right from the dashboard.
7. While your wireless headphones need to connect to your phone, they probably don't need to know where you are. New Bluetooth permissions in Android 12 allow companion apps to connect to devices like watches or headphones without needing to access your location information.
8. Have apps that you haven't used in a while, or forgot about? Unused apps' permissions are reset and cached files are removed to help free up space on your device.
Making everything on your phone a little easier
A phone showing a screenshot getting extended across a page.

Capture all the content on the page in one screenshot.

Two phones showing simultaneous downloads of the same game. The phone of the right jumps into gameplay while the phone of the left continues to download

Some games will allow you to get into gameplay right away while you still download.

A set of phones showing a Wi-Fi password being shared across devices using nearby share

Nearby Share now makes it easier to share Wi-Fi passwords.
9. Just because you reach the end of your screen doesn't mean you need to reach the end of your screenshot. New scrolling screenshots will allow you to capture all the content on the page in one image.
10. Spend more time playing and less time waiting for game downloads. In Android 12, select games will allow you to play as you download, so you can jump straight into gameplay without needing to wait for the full download to finish.
11. Wi-Fi credential sharing is getting a whole lot easier. No need to find that old sticky note with your passwords or make your friend type in a complicated combination of characters to login to your WiFi. With Nearby Share, just open your Wi-Fi settings, select the network you want, and tap "Share."
12. Android 12 makes it easier than ever to transfer all your essentials, memories, messages and data to a new Android phone. All that's needed is a Wi-Fi connection to transfer from your old phone, or your phone's cable if you're switching over from an iPhone.
Android 12 is packed with lots of other great features that you can learn more about at android.com/12. In addition to the rollout to Pixel devices today, Android 12 will be coming to Samsung Galaxy, OnePlus, Oppo, Realme, Tecno, Vivo, Xiaomi devices and more later this year.