Celebrating a Sweet Decade of Android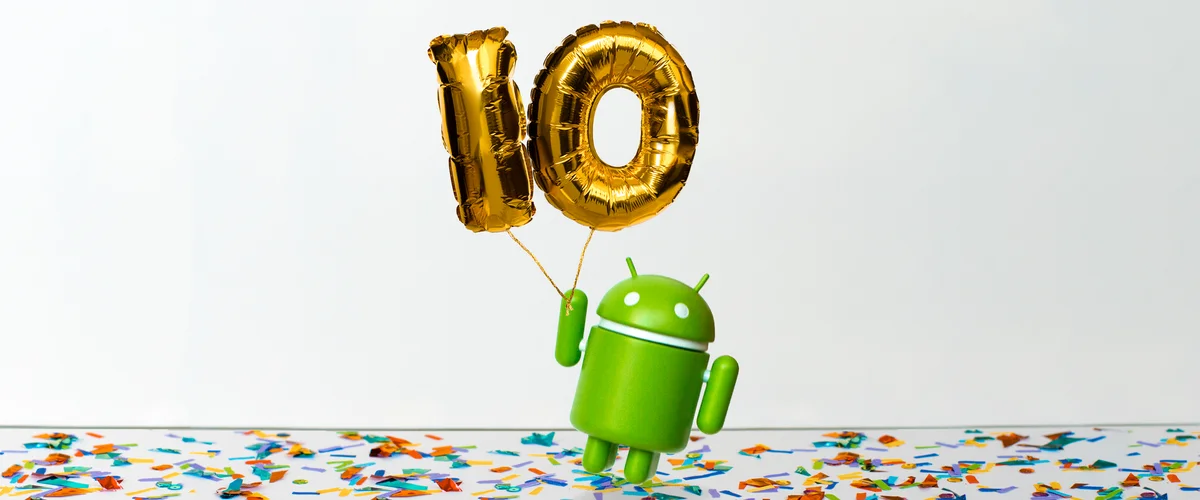 Ten years ago, we introduced the first version of the Android operating system with the T-Mobile G1, and launched Android Market (now Google Play) the very same day. Android has grown up a lot since then—there are now more than 2 billion active Android devices around the world.
The operating system itself has gone through some major transformations, too. The G1 ran on Android 1.0—a version so early, we didn't even name it after a dessert. The debut included features that you know and love today like pull-down notifications, sharing content across apps and multitasking between apps. But it didn't have more advanced features like voice search, turn-by-turn navigation or NFC. 10 years later, we've come a long way! Our latest release of the operating system, Android 9 Pie, has all of those features and harnesses the power of artificial intelligence to make your phone smarter, simpler and more adaptive.

On the occasion of Android's 10th birthday, we're taking a trip down memory lane to look at the earliest versions of Android, the major improvements of each release and how far we've come:

Cupcake (Android 1.5) added virtual keyboards, customization options and easy ways to share.
With the introduction of virtual keyboards, Cupcake opened the doors to full touchscreen Android devices. And with home screen app widgets, you had more ways to customize your device, a defining feature still used today, alongside app folders. Sharing directly from your smartphone became easier with more ways to copy and paste and the ability to capture, share and upload videos.
Donut (Android 1.6) gave you one easy place to search across your phone and the web.
Donut introduced Android's Quick Search Box, which lets you get search results from both the web and across your phone, from a single box on the homescreen. Even in these early days, the system was designed to learn which search results were more relevant, getting you to the right results faster the next time you typed in a relevant query. We also introduced support for different screen densities and sizes, laying the foundation for the very high density screens and variety of phone sizes we see today.
Eclair (Android 2.0+) changed driving forever with Google Maps navigation and speech-to-text.
Google Maps navigation made Android smartphones, well, smart. Turn-by-turn directions using Google Maps data included many features found in a typical in-car navigation system: a forward-looking 3D view, voice guidance and traffic information—all for free on your high resolution phone. Eclair also added speech-to-text transcription, which lets you input text like emails and messages with your voice.
We also introduced a fan favorite feature: live wallpapers.

Voice Actions in Froyo (Android 2.2+) helped you do even more hands-free.
Froyo took Android voice capabilities to the next level with Voice Actions, which let you perform key functions on your phone—searching, getting directions, making notes, setting alarms and more—with just the sound of your voice. Sounds familiar…
Gingerbread (Android 2.3) added early battery management capabilities.
Gingerbread helped you get the most out of your battery life by knowing exactly how your device was using it, from screen brightness to any active app. With Android 9, we've taken battery life management to a whole new level with Adaptive Battery, which uses AI to learn the apps you use most and prioritize battery for them.
Honeycomb (Android 3.0) extended Android to more shapes and sizes.
Honeycomb's new Holo design language, along with larger layout and rich animation support, made the most of your tablet's screen. This was the first version of Android that was intended for different form factors, laying the groundwork for more robust and flexible platforms introduced later, like Android TV, Android Auto, Android Things and Wear OS by Google.
Ice Cream Sandwich (Android 4.0) introduced smooth moves
Ice Cream Sandwich introduced a simplified and streamlined design to help you get things done on your phone faster. New features like app folders, a favorites tray and widgets made it easier to find and use your favorite apps. The addition of NFC didn't just pave the way for mobile payments—it also made
"beaming"
of maps, videos, links and contacts easy by placing two phones together.
Navigation became more intuitive with the arrival of quick settings and the ability to swipe to dismiss recent apps and notifications, features first introduced in tablets with Honeycomb, brought to phones. This release reflected a renewed focus on creating fluid experiences in Android—an effort that continues to this day with intuitive gestures in Android 9.

Jelly Bean (Android 4.1) brought personalized and intelligent assistance to the palm of your hand
A precursor to the Google Assistant, Google Now in Jelly Bean helped you get the information you needed at just the right time—like the daily weather as you got dressed and commute times before you walked out the door. Notifications became richer, allowing you to expand them to show more content and immediately take actions, such as liking a post, archiving an email or even blocking future notifications.
Ok Google, tell me about KitKat (Android 4.4)
KitKat built on the earlier Voice actions, uniting the helpfulness of Google Now with improvements in voice technology and letting you launch voice search, send a text, get directions, or play a song just by saying "Ok Google." KitKat also brought lighter colors and transparency to Android's design, setting the stage for Material Design in Lollipop.
Android 5.0's Lollipop brought great design to Android
With Lollipop, we brought Material Design to Android, introducing an entirely new look and feel that made it easier to navigate your device. Material Design is a visual language that combines the classic principles of good design with the innovation of technology and science. Lollipop also made it more seamless to transition across the devices that you use throughout the day, so that you can pick up where you left off across Android phones, tablets, TV and wearables.
Help was on tap in Android 6.0 Marshmallow
Marshmallow represented another next step in the journey to the Google Assistant we know today. With Now on Tap, you could simply tap and hold the Home button to get contextual help—customized to your task at hand, without having to leave what you were doing, whether in an app or on a website.
To help save your juice for the things that matter most, Marshmallow brought some new battery saving features: Doze, which automatically puts your device into a sleep state when it's at rest, and App Standby, which limits the impact of less frequently used apps on battery life.

We also introduced run-time permissions, which help users better understand and evaluate requests for apps to have access to certain data.

N was for Nougat (Android 7.0) and new emoji
Nougat focused on improvements to the ways you were already using your phone—adding multi-window to let you run two apps side by side, instant reply within notifications, adjustable display size for improved accessibility, and Data Saver which limits how much data your devices uses on background. We also introduced VR mode to enable high-quality VR experiences for apps, and 63 new emoji that focus on better gender representation—in all six skin tone options. 🙌
The world's favorite cookie became the world's favorite new Android release—Android 8.0 Oreo
Oreo introduced ways to navigate tasks on your phone more seamlessly, like picture-in-picture, and Autofill, which helps you log into your apps faster. Oreo also continued to simplify the Android experience with more visual cohesion and easier gestures—like swiping up from the homescreen to see all your apps.
And with Oreo (Go edition), we built our first-ever configuration of Android specifically optimized for entry-level devices, ensuring that first-time smartphone users get a fast, powerful experience.

Android 9 Pie serves a slice of Digital Wellbeing
The way we use our phones—and how much time we spend on them—has changed a lot since the days of Cupcake. So one of the biggest changes in Android 9 Pie is the introduction of new ways for you to take control of your digital wellbeing, including a new app timer and a dashboard that lets you see how much time you spend in various apps. With Android 9, your phone also changes the way it works by learning from you—and working better for you—the more you use it. Artificial intelligence now powers core capabilities of your phone, from predicting your next task so you can jump right into the action you want to take to prioritizing battery power for the apps you use most and the ones it thinks you are going to use soon.
From the early days of Voice Actions with speech-to-text to an increasingly helpful smartphone with AI at its core, Android has continued to evolve over the past 10 years. And thanks to our open-source platform and the passionate community of users, partners and developers, Android has empowered innovations and given people access to the power of mobile technology.