Uninterrupted listening across devices with Android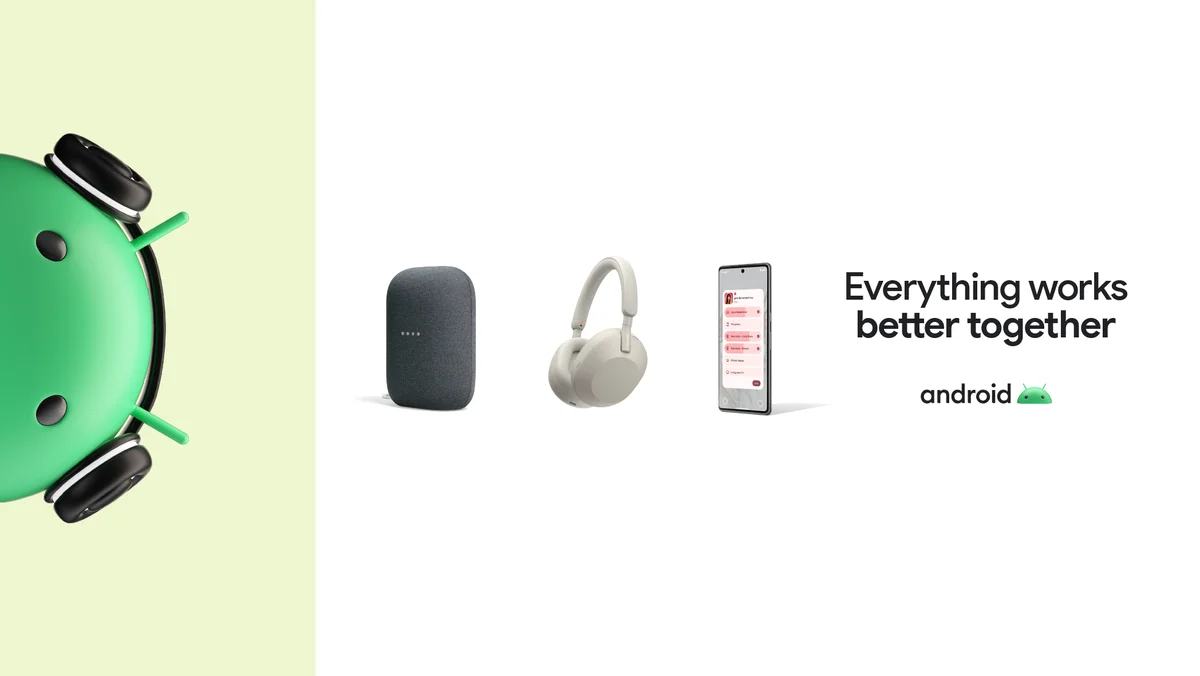 There are over 3 billion active Android devices worldwide, and even more devices being used alongside them. To help them all work together, we have a built-in technology stack that makes our entire smart device ecosystem even smarter.
At CES, we're showing the many ways our technology already helps your devices work better together and new ways to experience entertainment, including expanding our work with Spotify for uninterrupted listening.
New media experiences that move with you
If you're like me, you listen to music on a variety of devices around your home, and love the convenience of controlling this all through your phone. But selecting and changing which devices to play on can be time consuming if you have to go into each app to manage the controls.
With Android 13, we introduced a refreshed media player on your Android phone's lock screen and notification section that allows you to quickly select which compatible Bluetooth or Chromecast built-in devices to play your content on (currently available with YouTube and YouTube Music). This year, we're working closely with Spotify to enable their users to easily switch playback between any Spotify Connect device from Android's media player.
We're also developing a way for your audio content to move with you throughout your day. Through notifications on your devices, you'll be able to tap to start listening to a podcast in the car, continue on your phone and headphones and finish on your TV at home. As you move your physical location, you'll see these media notifications on your phone or other devices asking if you'd like to transfer the audio over to a nearby device. We are working with Spotify and YouTube Music to use these notifications to help users enjoy the content they are streaming, on the most optimal device available to them.
Android's technology stack
These media experiences are great examples of how Android is built to enable cross-device experiences, alongside operating systems like ChromeOS. It starts first with our principles: Android and Chrome OS were both built to be flexible, open and able to work seamlessly together. And it continues with Android's three-layer technology stack that recognizes your proximity to another device and context in how you use it, to bring you a new level of convenience and ease of use. The first layer recognizes what devices are physically close by, with wireless technologies like Bluetooth Low Energy, Wi-Fi and ultra-wideband (UWB). The second layer is nearby device discovery and context-aware capabilities that identify which device you may want to use based on your current activity. Finally, the third layer understands and adjusts actions based on how you interact with your devices with cross-device intelligence.
To make it easier and simpler to use multiple devices, we've added features like Fast Pair, Nearby Share and Chromecast built-in. We've built on Android's long history of personalization and intelligence to create more tailored experiences based on your preferences, from audio switching to copy and paste between your devices. And we ensure our partners are able to easily bring these experiences to their products by using our development kit.
The technology we use to make your devices work together is built with privacy and security at the heart. You're in control of your data, including location data. For example with Nearby Share, we set device visibility to private, and offer the ability to change visibility to everyone, all of your contacts or just your own devices.
We hope to see you at CES this week in our booth at Central Plaza-1, where we'll share how our technology stack makes it easier to manage and bring media and other experiences with you across your devices.