7 ways Android helps your devices work better together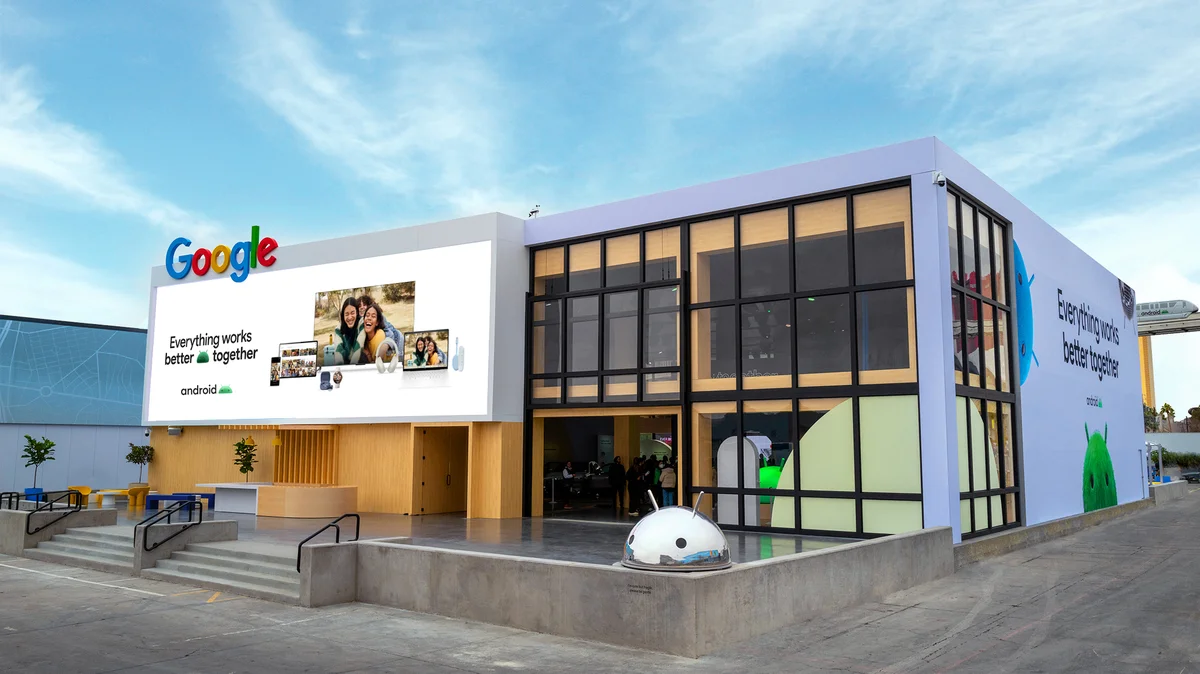 With Android, bringing connected devices into your life can be easy. Over the last few years, we've been working with partners to build products that allow your phones, laptops, TVs and cars to work better together, regardless of the brand. And we've introduced simple and helpful ways to instantly set up your Bluetooth and smart home devices, transfer content and get things done with ease.
Here's some of the progress that we've made in delivering multi-device experiences to people everywhere, which will be showcased at CES this week:
Find and connect nearby devices with Fast Pair.
When you unwrap your new headphones, you want to be able to immediately connect them to your phone and start listening to music. In 2017, we introduced Fast Pair on Android to instantly find and connect your nearby accessories to your devices.
Since then, Fast Pair has sped up the setup process for pairing your favorite devices, including more than 300 headphone models from brands like Beats, JBL, OnePlus and Sony. Fast Pair on Android also works with Matter, so you can connect smart home devices to your network, to Google Home and to your favorite apps, right from your phone. We're working with leading brands like Eve Systems, Tuya, Phillips Hue and Nanoleaf to build compelling Matter-enabled experiences.
In 2022, over 320 million Fast Pair pairings were made to instantly find and connect nearby accessories to your devices.
Send files across even more devices with Nearby Share.
Nearby Share debuted in 2020 as a quick way for the Android community to share content with each other from their devices—whether it's sending files to yourself, photos to your family members or documents to a coworker. Nearby Share continues to roll out, now available with new features and across nearly 3 billion devices.
With support for Nearby Share including billions of devices, sending files, photos, documents and more is easy.
Bring entertainment and apps from phone to TV with cast.
Launched in 2013 as a $35 dongle, Chromecast is an inexpensive way to bring your online entertainment to your TV. Since then, we've brought casting capabilities to more devices so you can bring your entertainment and apps from your phone to your TV, smart speaker or soundbar. You can even use Google Assistant to easily move media between compatible devices with voice. Casting is one of our most used Android features, and the number of supported audio and video apps continues to increase.
Cast your entertainment to compatible devices with over 3,000 supported audio and video apps.
Get more done with your phone and Wear OS.
Wearables represent a major part of the multi-device ecosystem. We've continued to invest in improving the Wear OS platform, and since the launch of Wear OS 3 in 2021, there's been more than three times as many active Wear OS watches around the world.
With the latest version of Wear OS, you can use the Camera app to level up your selfies and remotely control the camera shutter on Pixel phones or use the Google Home app to control compatible smart home devices like your thermostat and lights. When heading out for a run, ask Google Assistant on Wear OS to quickly start playing a Spotify playlist and track your workout with Fitbit or Adidas Running on your watch. There are now even more watches with Wear OS to choose from, including the Pixel Watch, Samsung Galaxy Watch5 series and Fossil Gen 6 Wellness Edition.
Since May 2021, there are now over three times as many active Wear OS devices.
Your Chromebook works better with your phone.
Check out the new Asus Chromebook Vibe CX34 Flip and HP Dragonfly Pro Chromebook.
Use your phone as your Google TV remote.
Whether your friends are telling you about a new show or you're just browsing movie collections, often it's easier to look for something to watch on your phone. But when it's time to watch, you can't beat the big screen experience. With the Google TV app on your phone or tablet, you can cast shows and movies from your apps directly to your compatible TV with a single tap. That way you can use your phone to browse, add to your watchlist, easily transfer what you're watching to a different TV and with Android instantly turn your phone into a remote control. We've got new Google TV devices launching this year including the TCL Q-Series TV and the Hisense ULED TVs, Laser TVs and Laser Cinema lineups.
There are more than 150 million monthly active Android TV OS devices to make it easy to use your phone as a remote watch movies and shows on the big screen.

Video format not supported

Illustration stating that there are over 150 million monthly active Android TV OS devices, on top of a TV and remote image
More from your phone on your dashboard.
Even in the car, many people want access to the capabilities of their phone. Rolling out starting today, Android Auto's new design brings easier viewing and access to your favorite Android phone experiences—like navigation, media and communication—on your car display.
Meanwhile, cars with Google built-in have Google Assistant, Google Maps and more apps from Google Play integrated directly into the car, so you can control the car temperature with just your voice and even turn on house lights from your car before you get home. There are currently seven brands who offer cars with Google built-in, including the new Honda Accord and the upcoming Polestar 3 and Volvo EX90.
Hit the road with Google built-in, now available across seven brands.
We're also working on many more experiences for drivers, like expanding the ability to use your supported Android phone's digital car key to lock, unlock, turn on and share keys with friends and family to more compatible cars.
If you're at CES, come by our booth at Central Plaza-1 to check out many of the new devices from our partners and to see the experiences we've built that help them work better together.
If you aren't able to join us at CES, learn more on our website.