What would Emoji Day be without...new emoji!?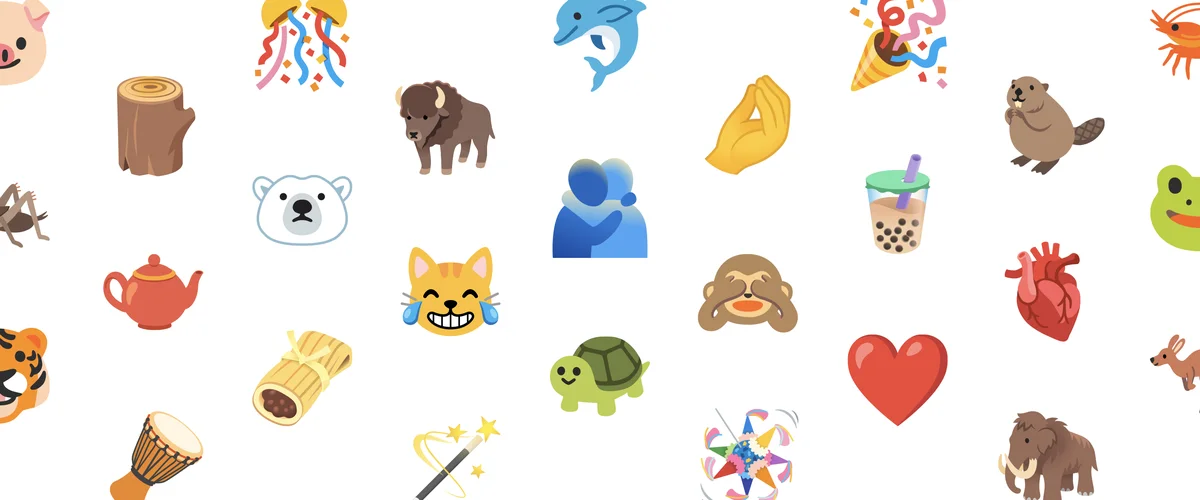 July 17: It's up there with Mother's Day, New Year's and Valentine's Day. That's right, we're talking about World Emoji Day.
Never heard of it? Before my career in the world of emoji neither had I. But soon enough, I learned that the calendar emoji (of which there are three  📅 📆 🗓️) has officially ordained July 17 as the day we honor all things emoji. Traditional ways of celebrating include: sending emoji, receiving emoji, asking existential questions about emoji...or offering a sneak peek at some new emoji.
Did someone say new emoji?!
Last year, we sent a proposal focused on introducing more empathetic expressions and finding opportunities to bring equity to the keyboard to the Unicode Consortium, the nonprofit organization that maintains emoji standards and guidelines. We'll see some of those efforts released this fall with a slightly smiling face, an emoji of two people hugging, a man in a veil, a woman in a tuxedo, and a person feeding a baby. 
Other emoji will be added as well—hit that piñata or bang on the long drum to celebrate. Send an anatomical heart when the love is so real, so raw. Or perhaps you'll identify with one of the new animals, like a super cute bison, an eager beaver or a polar bear that just needs a little love. There are also new food emoji, like a tamale (nom nom), a boba tea sure to make you thirsty ("black milk tea, boba, 30 percent sugar please") and even a teapot for those who felt the "hot beverage" emoji (☕) was simply not "tea time" enough.
Additional characters across nature, activities and beyond will launch later this year, including a stump of wood (sure, OK), a magic wand (ta-da), and a woolly mammoth (better late than never, I guess). Along with other emoji approved by Unicode, these 117 new emoji will be available with the release of Android 11 in the fall.
Return of the king
In addition to creating new emoji, we took a new look at some of our old favorites! First, we gazed into the eyes of our favorite smileys
to understand them on the inside and outside
. Then, we designed the emoji to make sure they work just as well with dark-mode for late night texting 😉. Finally, we partnered with experts from the Monterey Bay Aquarium and the Victoria Bug Zoo to ensure our favorite animals look authentic and can be their best selves.
A number of friends are returning with glow-ups, giving us more warmth and a certain je ne sais quoi … dare I say, "blobbiness" we so missed. 😉  It's true, The King has returned. (After all, we promised to protect this perfect tortoise with our lives.) Try not to get lost in the open-hearted optimism of the sheep's eyes. And I dare you not to smile back at señor bunny.
With a growing set of emoji options and an over 40 percent rise in the use of emoji during shelter in place, it's important that you can quickly and easily find and send just the right one. To do this, we're rolling out a quick access emoji bar to Gboard beta today, and to all Gboard Android users in the coming months. Soon you'll be able to send not just one, but five red-hearts when you want your friend to know how much you wish you could be there for them ❤️❤️❤️❤️❤️. 
To those who observe, happy World Emoji Day.  🙌