Now it's easier than ever to express yourself with emoji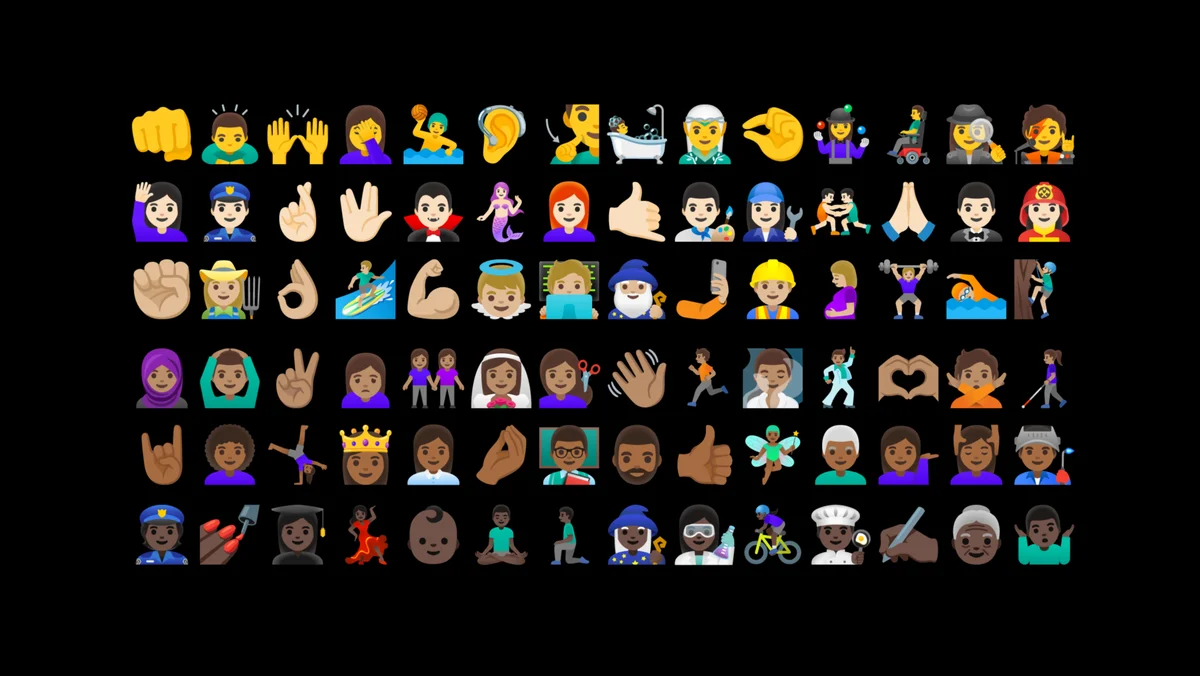 Imagine how difficult typing would be if you had to long-press each letter to change it to a capital letter, then do it again to get a lowercase letter. This would be painful, slow and frustrating. And yet, when we want to modify the appearance of our emoji's color or gender presentation, that's exactly what we have to suffer through. Typing "💪🏿💪🏾💪🏽💪🏼💪🏻" can feel like it takes days to compose.
In most emoji keyboards, it takes over 300 taps to set the tone and gender of every individual compatible emoji. And more taps again whenever you need to express yourself, because no single emoji represents how you care to present yourself all the time. That's why we're making it easier to change your emoji's skin tone and gender with just one tap: adjust one and this preference will be applied to every other compatible emoji across your keyboard. Give it a try in Gboard rolling out on Android today.
Emoji are just as fluid as language and identity
We made it easier to switch between skin tone and gender expression on emoji after researching how people use them — and how they often switch between different variations. A recent Google study of 2,000 participants, balanced across users of the five emoji skin tones, found being able to use skin-toned emoji creates a sense of connection, pride and representation. But study participants reported being very careful about when they use emoji tones. For example, we're far more likely to use a skin-toned emoji in a private group chat with our close friends than when posting to a public message board full of strangers. Critically, being able to turn off tones is just as important as the ability to use them in the first place.
People are most likely to use skin-toned emoji with close audiences and in private contexts.
Also, we don't always stick with the same tone or gender presentation. On average, 73% of participants report picking the same tone every time for self-representation, while 24% regularly swap between two tones. This is usually a color adjacent to their most commonly-used one, but many people report using multiple tones because of changes to their skin tone due to sun, or to align more closely with the skin tones of the audience they are engaging with.
Whether we use emoji skin tones is often related to the situation (e.g. at work vs chatting with family), but people are also reluctant to use these emoji to refer to other people. Many people feel it would be rude to "impose" a skin tone on someone else, especially someone they are not close to. They really are a deeply personal expression of identity.
In the same way we carefully pick our words when sending a formal email 👍🏽 or flirty text 🫶🏿, selecting our skin tone or gender is fluid. By providing faster access to the kind of emoji we need when we need it, our keyboards become a rich canvas for expression. 🫴🏾✨💖