Get more done across devices with Android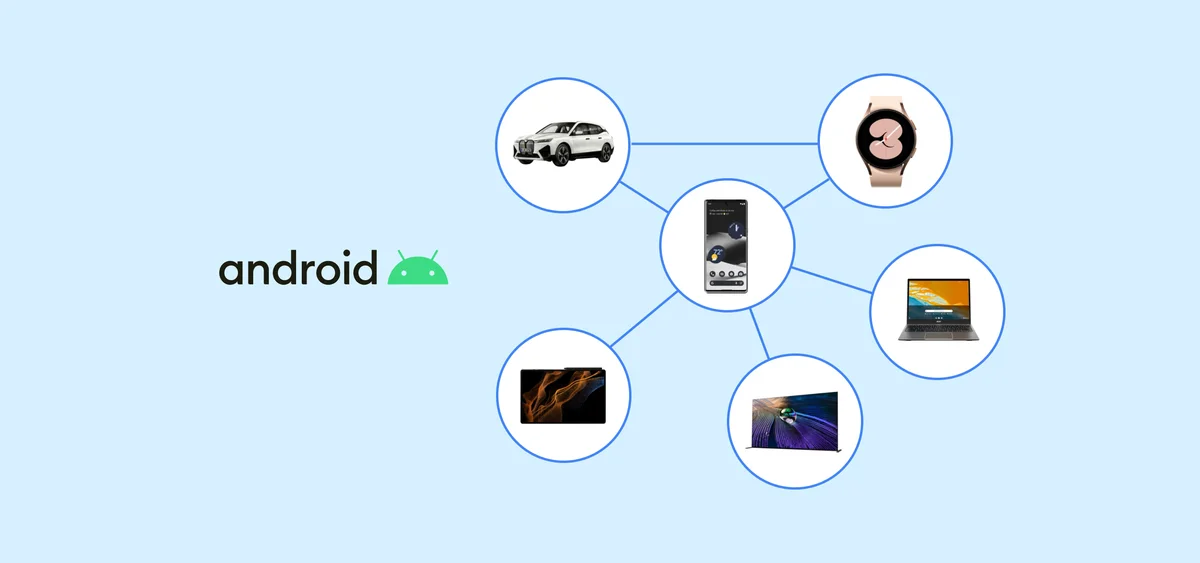 Adding technology to your life should make every day a little easier. But that only happens if the devices are able to anticipate your needs and move smoothly from one activity to the next throughout the day. We've been hard at work building on our efforts to bring you even more simple and helpful ways for your devices to all work better together.
Instant setup for even more devices
We launched Fast Pair to remove the frustration out of pairing your Android phone with new Bluetooth accessories like headphones and speakers, and have already helped connect these devices over 175 million times. Earlier this year, we shared plans to expand Fast Pair support to more devices, so you can automatically detect and pair compatible headphones with your Android phone, Chromebook and Google TV with a single click.

Starting this fall, we'll introduce built-in support for Matter on Android, so you can use Fast Pair to quickly connect Matter-enabled smart home devices to your network, Google Home and other accompanying apps in just a few taps. Whether you're updating your current setup or building a new smart home network, consider light bulbs, thermostats and plugs from supported Matter brands like Eve, Yale and Philips Hue.
Media throughout your day
Chromecast built-in is designed to help you easily share audio, photo and video content from your phone to supported smart speakers, displays and TVs. And the Google TV app will soon have the ability for you to cast shows and movies directly from your Android phone or tablet to your TV. In the future, we're also working to bring casting to Chromebooks and cars with Google built-in so you can enjoy media on whatever screen is in front of you. This means you'll be able to start watching your favorite team's game on your laptop at work, switch to your phone while you walk to the parking lot, and catch the final minutes on your car's display (while parked or charging) before driving home.
At CES this year, we showcased how our technology can improve your experience on headphones and painlessly switch the audio between the devices you're listening on whether it's your Android phone or tablet. In the next few months, we'll roll out the ability to automatically switch the audio on select headphones from Sony, JBL and Pixel. We're also working with Qualcomm and other partners to bring this capability to more headphones with their technology chips.
Your overall audio experience is also getting better with Android. With spatial audio on your headsets, you'll be immersed into another world with sound adapted to your head movements and audio filling the space around you. Based on our collaboration with Qualcomm, we're also adopting LE Audio, a new Bluetooth audio standard that results in lower latency than classic audio, provides higher audio quality and allows you to broadcast media to more than one person at the same time. We're working with partners like Samsung, OnePlus and Sony to bring these technologies to the Android ecosystem.
Getting things done across devices
With Phone Hub, your Chromebook can already help you receive and send messages from your Android phone. We also have plans to expand Phone Hub's capabilities to let you stay on top of all your chats by streaming messaging apps from your Android phone directly to your Chromebook — without having to install the app on your laptop.
And, we're making it easier to help you get things done on the device that's most convenient for you. You'll soon be able to copy and paste a URL or photo from your Android phone to your tablet and vice versa. These features will roll out to Android phones and tablets with Android 13 this fall.
Odds are, you'll keep adding more connected devices into your home - and so will your family and friends. Whether these devices are for entertainment or productivity, we're committed to work with our partners to bring you multi-device experiences that will make your life easier.