More improvements for Android on entry-level phones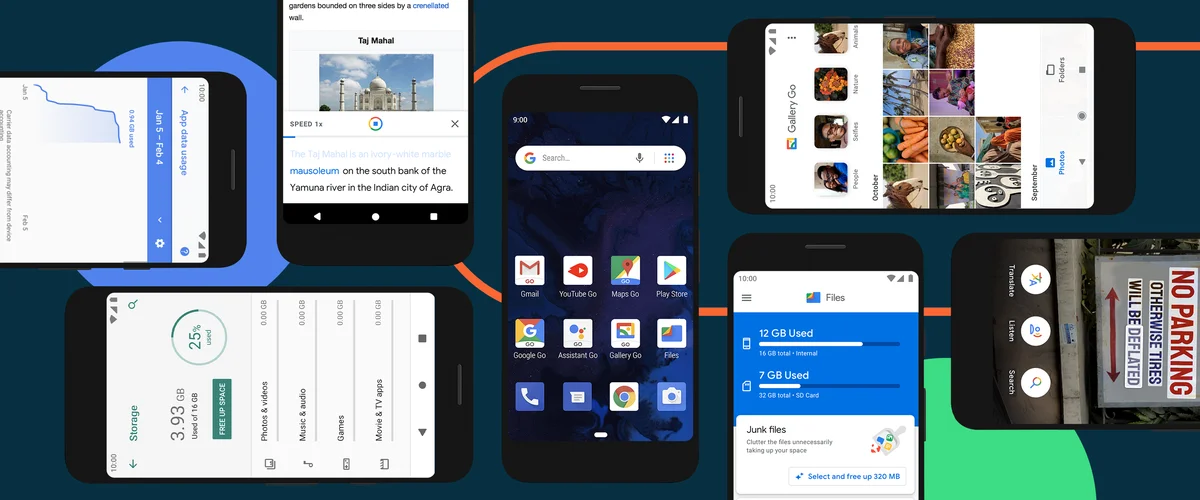 In many places in the world, entry-level smartphones are often the first and only way people get access to the internet. As we build Android for everyone, making sure that these devices are affordable and high quality is a top priority. That's why we launched Android (Go edition) in 2018—a platform tailored for smartphones with 1.5GB of memory or less. As we release Android 10 (Go edition), here's a look at how we're making experiences for entry-level device owners better, across the platform and apps.
Android 10 (Go edition)
With Android 10 (Go edition), we've made Android faster and more secure. 
First, this new release helps you switch between apps faster and in a memory-efficient way. Speed and reliability are also enhanced—apps now launch 10 percent faster than they did on Android 9 (Go edition). 

Encryption underpins our digital security, as it protects your data even if your device falls into the wrong hands. That's why Android 10 (Go edition) includes a new form of encryption, built by Google for entry-level smartphones, called Adiantum. Up until now, not all entry-level smartphones were able to encrypt data without affecting device performance. 
Adiantum is built to run efficiently without specialized hardware, meaning all Go edition users will have the same level of data security as any Android device, without compromising performance. This will make the next generation of devices more secure than their predecessors, and allow the next billion people coming online for the first time to do so safely.
Keep an eye out for the new phones with Android 10 (Go edition) launching later this fall.
New app experiences
Apps designed for Go edition phones are also improving to better serve the needs of first-time smartphone owners.
For example, we've introduced a number of updates to Google Go. With the AI-powered read-out-loud feature that makes consuming long-form text as easy as listening to the radio, people feel more comfortable using the web in their daily lives. Lens in Google Go helps people who struggle to read things in real life by reading out and translating the text that you point with your camera. Since the launch, people have told us that it helps them read and understand important things like bus schedules and bank forms.
YouTube Go, which helps people watch videos on low-speed connections, is also receiving positive responses. People tell us they encounter less buffering while streaming videos, and are now saving on their data consumption.
The new Gallery Go by Google Photos makes it easier to find photos on your entry-level phone. Just 10MB in size and powered by on-device machine learning, it automatically organizes your photos by the people and things you take photos of—and it works offline, too. 
Caption: Google Go's read-out-aloud feature

Caption: Lens in Google Go

Caption: Gallery Go by Google Photos
Across the ecosystem, more Android developers are now enhancing their apps to work well on Android (Go edition) devices. In the past year, popular apps like Uber, Facebook Messenger, Twitter, and Spotify have been redesigned to be Go-ready. If you're a developer, visit our developer site to learn how to build for the next billion.
Go for everyone
In the last 18 months, over 500 manufacturers have launched more than 1,600 Android (Go edition) device models to 180+ countries including India, South Africa, Nigeria, Brazil, and the United States. These devices, including the Samsung A2, Xiaomi Redmi Go, Tecno Spark 2, and Mobicel Astro, make up over 80 percent of entry-level Android phones activating today.
In some countries, devices are now available for as low as $27. Whether it comes with a high-definition or regular display, 4GB or 16GB of storage, or 3G or 4G support, there's a Go edition device for everyone. 
With the new platform release and more app choices, Android (Go edition) brings a broader range of options and better performing phones to more people coming online for the first time.