New Android features for messaging, entertainment and more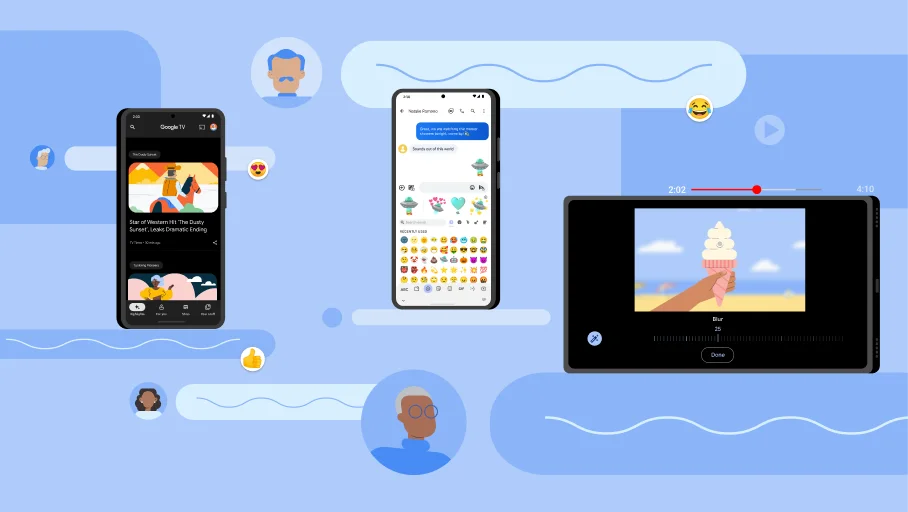 The Android team has been busy working on a suite of updates that add new dimensions to the apps you already love. From huge updates to messaging (including more connection with your iPhone friends) to powerful photo editing tools and even smarter ways to pay for parking, these upgrades bring more helpful technology to messaging, entertainment and more.
Share more with your iPhone friends, and stay on top of your inbox with Messages
Feel the ❤️. Or the 😂. Or whichever emoji your friends are feeling in the moment. Reactions from iPhone users will now appear as emoji on text messages. Now everyone can enjoy your videos in the same resolution you do when you send them as Google Photos links right inside the conversation. Soon, you'll be able to send your photos this way, too.
New birthday reminders in Messages means you'll never miss their special day.
That's not all that's coming to Messages. There are also updates that help you break through the clutter to focus on the conversations that matter most:
Automatically sort your messages into Personal and Business tabs with an organized inbox, so you can find what you need faster.
Reduce the clutter of one-time password messages by having them automatically deleted after 24 hours.
Get gentle nudges to reply to messages you may have missed or need to follow up on.
Never forget to wish your friends a happy birthday, with reminders to reach out to your friends on their special day.
Read more about the new messaging updates in our blog post, and explore them on your device as they roll out over the coming weeks.
Type what you really want to say with grammar correction
Grammar correction on Gboard helps you type the way you want to be heard.
More than just a spell check, the new grammar correction feature on Gboard works entirely on your device to detect grammatical errors and offer suggestions to help you bring your thoughts to life.
When words aren't enough to tell your story, Emoji Kitchen now has more than 2,000 new emoji mashups available as stickers via Gboard. You can make it rain 🍔, share your love for 🥨 or make your favorite emoji sparkle 💫 in an endless array of messaging possibilities. And for Pixel users, Gboard will convert your words into colorful stickers built with your exact text when typing in messaging apps in English (U.S.).
Accessible conversations, even when you're offline, with Live Transcribe
Live Transcribe now works wherever you go, even if you don't have Wi-Fi or data.
Developed in collaboration with the premier university for people who are deaf or hard-of-hearing, Gallaudet University, Live Transcribe provides real-time speech-to-text captions to enable everyday in-person conversations between people who are deaf, hard of hearing, and hearing. Preinstalled on Pixel and Samsung devices and available as a free download to all, the app now offers an offline mode for when Wi-Fi and data aren't available, like on an airplane, in the subway, or in other areas without consistent internet access.
Turn more photos into portraits with Portrait Blur
Portrait Blur now can be used on photos of more subjects, like pets, food and plants, too. Even if the picture was taken years ago.
If you're a Google One member or a Pixel user, you can already use Portrait Blur in Google Photos, a powerful photo editing tool that can intelligently blur the background on photos of people, post-snap. Coming soon to the Photos app on Android, these users will be able to use this effect on photos of more subjects, like pets, food and plants, too. Even if the picture was taken years ago. Even if portrait mode wasn't on at the time. Whether it's photos of your four-legged friends on vacation, an artistic shot of your prized houseplant or just what you had for lunch today, the only thing left to focus on is how you're going to share them.
All the latest on all your favorites with Highlights on Google TV
The new Highlights tab on Google TV offers a personalized feed of entertainment news, reviews and more based on movies and shows you're interested in. Catch up on articles about the entertainment you love, or track the next big sensation, all in one place.
Learn more about your current and soon-to-be favorite shows with Highlights on Google TV mobile.
And if you discover something new that you're interested in, one tap will take you straight to the movie, TV series or video the article is based on, so you can play, rate or Watchlist it for later.
Pay for parking with Google Assistant
Pay for parking using just your voice, with a little help from Google Assistant.
Google Assistant and Google Pay can now help you pay for parking, check your parking status, and extend your parking using just your voice. Just say, "Hey Google, pay for parking" once you've parked, and follow Assistant prompts to pay from your phone. No more coins, no more confusion. And when you need to check your parking status or pay for more parking, just say "Hey Google, parking status" and "Hey Google, extend parking." Available in ParkMobile street parking zones in over 400 cities in the US.
Fine-tune your digital habits with the screen time widget
Customize your Home screen and fine-tune your digital habits with the screen time widget.
Staying on top of your screen time is all about balance. A new screen time widget helps get the ball rolling by offering a glimpse of the three apps you use the most each day. Tap the widget to open Digital Wellbeing, where you'll find some helpful ways to fine-tune your digital habits, including:
Daily timers for your apps
Focus mode, which pauses distracting apps at set times
Bedtime mode, which silences your device and changes the screen to black and white at bedtime
Share with more people with Nearby Share
Use Nearby Share to share files with more people around you.
Nearby Share already lets you easily share photos, videos, documents, links, audio files or entire folders between nearby devices. A new update makes it easy to share with multiple people rather than just one person at a time. Simply tap to add more recipients during a transfer. It's rolling out now on all Android 6+ devices.
These new features make it easier than ever to share new ideas, enjoy your favorite entertainment, and explore the world around you — just another set of features as your Android device becomes more helpful all the time.