6 ways your Android is getting more helpful this fall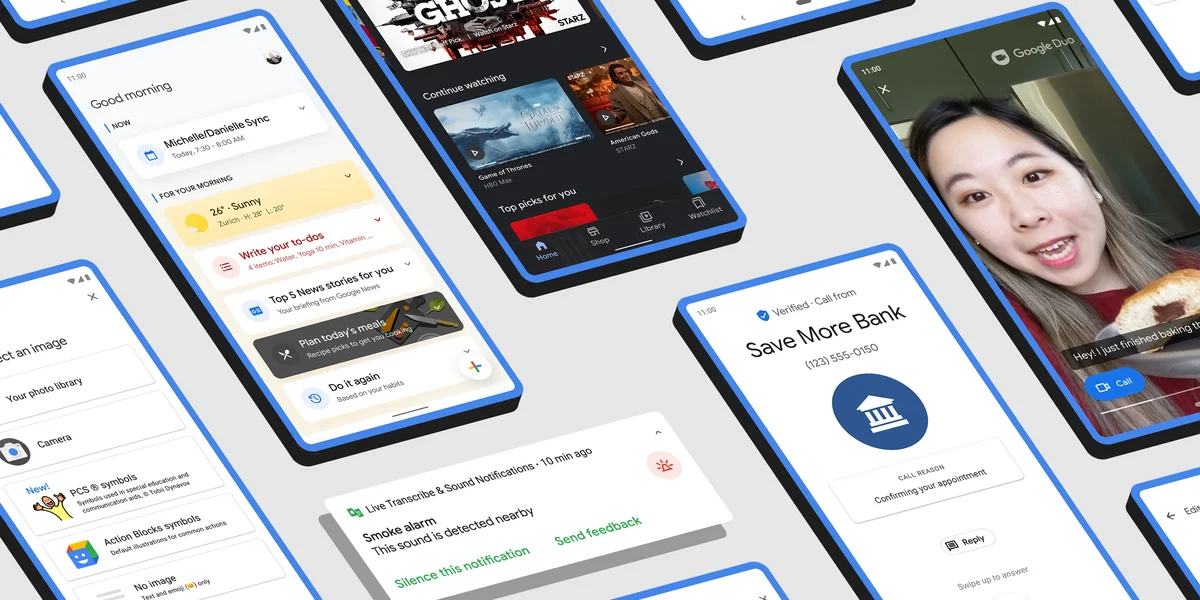 It was only a few weeks ago that we released
Android 11
, the latest version of the operating system. Today, we're highlighting six of the latest Google features for Android—available even on older versions—that make your life a little easier and more enjoyable this fall.
1. Do even more with Google Assistant and your favorite apps
Click on the image above to see the video of Google Assistant working with Android apps
Your Android phone comes with Google Assistant, and now you can ask it to open or search across Android apps. Try saying "Hey Google, send snap with Cartoon Lens" or "Hey Google, log a berry smoothie on MyFitnessPal." We've partnered with many of the top apps on Google Play including Walmart, Mint, Spotify, Etsy, and Discord, to do specific tasks unique to those individual apps. Get started by saying, "Hey Google, show my shortcuts."
2. New ways to connect with Google Duo
Click on the image above to see the video of screen sharing in Google Duo
When your friends and family video call you with Google Duo, you can now share your screen to browse photos or plan activities together while on the call. If they aren't catching you at a good time, they can leave a video message, which has automatic captions to help if you have hearing loss or are in a spot where you can't play audio. Download Google Duo on Google Play.
3. Say goodbye to spam calls with Google's Phone app
With Google's Phone app, your Android device will stop spam callers for good and it'll tell you who's calling and why. We've been working to bring the app to more people, and it's now available to download for the first time on most Android devices running Android 9 or above. Download Phone by Google on Google Play to get spam protection and other helpful features, and easily connect with friends and family no matter what type of devices they use. 
4. New tools for hearing loss with Sound Notifications
Click on the image above to see the video of Sound Notifications
Sound Notifications flags important, inconvenient, or alarming noises around you when you have hearing loss or are even wearing headphones. Set up Sound Notifications in the Live Transcribe app, and your phone will flash, vibrate, and provide push notifications when it detects a fire alarm, a door knocking, household appliance beeps, and more. You can also set up your Wear OS smartwatch to vibrate and send a push notification, as well. Download Live Transcribe on Google Play.
5. Communicate with Action Blocks when you don't use your voice
Caption: Action Blocks makes communication more accessible
Built for people with cognitive disabilities and age-related conditions, Action Blocks can now be used to communicate short phrases. It acts as an artificial voice for people with cerebral palsy, Down Syndrome, autism, aphasia, and other speech related disabilities. In addition, Action Blocks now incorporates thousands of Picture Communication Symbols from Tobii Dynavox, making it easier to use the Android app alongside existing speech therapy and special education materials. It also now supports Japanese, French, German, and Italian. Download Action Blocks on Google Play.
6. Enjoy the entertainment you love, with a little help from Google
Click on the image above to see a video of the Google TV app on Android
Your TV isn't the only place for finding and watching entertainment. Starting on Android phones in the U.S., the Google Play Movies & TV app is being updated to Google TV. Google TV helps you discover what to watch with recommendations for movies and shows from across your streaming apps. And with the Google TV app, your recommendations, Library, and Watchlist go with you wherever you are, whether it's out the front door or just to the other room. Learn more on Google Play.