6 new ways Android can help this holiday season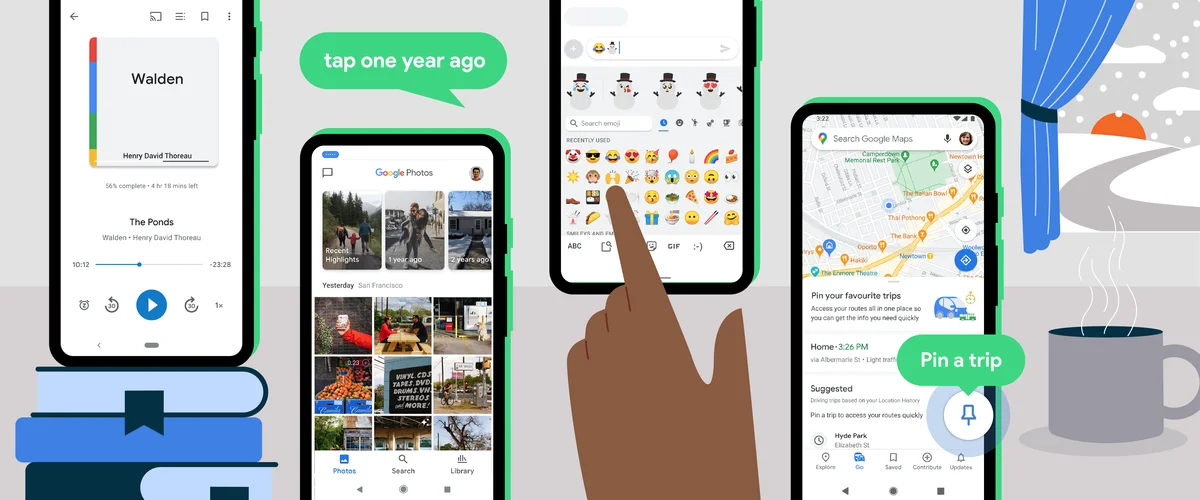 With the holidays around the corner, we're sharing six new Google features for Android—a few more ways your phone gets more helpful over time, even outside of major OS updates. Whether you're texting holiday greetings to loved ones or winding down with a book, here's how Android can help.
1. Mix up more of your favorite emoji
Click on the image above to see a video of the latest mixing experience coming to Emoji Kitchen 
With Emoji Kitchen on Gboard, people have mixed their favorite emoji into customized stickers over 3 billion times since it was released earlier this year. With this latest update, Emoji Kitchen is going from hundreds of unique design combinations to over 14,000. Each mix makes it easier for you to express yourself with a little extra flair. Now you can simply tap two emoji to quickly see suggested combinations, or double tap on one emoji to reveal some more intense emotions. 
Already available on Gboard beta, the new version of Emoji Kitchen will be available on Android 6.0 and above over the coming weeks. Download Gboard on Google Play to enjoy the new emoji kitchen stickers this holiday season. ❄️️⛄️
2. Enjoy more stories as audiobooks
Click on the image above to see a video of how Google Play is bringing more audiobooks to Android
The holiday season is the perfect time to wind down and catch up on some books, and audiobooks make it even more convenient to immerse yourself in a story. But not all books, like the one written by your favorite indie author, are converted into an audiobook. Now Google Play, working with publishers in the U.S. and the UK, will use auto-generated narrators so books without audio versions can be narrated—meaning you'll have more audio titles to choose from on Play Store. The publisher tool to create auto-narrated audiobooks is currently in beta, but it will roll out to all publishers in early 2021.
3. Use Voice Access to navigate your device 
Click on the image above to see a video showing how Voice Access can help you navigate your smartphone

Built with people with motor disabilities in mind, Voice Access lets you control your phone using your voice. Now using machine learning technology, you can add labels to the screens of your Android apps to help you work within them with your voice. For example, you can say "open Photos", "tap Search", "tap Your Map" to see a map of all your photos. This makes navigation convenient and hands-free, using just your voice. Previously rolled out on Android 11, this new version of Voice Access is now available globally on all devices running Android 6.0 and above. You can download Voice Access on Google Play and try the new version out by joining the Beta today.
4. Get around with the Go Tab
Click on the image above to see the video of the new Go Tab in Google Maps
With the new Go Tab in Google Maps, you can more easily navigate to frequently-visited places with just one tap. Pin your favorite driving destinations like school or a grocery store to quickly see directions, live traffic trends, disruptions on your route, and an accurate ETA—all without typing the place's address. If you take public transit, you can pin specific routes, which will let you see accurate departure and arrival times, alerts from your local transit agency, and an up-to-date ETA right from the Go Tab. You can even pin multiple routes (including a driving route and a transit route) to the same destination to see which one will get you there most efficiently. The Go Tab starts rolling out on Android and iOS in the coming weeks. 
Be sure to check out other helpful Google Maps features on Android, like live transit crowdedness and Assistant driving mode to help you navigate and get things done this holiday season.
5. Android Auto expands to more countries
Over the next few months, Android Auto will be expanding to new countries, bringing your favorite apps and services from your phone onto your car display. With Android Auto, you can talk to Google to play music, send messages, get directions, and more, so you can keep your eyes on the road and your hands on the wheel. With phones running Android 10 and above, all you need to do to get started is plug your Android phone into a compatible car. For Android 9 and earlier phones, you can download the app.

6. Share your favorite apps with Nearby Share
An upcoming update to Nearby Share will let you share apps from Google Play with the people around you with an Android phone, even if you don't have a cell or Wi-Fi connection. Simply open Google Play, go to the "Share Apps" menu in "My Apps & Games," select the apps you want to share, and let your friend accept the incoming apps. This update will roll out in the coming weeks.