Shaping the future of mobile with Android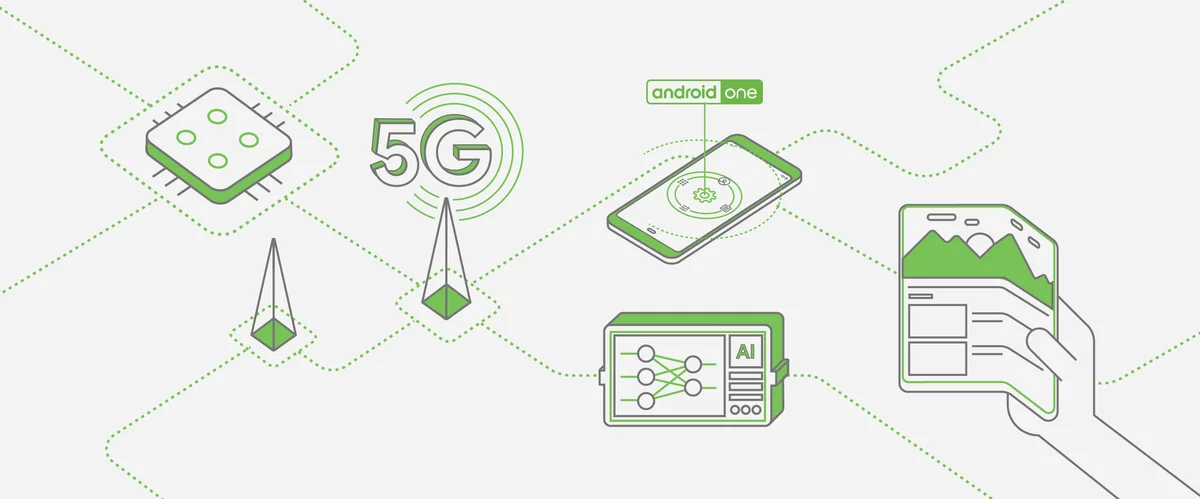 Android's mission has always been to work closely with a broad and open ecosystem of partners to push the boundaries of hardware and software, bringing new experiences and capabilities to your mobile device. Together with manufacturers, carriers, chipset makers and developers, we want to build mobile experiences that are both productive and helpful—whether that's giving you new ways to explore the world, helping you stay on top of a busy day or providing the tools to maintain a healthy relationship with technology.
This week, we're at MWC Barcelona to celebrate new milestones with our Android partners, from the latest flagship devices to their vision and strategy for 5G.  
Foldables: Expanding the definition of smartphones
We're constantly evolving Android to support our partners in building devices in a variety of shapes and sizes. Last fall, we announced that Android will power the emerging category of phones with screens that can bend and fold. Along with this trend comes new smartphone capabilities—for example, multitasking on a phone can become even easier; with more available, expanding screen area, you can watch a video on one side and take notes on the other. Tablets can be more portable, folding to easily fit into your pockets or purses.
This week, the world's first foldable screen devices are launching on Android, with Samsung's Galaxy Fold announced at Galaxy UNPACKED, and Huawei's Mate X which was just announced earlier today here at MWC Barcelona. We look forward to seeing more Android-powered foldable devices from other manufacturers, and we'll continue to make improvements to the operating system for a smooth experience on these phones.
Unlocking new ways to learn, communicate and be entertained with 5G
As the industry progresses towards faster and better connectivity with new devices and chipsets, 5G will accelerate the potential of richer entertainment and communication experiences. Our partners like Samsung, Xiaomi, LG, Huawei, Qualcomm, Sony, HTC, OnePlus and Vivo are revealing their plans for 5G, including new devices launching later this year. We're excited that Android is enabling the world's first 5G smartphones, helping accelerate its adoption in 2019 and beyond.
Better mobile messaging for everyone
To improve the standard messaging experience on Android, we've been working with many of our partners, including Samsung, Huawei, America Movil, Deutsche Telekom, Orange, Telefonica, Telenor, and Vodafone to make RCS (Rich Communication Services) more widely available. Google has helped to launch RCS with partners in 24 countries, bringing enhanced features in your conversations like group chats, read receipts, and high quality media sharing. We will continue to work to bring better messaging to every Android user, across a broad range of devices and carriers.
Delivering a software experience that is up-to-date and secure
As we continue to see new mobile trends emerging on Android's open platform, we also know people and businesses want more clarity and assurance that their smartphones have the latest software and security updates. Over the last year, we worked with partners to offer reliable smartphone experiences on Android for more people and business customers globally.
The Android One program represents a collaboration with manufacturers to bring devices that deliver its key attributes: faster access to the latest version of Android, regular security updates and a software design that's intuitive and streamlined. Thanks to our partners—including Xiaomi, LG, Motorola and HMD Global—Android One activations grew 250 percent year over year. With the addition of the Nokia 9 PureView, Nokia 3.2, Nokia 4.2 and more, Android One will continue to bring people a consistent smartphone experience that's fresh and secure.
To help businesses discover the best devices and services Android has to offer, the Android Enterprise Recommended program has validated more than 80 devices that meet elevated enterprise requirements for hardware, software and security updates. Just a few days ago, we expanded the program to include Managed Service Providers, who are mobility experts equipped to help customers build and support their Android enterprise deployments.
Android (Go edition), an optimized version of Android tailored for smartphones with 1GB of RAM or less, has helped bring the power of computing to everyone by delivering a powerful, fast and secure experience specifically optimized for entry-level smartphones. Our most recent release, Android 9 Pie (Go edition), is powering the new Nokia 1 Plus and the BLU Vivo Go. Today, over 50 percent of entry-level Android devices are now activating with Go.
Easier access to the power of AI on mobile
Alongside our partners, we've also brought more AI capabilities to the mobile ecosystem. Last year, we took the first step in working with LG to launch a dedicated button for the Google Assistant on its flagship devices to help people get things done on the go—whether it's staying on top of your day or finding directions with just your voice.
This year, we're  bringing the Google Assistant button to the full portfolio of new Android devices with LG and Nokia, including the LG G8 ThinQ and K40 and the Nokia 3.2 and 4.2. New phones from Xiaomi (including the Mi MIX 3 5G and Mi 9), TCL and Vivo (including the V15 Pro) will also launch with the Google Assistant button later this year. With these partnerships, we expect over 100 million devices to launch with a dedicated Google Assistant button.
And to support future AI-driven mobile experiences, we worked with manufacturers like Qualcomm and Mediatek to bring support for Android's Neural Networks API and ML Kit. This integration lets phone manufacturers and app developers build faster, smarter and smoother experiences on mobile. For example, LG adopted these technologies to bring Google Lens suggestions into the camera app on the LG G8 ThinQ, allowing people to simply point the camera, and with a single tap, call or save a phone number on a takeout menu, send an email right from a flyer, or open an address in Google Maps.
Extending Digital Wellbeing tools to more devices
Last summer, Android 9 introduced a set of new tools to help you achieve the balance with technology you might be looking for. Since the release, people have told us that getting better visibility into their habits has helped them take more control over their phone usage.
Today, Digital Wellbeing is expanding to more phones beyond Pixel and Android One, starting with the new Moto G7 family. We're working with partners to bring these features to even more phones, so more people can use them to strike a better balance and focus on what matters to them the most.
AR brings Android Partner Walk to life
Every year at MWC Barcelona, we offer the Android Partner Walk, where attendees have the chance to collect character pins from our partners across the show floor. This year we decided to bring those characters to life with augmented reality. If you're at the show, you can see and collect 3D pins using the Android Partner Walk app. This app is powered by ARCore, Google's platform for AR experiences.
When it comes to Android, we're focused on improving smartphones in ways that help people in their day-to-day lives—and we couldn't do this without our partners. We're proud that Android is powering many of the most exciting trends that push what mobile is capable of, and we cannot wait to see them in the hands of people around the world.