6 streaming apps optimized for Android tablets and foldable phones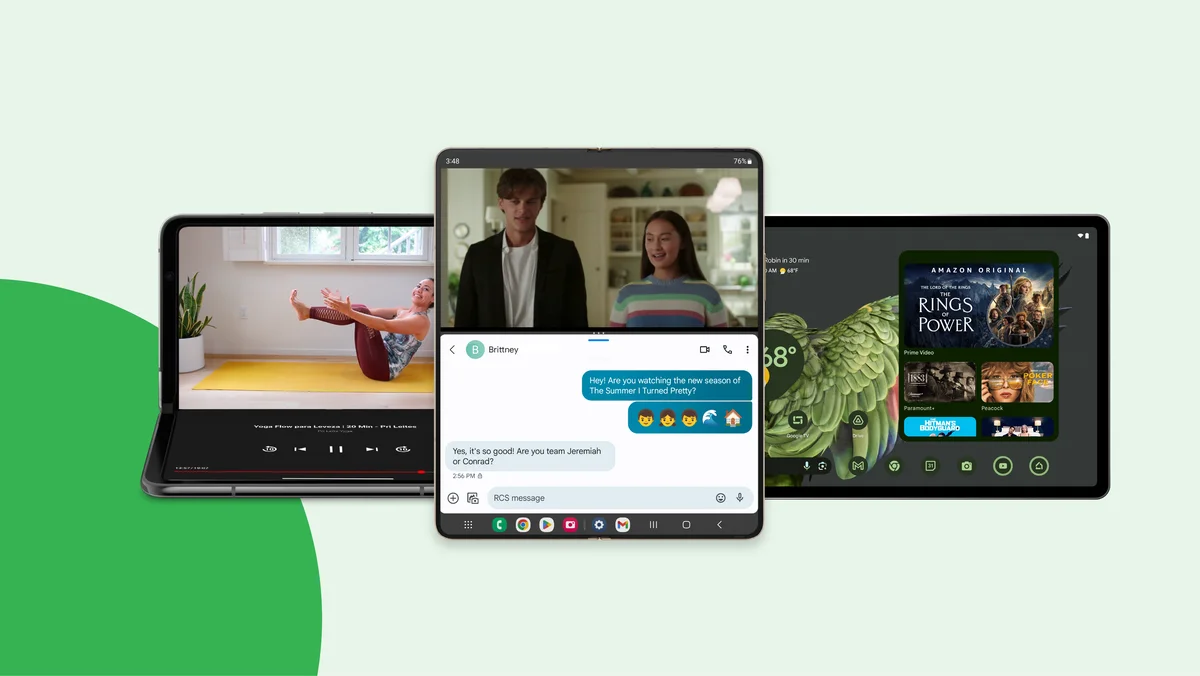 One of my favorite ways to unwind and relax is by watching TV shows and movies on my Pixel Fold. Since I always have my phone on me, I love being able to just flip it open to start enjoying videos on a large screen whenever I want.
I know I'm not alone, which is why we work with your favorite video streaming apps around the world to make sure they are available on Google Play, and to make sure they have been updated for larger screens, too. Today, we're highlighting six video streaming apps that have been optimized for your Android foldable phone or tablet:
YouTube works great in tabletop mode on foldable phones. This means you don't have to hold your phone up the entire time while you're watching a video. For example, you can watch a tutorial on how to cook a new recipe while you're chopping vegetables, or you can do yoga by placing your phone on your mat and following a yoga tutorial video. You can use video playback controls on the bottom half of your phone if you want to pause or move to a different part of your video.
Prime Video's updated layout on large screens makes it easier to see what to watch and preview details for TV shows and movies. You can watch your favorite show while getting things done with a better picture-in-picture experience and enhanced support for split-screen mode. For example, you can watch the hit show "The Summer I Turned Pretty" while texting your friend about the episode. You can also watch videos on your foldable phone any way you want, with the app seamlessly transitioning between open and closed positions for foldable phones.
Google TV has also updated its layout on large screens to make it easier to decide what to watch. The app has recently built a new widget on your tablet that shares top entertainment picks and personalized recommendations right on your tablet's home screen, making it easier to quickly find what to watch next.
BBC iPlayer revamped its layouts to look great on a larger screen size, so you can enjoy their shows on your tablet or foldable phone. From the home screen you can see details about a show on the top half of your screen, while still seeing a row of other titles to browse on the bottom half. When playing videos, the app seamlessly transitions into an immersive mode for a full viewing experience on your tablet or foldable phone's larger screen.
U-NEXT, one of the largest domestic streaming and digital content services in Japan, rehauled its app layout to cater to larger screens. For example, U-NEXT replaced its horizontal navigation bar with a vertical navigation bar, which makes it easier to reach menu buttons on large screens. U-NEXT videos will also easily adapt if you have a foldable phone, whether you watch videos in a folded or unfolded state.
ZEE5, an online video streaming platform popular in India, resizes to fit any Android screen size. With its multi-column layout on tablets, you can see more trending shows and show details on the screen at once. ZEE5 videos also work in tabletop mode and split-screen mode, so you can multitask and get more things done while enjoying your videos.
You can find these apps on Google Play today, and stay tuned for more updates on apps designed for Android tablets and foldable phones.