The best of Google available on Samsung Galaxy foldables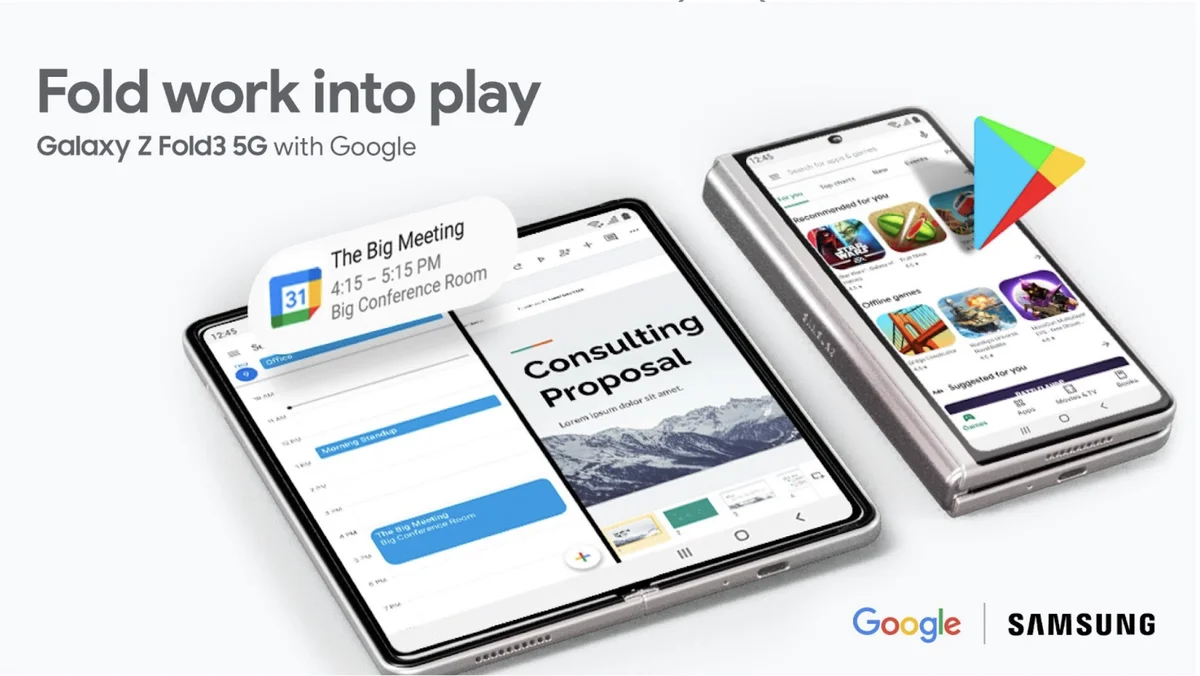 From split-screen multitasking with the power of Google Workspace apps to hands-free Duo calls in Flex mode, Google and Samsung continue to work together to create more helpful experiences on Android foldables. When we combine the helpfulness of Google's apps and services with Samsung's Galaxy Z Fold3 5G and Galaxy Z Flip3 5G devices, a world of new possibilities unfolds.
Here are six great ways to experience the best of Google on Samsung's latest Galaxy Z devices.
1. Enjoy entertainment with a bigger, better and bolder YouTube experience
The Galaxy Z Fold3 takes YouTube to the next level. Simply unfold to the immersive main screen and your video will quickly adapt to the larger display so you can really dive into whatever you're watching. The tablet-sized screen even hides the 4MP front-facing camera under the display allowing you to have an edge-to-edge cinematic viewing experience. If you want to follow along with a video while you cook, exercise or just lean back, you can prop your Galaxy Z Fold3 in Flex mode for a hands-free experience. And new users can enjoy four free months of YouTube Premium when they purchase a Galaxy Z Fold3 or Z Flip3 (terms apply).
2. Stay in touch, hands-free with Google Duo
Stop worrying about staying in the frame during video calls. You can set your Galaxy Z Fold3 or Z Flip3 down in Flex mode and keep your Duo calls going hands-free while staying in the picture. Step back and show off your apartment upgrade or pick up your pup and bring her in frame — all without the hassle of holding up your phone..
3. Boost productivity with split-screen multitasking and Google Workspace
With apps like Google Duo, Calendar, Chrome, Gmail and more, you can connect, create and collaborate on the Galaxy Z Fold3 right out of the box. Using the Edge panel, you can easily drag and drop apps into place so you can work across up to three apps at once – taking multitasking to the next level. Answer emails while you watch your favorite YouTube livestreams. Edit docs in real-time with colleagues while you discuss in a Meet conference call. Check your Calendar while texting with friends in Messages. Do it all at once with side-by-side multitasking, and just about anywhere with 5G.
4. Never get bored with millions of apps on Google Play
Your next big adventure awaits with millions of apps on Google Play. And with the 120Hz adaptive refresh rate on both the Galaxy Z Fold3 cover and main screen, you'll have smooth gameplay. Earn Play Points as you use the Play Store, and redeem them for special items in games or Play Credit. Or enjoy over 800 games and apps free of ads and in-app purchases with Play Pass.
5. Record, edit and publish your next video with YouTube Shorts built in
Inspiration can strike at any time. With the Galaxy Z Flip3, you can unfold your ultra-portable content creator at the exact moment you need it. Open up YouTube Shorts in the YouTube app to quickly start recording, edit right in the app and upload with superfast 5G. And with Flex mode on the Galaxy Z Flip3, you don't even need to worry about bringing a tripod with you: Simply fold your Galaxy Z Flip3 anywhere between 75 and 115 degrees, and you'll be sure to capture your best angle.
6. Explore with Google and Augmented Reality
Unfold your Galaxy Z Flip3 and use Google's augmented reality features built into some of your favorite apps to learn more about the world around you. With Live View in Google Maps, you can quickly orient yourself and know which way to go with directions overlaid right on top of your surroundings. If you come across something like a historical landmark, a cool new pair of sneakers or a menu that's not in your native language, Google Lens can help you get more information about it, help you find where to buy it, or help you translate it. Just unfold and point.
To learn more about all of the helpful ways you can use Google on the Samsung Galaxy Z Fold3 5G and Z Flip3 5G, visit unfold.withgoogle.com. And stay tuned for more as we continue to partner with Samsung to spread the news about these helpful foldable experiences.