Kick off the school year with Google Assistant and Search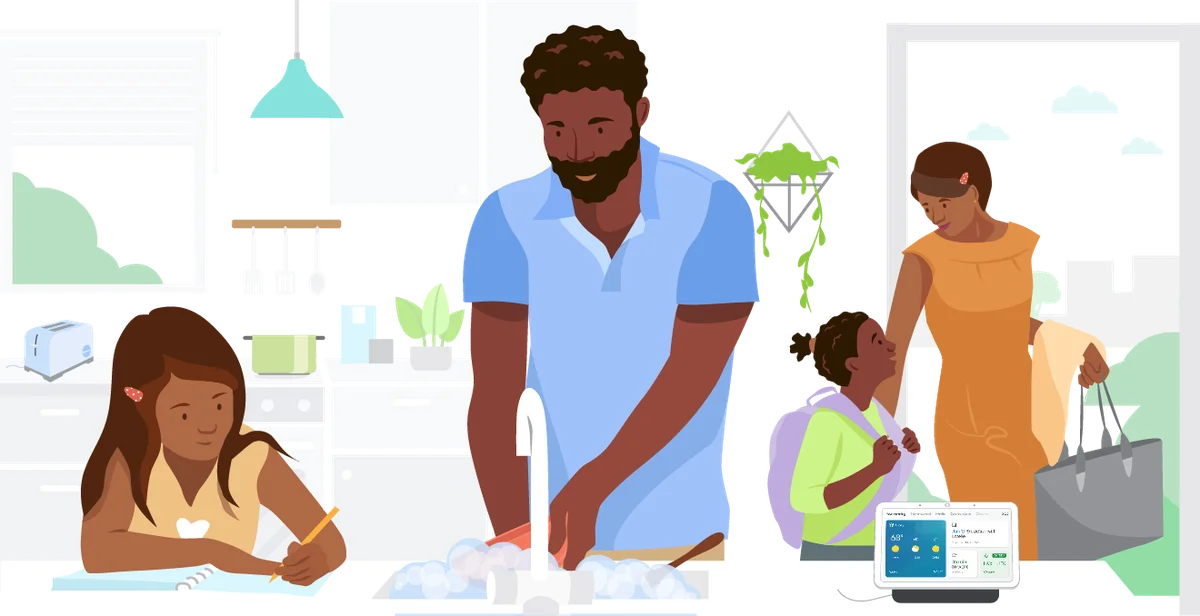 Wherever your kids will be learning from this year, one thing is undeniable: The school year is fast-approaching. Over the past two years, my family's adopted a few new routines — some that will stick, and others we'll need to adjust. Here's how I'm using Google Assistant and the latest educational Search features to help keep my family on track and connected — while still making time for some fun.
Make mornings more fun
I already use
Family Bell
on my smart speakers and smart displays to help us stay on top of our routines throughout the day, with bells that remind me when it's time for family dinner or to water the plants. In several weeks, Family Bell will be available to ring on mobile devices, making it even easier to set up and use throughout your day. Also coming soon, Family Bell will offer new, customizable bells that will initiate a checklist on your Nest Hub. I've been testing this feature and it's been a great way to remind my kids what they need to do before heading out the door for school in a fun way— things like making their beds, getting dressed and brushing their teeth. When a task is completed, my kids enjoy the fun, on-screen celebratory animations and sounds that appear. I'm also planning to make a checklist for bedtime since it's been working so well!
To start my own day, I'll use a new feature coming soon that will automatically start my morning routine, check the weather and play the news, once I dismiss my morning alarm. To set this up, I'll simply add "dismiss an alarm" as the start to my morning Routine.
Feeling close to my kids, even when we're not together
For the first time in a long time, my kids won't be home with me all day. I made sure my family group was set up so I could have peace of mind knowing where everyone is during the day. I can say "Hey Google, where's my family?" to make sure they made it to school safely or are still at soccer practice. I can also send messages to the group throughout the day with Family Broadcast. When I head back to the office later this year and I'm running a bit late, I'll be able to say "Hey Google, tell my family: I'm leaving in five!" to send a message to our personal and home devices so they know I'm on my way home.
Keep the learning going at home
I always carve out time for story hour with my kids. For Harry Potter fans, Assistant will soon have new stories from Pottermore Publishing that you can access from a smart display or Android device. Just say "Hey Google, talk to Fantastic Beasts Story" to enjoy the magic of the Wizarding World beasts. Discover a world map of beasts and wander the globe while you listen to audiobook highlights.
Having grown up in various countries, it's important to me that my kids have access to all kinds of stories. I'm thrilled that we've partnered with The English Schoolhouse, an award-winning, Black woman-owned publishing house, to bring more diverse teaching tools and stories to Assistant in the coming weeks. Soon you'll be able to say, "Hey Google, talk to 'Tallulah the Tooth Fairy CEO' story" — or "Hey Google, talk to 'Elijah Everett, Kid Principal' story." I'll even play one of my favorite guessing games with the kids by saying "Hey Google, talk to Guess the Drawing for Kids" on my Nest Hub. 
Discover more fun stories by asking, "Hey Google, tell me a story" or find other fun family activities by saying "Hey Google, teach my family something new." (With a parent's permission, children under 13, or the applicable age in their country, can have a personalized Google Assistant experience, powered by Family Link.) 
While my own young kids aren't quite ready for advanced math, chemistry and physics, older learners can use different Search tools to understand complex concepts — Search's new
interactive periodic table
is a great example. Using a phone or computer, these Augmented Reality and 3D models help anyone quickly visualize an atom. Zoom in and see the electrons orbiting the nucleus and the protons and neutrons that make it up.
I can even brush up on my own Spanish with the "Live Translation" Assistant button in Search on my phone when I need to remember a specific word or phrase. 
Hopefully this school year goes smoother than the last, but it's a tough transition every year. These new tools can help make the switch to the school year an easy one for the whole family.