A little help getting through the day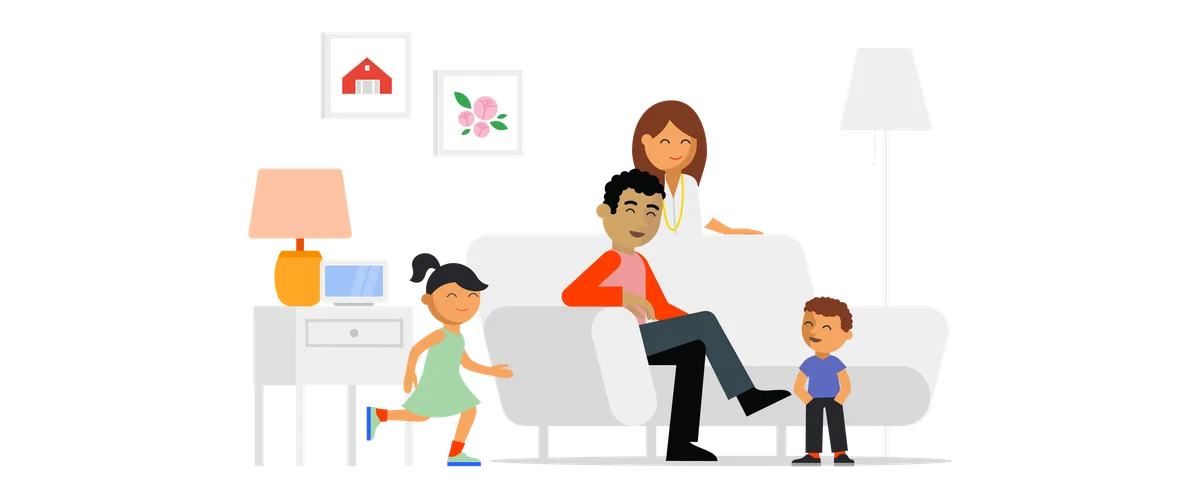 Like many families, my husband and I have been staying-at-home for over a month, while looking after our two young kids who are out of school. Balancing two full-time jobs—running the team that builds features for Google Assistant and homeschooling my 6- and 3-year-old children—is an unexpected challenge that I know I'm not alone in navigating. In fact, search interest for "how to work from home with kids" tripled over the past month in the U.S., while search interest in "how to keep kids busy during quarantine" spiked more than 350 percent in the past day, worldwide. 
My husband and I are figuring out a schedule that minimizes the chaos, enabling us to work while also cherishing time with our kids. Here are some of the things we've learned and how Google Assistant is helping us get through the day.
Morning 
With the four of us sharing the same space all day every day, It can be especially important to carve out "me time." Most mornings before my kids get up, I ask my Nest Hub Max, "Hey Google, show me workout videos" and I exercise along to a YouTube tutorial (here's one I love). This solo time energizes me and sets the right tone so I can tackle the day.
I'm also restructuring my day to meet the needs of both work and family. While it might not be the case for everyone, I'm fortunate to have some flexibility in my work schedule. So instead of working a typical 9 to 5, I've established shifts with my husband so one of us gets uninterrupted time to focus on work, while the other helps our kids. I take the afternoon shift with my kids, so I schedule all of my work meetings in the morning. I typically hop back online after the kids are in bed so I can follow up on any urgent items and give my team guidance for the following day.
I also use ready-made Routines to trigger several actions with one single command. They're super easy to set up and they're the ultimate multitasking partner. For example, when I say "Hey Google, good morning," Google Assistant turns on my kitchen lights, starts the coffee maker, reads out my calendar and plays the news. And when I want a quick update on specific topics, I ask things like, "Hey Google, what's the latest news on coronavirus?" so I'm informed before the kids are up.
And with the lines between work and home completely blurred, I've realized I need to be much more intentional about my time. I ask Assistant to set reminders so I can keep track of upcoming online classes for my kids or remind my husband about our schedule. 
I also make sure my kids' homeschooling classes and activities are added as calendar appointments, so I have a clear overview of what's going on for the family that day.
Afternoon 
When I'm with the kids in the afternoon, I make sure to over-communicate with my colleagues about my whereabouts. For example, I block off my calendar in the afternoon and even put an "out of office" message in my email to set expectations about my availability. 
My daughter is starting to read, so one of her daily lessons is going over the alphabet. I ask Google Assistant to sing the ABCs on our Nest Mini when we review her alphabet book, so she starts understanding each letter.
As part of my son's school assignments, he writes at least one or two pages a day. We've gotten into the habit of writing out jokes which we print and tape on our sidewalk so our neighbors can enjoy. Since he's still learning how to spell, he'll often ask Google Assistant for help spelling difficult words.
And is it just me, or are kids hungry all day long? To manage my (seemingly endless) grocery list, I ask my phone, "Hey Google, add pasta and cream to my shopping list." And when I'm at the grocery store, I can quickly pull up my list without touching my phone by asking, "Hey Google, what's on my shopping list?"
Evening 
To create some separation between the workday and family time, we started a new evening ritual: dance parties. I scheduled a Custom Routine that automatically dims our living room lights and turns on a party playlist at 5:30pm each day. This also helps my kids shake out some energy, so it's a win-win.
A few times a week before dinner, we video call the kids' grandmas using Google Duo on our Nest Hub Max. If they don't happen to be by their own Smart Displays to answer the call, they can easily pick up on their phones. Their grandmas live in Washington and Canada, so it's special to connect with them regularly since we can't see each other in person.
Around dinnertime, I try to get inventive with what I have so I can minimize grocery store trips. One of my favorite Google Assistant features is getting recipe inspiration based on what's left in my fridge or pantry. Try asking, "Hey Google, what can I make with broccoli and cheese"—or whatever ingredients you need to use up!
Once dinner is ready, I simply say, "Hey Google, broadcast it's dinner time" and my message is sent to all Assistant enabled speakers around our home, no need to shout.
And when it's time to wind down for the night, we ask Assistant to tell us a story or play soothing sounds. Try it out by saying, "Hey Google, read me a bedtime story" or "Hey Google, play ocean sounds." 
Whether you need help making mundane tasks more magical ("Hey Google, help me wash my hands") or need assistance getting a meal on the table, I hope what I've learned in my own home can help make your day just a bit easier.