Get ready for the school year with Google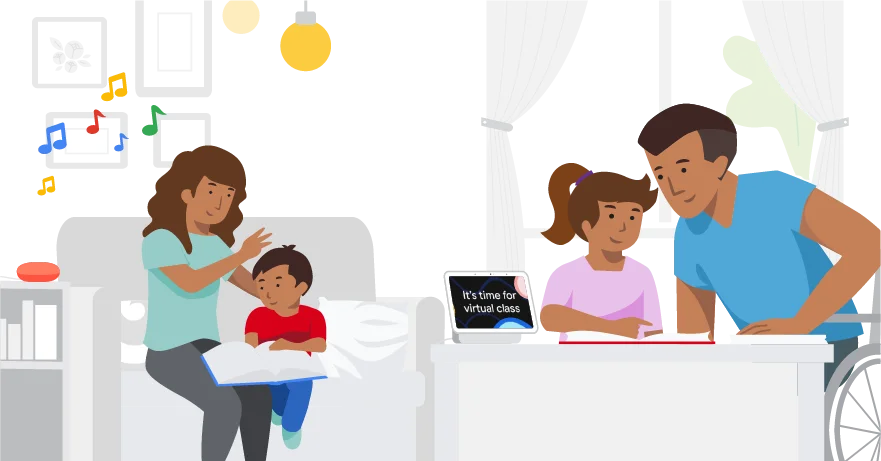 I've always loved the start of a new school year. There's something magical about watching my kids reach new milestones, tackle new assignments and surprise me with their newfound interests and passions. While heading back to school won't be the same this year, Google is helping families like mine stay on track with new features like Family Bell, communicate better with targeted broadcast messages and make learning from home a little more fun.
Keep your family on track and organized
These days, my family can use extra help keeping on top of our schedules. With a new feature called Family Bell, we can add bell reminders throughout the day that announce when it's time to start an online class, take a break, settle in for reading time, have a snack or even for bedtime. To get started, simply say "Hey Google, create a Family Bell" or tap on Family Bell in your Assistant settings. It includes suggested bells for activities like recess, nap time or math time, or you can customize bells to alert someone in your household of an upcoming activity. One of my bells helps keep my son on track by saying, "Hi superhero, it's time for math!"  You can even have different bells go off at the same time on different devices—super helpful when both of my kids have various activities going on. You can create and manage bells on Assistant-enabled Android and iOS phones to play on smart speakers or Smart Displays in your home. This feature is starting to roll out today in English in the U.S., Canada, U.K., Australia and India.
And surely, most parents can relate when I say that sometimes my kids need that little nudge to get excited about the day—whether that means heading to school or starting a day of virtual learning. I can say, "Hey Google, start the school day!" or "Hey Google, school's in session!" and Smart Displays like Nest Hub Max will show a school-themed visual and play the familiar sounds of school—like kids ruffling through their lockers. And since we have smart lights set up in our living room, this will also trigger the lights to flash upbeat red, orange and yellow colors—which my kids love. This feature also works on Assistant-enabled smart speakers and is now available around the globe.


A popular feature on Google Assistant is the ability to broadcast and reply to messages around the house, and starting to roll out today, you can broadcast to a specific room or device—making it even easier to communicate at home (no shouting needed). So when I'm working in my bedroom office, my husband can broadcast a message to me by saying, "Hey Google, broadcast to the bedroom, 'breakfast is ready!'" This feature is rolling out in English on Assistant-enabled smart speakers and Smart Displays around the world.
And to remind learners when to start homework, try setting a fun alarm with some of their favorite characters. Just ask your Assistant-enabled smart speaker or Smart Display, "Hey Google, set a Hatchimals alarm for 4:00 p.m." and you'll hear signature music, jokes, facts, words of encouragement and other fun messages when it goes off. 
Make learning from home fun
I appreciate getting to spend extra time with my kids, and now Google helps me make the most of it by teaching my daughter (and often me) some new facts. Starting to roll out on Assistant-enabled smart speakers and Smart Displays in the U.S., say, "Hey Google, tell me about the animal of the day" and hear fun facts about a new animal every day, listen to the sound each animal makes and even receive a creative daily challenge, like drawing what the animal looks like.
From homework help to how-to's, on YouTube Kids you'll find videos that give kids a greater understanding of the world around them. To get started, make sure you've linked your YouTube Kids account in your Google Home app. Try watching a video on your Smart Display by saying, "Hey Google, watch Brave Wilderness on YouTube Kids." 
To get some help together, parents and older learners can also ask, "Hey Google, help me with my homework" for suggestions to learn about historical events, the periodic table or for help with calculations. Google can also help with spelling ("Hey Google, how do you spell rhythm?") or math ("Hey Google, what's 3 x 7 + 80?"). Google Assistant can even act as a translator and interpreter for language learning—try asking, "Hey Google, how do you say butter in Spanish?" 
With their parent's permission, children under 13 (or the applicable age in their country) can have their own personalized Google Assistant experience when they log in with their own account, powered by Family Link.

Spend quality time together as a family
Game nights have surged in popularity at our house. My kids like to ask, "Hey Google, play a kids game" to discover new games.
And when it's time to wind down for the day, say, "Hey Google, tell me a story," or if your family loves fairy tales like mine, try "Hey Google, tell me a fairy tale" and listen along. We also enjoy listening to classics from Storynory, like "Beauty and the Beast," "Cinderella," "Goldilocks and the Three Bears" and more. 
The balancing act of working, parenting and schooling at home continues, and as it does, we hope these new tools will help  keep your family on track in your new routine.