Celebrate Native American artists in Chrome and ChromeOS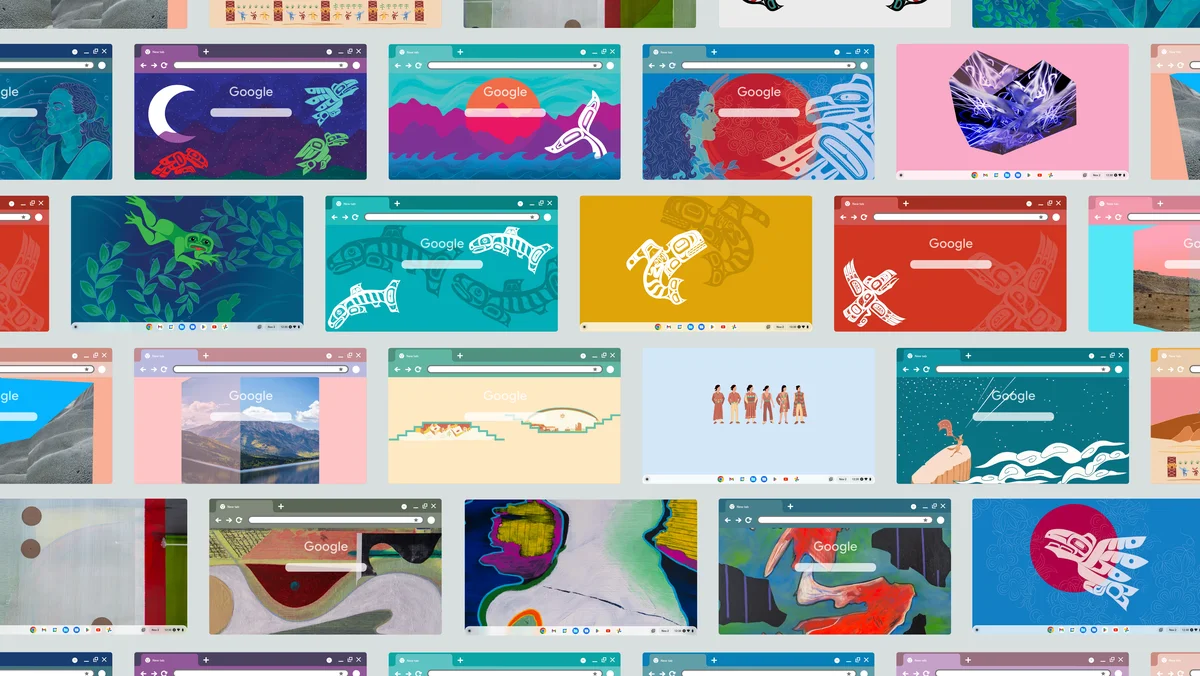 It's Native American Heritage Month in the U.S., a time when we honor the history, traditions and contributions of Native Americans. As a citizen of the Cherokee Nation, I celebrate this month by taking time to reflect and express gratitude for my ancestors, the resilience of my tribe and other Indigenous people, and future generations carrying our tribal traditions forward.
As a product manager at Google, I'm also proud of how we're celebrating across our products. On Google Assistant, for example, just say "Happy Native American Heritage Month" or "Give me a fact about Native American Heritage" throughout the month of November to hear a collection of historical facts and stories from the Native American community. Meanwhile, a recent Doodle on Google's homepage celebrated the history of Stickball, a traditional sport created by Indigenous tribes.
We also commissioned five Native American artists to create a collection of themes for Chromebooks and Chrome browser. This collection has a special meaning to me because it showcases important traditions and reminds me of home. Richard D. York's piece "ᎤᎧᏖᎾ (Uktena, or Horned Serpent)" in particular brings me back to my childhood listening to the stories of Uktena and other tales from my elders. A more solemn work, "A Lot Meant," reminded me of growing up in Oklahoma and how historical policies like allotment impacted my family and so many others.
Now available globally, these themes reflect the unique experiences and identities of each artist. Here's what they shared about their work:
"Primary Ravens" by Crystal Worl
"These three primary ravens of red, green and blue come together to create a broad array of colors. Together they are tricksters, mischievous, curious; on this snowy evening, they are perhaps scheming to create something new."

"Yéil (Raven)" by James P. Johnson
"I belong to the Dakl'aweidi Clan (Killerwhale) and follow the Tlingit art form of my ancestors. Everything I do is inspired by my son Elias, who was born with a life-threatening genetic disorder called Cystic fibrosis. Gunalcheesh."

"Yupkoyvi (Chaco Canyon)" by Michael Namingha
"I was inspired by the changing landscape of the West. Yupkoyvi, 'the place beyond the horizon,' is sacred to the Hopi and Puebloan people, and is under threat by oil and gas development. We have a duty to protect this land."

"Constellation Mix" by Noah Lee
"In Diné folklore, the 'Holy People' are deities that created the constellations and the impatient coyote, a chaotic trickster, scattered the stars into a mess. In this theme, the milky way reflects a pathway from earth to heaven."

"ᎤᎧᏖᎾ (Horned Serpent)" by Richard D. York
"ᎤᎧᏖᎾ (Horned Serpent) is a malevolent dragon of Cherokee stories. Whoever captures its crystal becomes a great healer. Sequoyah, inventor of the Cherokee writing system, worked to help our people and preserve our culture. Saving our culture is like facing ᎤᎧᏖᎾ."
To apply one of these themes (or others from Black, Latino and LGBTQ+ artists) to your Chrome browser, visit the Chrome Web Store collection, select a theme and click "Add to Chrome." You can also open a new tab and click the "Customize Chrome" button on the bottom right to explore background collections. To apply one of these wallpapers to your Chromebook, right-click your desktop, choose "Set wallpaper and style," then select "Native American Artists."