20 new Chrome themes for Global Diversity Awareness Month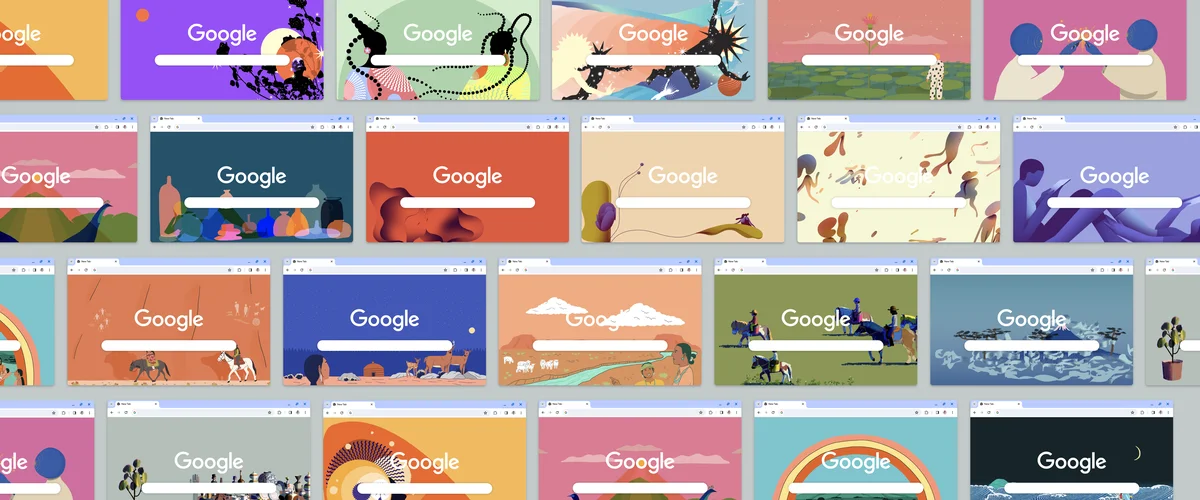 Art is one of the most personal and powerful forms of expression, helping us learn more about other cultures and backgrounds. We launched the Chrome-sponsored Artist Series as a way to bring more perspectives right into the browser and spotlight creativity from around the world.
To date, Chrome has commissioned more than 30 artists representing different backgrounds to create Chrome browser themes that reflect their unique experiences. You can choose from more than 120 themes in our Asian & Pacific Islander, Black, Latino, LGBTQ+, and Native American Artists Series collections.
For Global Diversity Awareness Month in October, we commissioned artists from each of these communities to design 20 new Chrome browser themes, which are available today.
Here's what the artists shared about some of their work:
"Oh! To Play Amongst the Stars" by Neka King, Black Artists Series

"This work is loosely inspired by Faith Ringold's Tar Beach. Looking at this image reminds me that we are just bits of stardust galavanting through the universe, creating worlds of wonder and play in our search to know more."

"Fields of Wonder" by Daniel Barreto, Latino Artists Series

"The piece contains a main character looking at a never-ending field of water lilies. It's like life's way of saying, 'Hey, there's a whole universe of possibilities out there!' You just need to make the jump."

"Sunday" by Sophi Miyoko Gullbrants, LGBTQ+ Artists Series

"My favorite thing about living in Brooklyn is looking around and feeling that no one here is out of place. I feel that in the air on the weekend at Fort Greene or Herbert Von King Park. People are out. Together. Alone. There's a sense of comforting anonymity and belonging in this soup of people."

"Remembering our Ancestors" by Lynne Hardy, Native American Artists Series

"I love learning about my ancestors' past and trying to live in ways that honor them. Their stories inspire me and help me gain the courage to explore new opportunities and learn new things. This piece is an homage to them because I wouldn't be the person I am today without them."

"Over the Waves" by Tatsuro Kiuchi, Asian & Pacific Islander Artists Series

"I love the sea, and I have always been attracted to remote islands. When I reach an island after struggling to get there, I am very excited to see the fantastic rocky shore and sea creatures there. This piece expresses my life pursuing what I love while overcoming many problems."
These themes will be added to our existing Artist Series collections. To apply any of them to Chrome browser on your computer, visit the Chrome Web Store, select a theme and click "Add to Chrome." You can also open a new tab in Chrome and click the "Customize Chrome" button on the bottom right to explore all of our Artist Series collections.