7 Chrome features to easily plan your next trip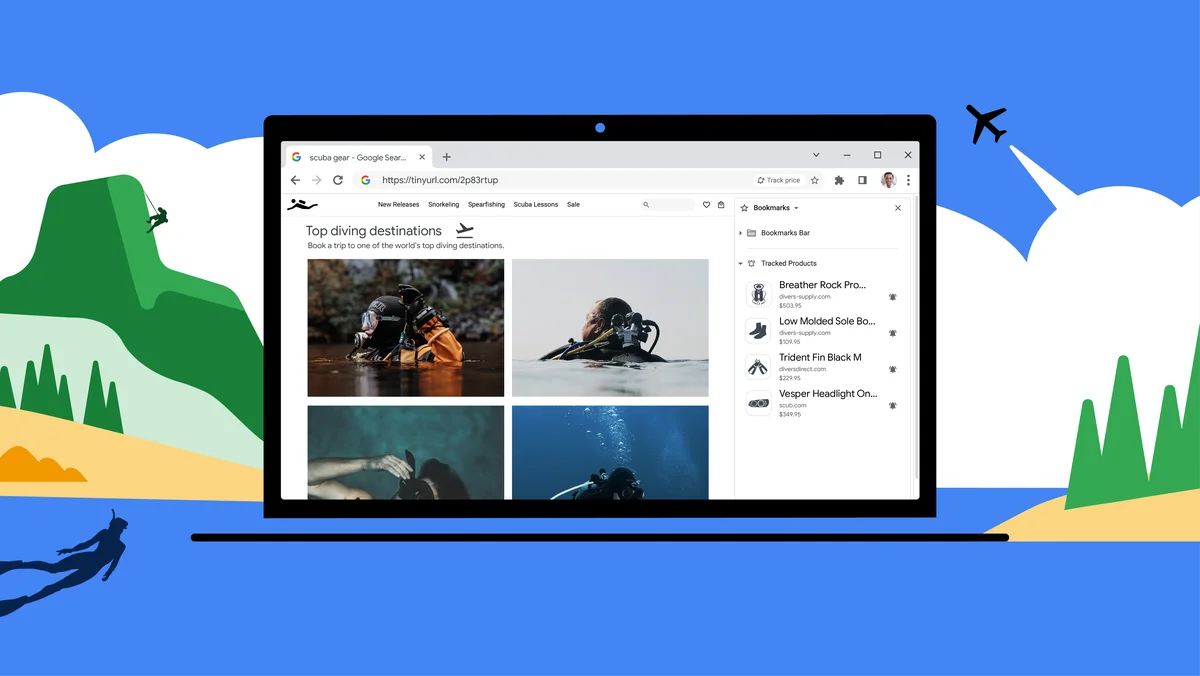 The good news: It's time to take that dream vacation you've been saving for. The not-so-good news: Now you have to actually plan it.
If organizing a trip isn't exactly your favorite activity, Chrome has plenty of features to relieve the pressure. Try out these seven Chrome features to easily plan your next getaway.
1. Get the best rates on travel gear with price tracking
Need some new luggage? No need to scour the internet for the best deals. Chrome's new price tracking feature can handle that for you. Currently available on desktop and Android in the U.S. (and coming soon to iOS), price tracking sends you price drop notifications for any product you choose. Simply select "Track price" in the Chrome address bar as you shop. You can easily manage tracking alerts at any time.
2. Revisit your searches through Journeys
Pick your research back up with Journeys. Journeys can help you resurface lodging, activities and any other trip options you searched for. Start typing a related word into the Chrome address bar and select "Resume your journey" to see your history grouped by topic in the side panel.
3. Book quickly with Autofill
Flights, tours and other activities book up fast. Let Chrome fill out forms and payment information you saved from past purchases to quickly snag you a spot. You can add or manage your addresses and credit card information in Chrome Autofill settings.
4. Automatically translate pages
If you're traveling to another country, you may have to navigate websites in an unfamiliar language. With Chrome, you can easily translate information like tour descriptions, restaurant menus and transportation schedules in over 130 languages.
5. Organize your planning tabs
When you're searching for hotels, activities, transportation and restaurants for your upcoming trip, it's easy to open up a lot of tabs. To keep them under control, try categorizing each page you visit into color-coded tab groups and labeling them as you go. For example, you can create groups for different categories like lodging, flights and activities. You can also search for open tabs directly from the address bar. Simply type "@tabs," select "Search Tabs" and type in the title to see suggestions.
6. Browse smoothly with Memory Saver
Speaking of, Memory Saver can keep your computer running smoothly when you have a bunch of planning tabs open. It frees up memory from tabs you aren't currently using and prioritizes your active ones for faster browsing. Your less-frequented tabs will reload when you need them again. To set this up, head to the Performance section in your Settings and toggle Memory Saver on.
7. Convert currency right in the address bar
Avoid any price confusion by doing currency conversions right in the Chrome address bar. Just type "1,000 colones to dollars," for example, and you'll see the conversion appear right away.
We hope these Chrome tips help you bypass the stress of planning so you can focus on making memories. Bon voyage!