A new year for Chrome video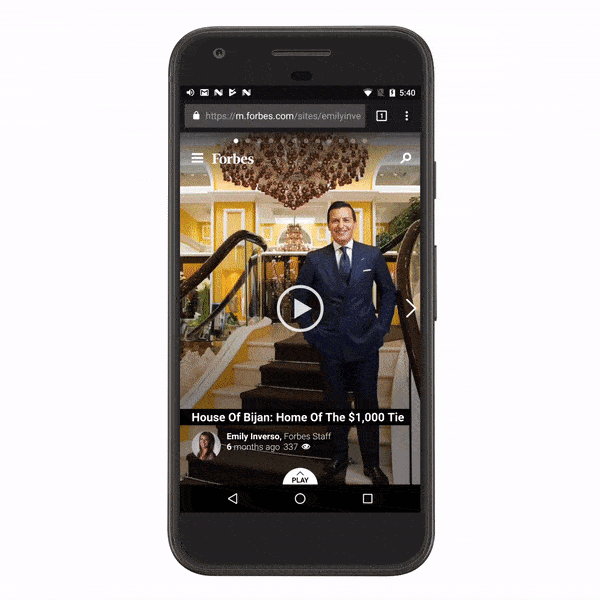 Every day, people watch 30,000 years worth of video in Chrome. That's a lot of video! Watch time grew significantly over the last year—not only because of viral YouTube hits, but also because of the creation of new video experiences around the world.

For example, Jio Cinema and Forbes give people high-quality video without requiring them to install an app. In India, Voot Go allows bus riders to watch web video on their devices without an internet connection. And sites like WITHIN let people explore 360-degree videos not just from their mobile device or laptop, but also in virtual reality.

Web videos are pretty amazing, and there's a lot going on behind the scenes in Chrome to make them pop. For example, Chrome's Data Saver helps you enjoy high quality video without racking up a huge bill—last year alone, it saved people more than 200 petabytes of mobile video data, enough to store 1,000 copies of all the books ever written, in every language. These data savings let you watch high-quality video, even on poor networks. And we're going to save even more — Google as part of the Alliance for Open Media is working on a new way to deliver even higher quality video while using less data.

Because people are using Chrome to watch videos in new formats and in new places, they need an easy way to hit play or pause, rewind or fast forward. That's why last year, we added picture-in-picture playback to Chrome on Android, and better video and audio controls from both the lock screen and notifications. These changes let you enjoy your media while doing other things, makes it easier to know what's playing, and helps resolve the "Where's the stop button!?" panic when you forget to plug in your headphones at the library. Chrome also now helps you avoid unwanted noises by letting you mute sites, and later this year, we'll give you more control over autoplay.

Looking forward, to support the next generation of video experiences, we've begun adding support for High Dynamic Range (HDR). This means you can get vibrant colors, darker blacks, and brighter whites from the latest HDR displays. HDR support is now available on Windows 10, and more platforms are coming soon. Also coming soon is the official release of VR on the web, and after enjoying the first immersive web experiments we're looking forward to what sites do in the coming year.

The Chrome media team's mission is to help the world enjoy the best quality video experience on the web, and 2017 was a big year for us. We have even more exciting improvements in the works for 2018, and we can't wait for you to try them out!