Chromebook Plus: more performance and AI capabilities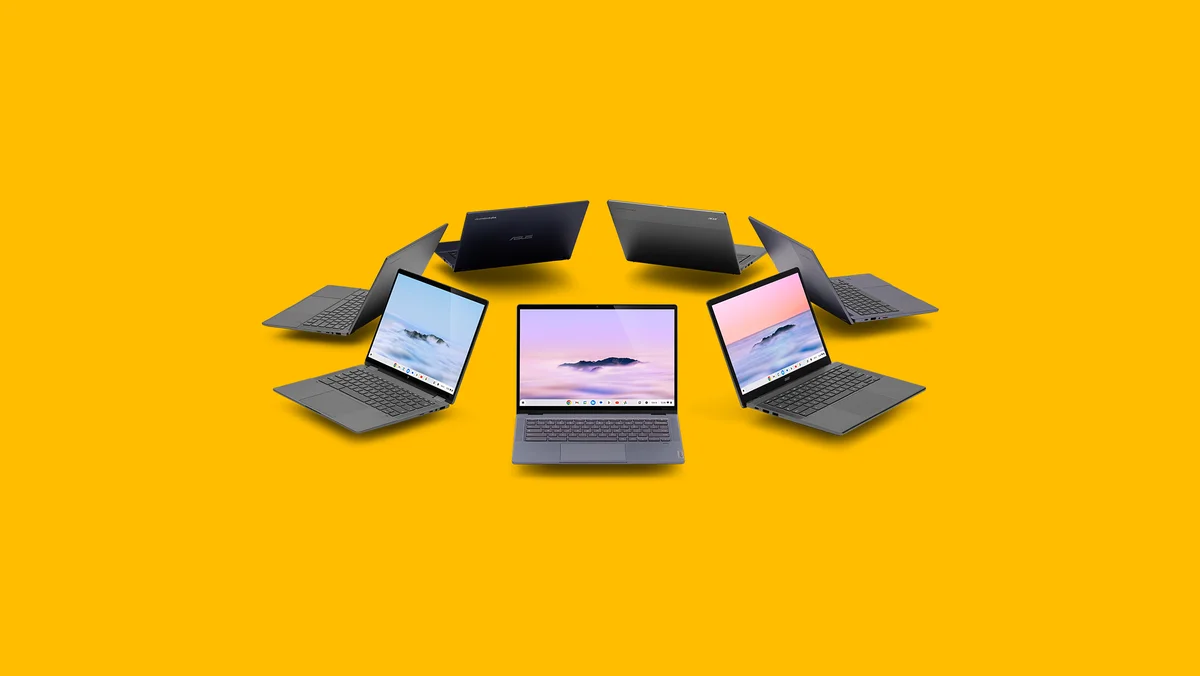 More than 10 years ago, we created Chromebooks to bring you easy-to-use computers that offer reliable performance and unmatched security. Today, we're introducing a new category of Chromebooks that takes the promise even further: Chromebook Plus.
With double the performance1, Chromebook Plus offers built-in Google apps and powerful AI capabilities. It also offers Google Photos Magic Eraser and Adobe Photoshop2 on the web to help consumers boost their productivity, inspire their creativity and make everyday tasks intuitive. It's a laptop experience that optimizes hardware performance with software apps and tools, all at a starting price of $399.
Designed to get more done
Laptop shopping is harder than it should be. You can easily get lost in a sea of numbers and technical specs, and it's hard to know what products will actually give you what you need, at the price you want.
We've spent a lot of time listening to laptop users and have worked closely with our partners at Acer, ASUS, HP and Lenovo to build a guaranteed standard of performance that people can depend on to get what they need done. Today, we are announcing eight new Chromebook Plus laptops.
New Chromebook Plus laptops

New Chromebook Plus laptops

New Chromebook Plus laptops

New Chromebook Plus laptops

New Chromebook Plus laptops

New Chromebook Plus laptops

New Chromebook Plus laptops

New Chromebook Plus laptops
All Chromebook Plus laptops offer faster processors1 and double the memory and storage1, giving you the power to get more done, easily. All Chromebook Plus laptops also come with a Full HD IPS display — which means you get a full 1080p HD experience when watching streaming content, and crisp, clear viewing for reading, creating content or editing photos and videos. Finally, there's a 1080p+ webcam with temporal noise reduction for smoother, more lifelike video calls.
All Chromebook Plus laptops come with the the following guaranteed hardware specs:
CPU: Intel Core i3 12th Gen or above, or AMD Ryzen 3 7000 series or above
RAM: 8GB+
Storage: 128GB+
Webcamera: 1080p+ with Temporal Noise Reduction
Display: Full HD IPS or better display
Video calls are even better
We know camera and video calling quality matter. Whether you're dialing into a job interview, filming a vlog or connecting with friends and family, video conferencing has become a big part of our daily lives. Now, we're extending some of the premium features in Google Meet to Chromebook Plus, using the enhanced camera, processor and more to bring AI features directly into the OS on Chromebook Plus.
In addition to equipping each Chromebook Plus with a 1080P camera, these new powerful Chromebooks have built-in AI to help enhance your call's clarity and lighting, cancel background noise and blur backgrounds with just a couple of taps. This works no matter what video conferencing app you use, whether that's Google Meet, Zoom, Microsoft Teams or others. Users will see these options amongst the array of built-in ChromeOS software video call tools available on their Chromebook's app shelf.
AI-powered video call controls on Chromebook Plus
Apps to help you with projects big and small
All that power means the apps you know and love run better than ever. You can bring a wide variety of projects to life with built-in Google apps, as well as creative powerhouses like Adobe Photoshop, Adobe Express and LumaFusion.
Magic Eraser in Google Photos on Chromebook Plus
We're bringing Magic Eraser's AI-powered editing in the built-in Google Photos app on Chromebook Plus, so you can easily remove unwanted distractions from your pictures, as well as intelligently making suggestions in the scene. The app also includes additional enhanced editing features, like an HDR effect that enhances brightness and contrast, and the ability to add portrait blur to your existing photos.
With the new File Sync feature on Chromebook, you know you can stay productive even when on the go. Your Chromebook Plus keeps your Google Drive files always accessible, whether you're online or offline, by automatically downloading your drive files, taking advantage of the 128 GB storage minimum of Chromebook Plus.3
Adobe Photoshop on Chromebook Plus
Chromebook Plus also enables you to work on more graphically demanding projects, like ones in Adobe Photoshop on the web and Adobe Express Premium. Powered by Adobe Firefly, Adobe's family of creative generative AI models, you can easily add, extend, remove content or use text prompts to edit standout photos and create social media graphics, flyers and more2. To help people try out these apps, we're offering three months of Adobe Photoshop on the web and Express free, when you purchase a new Chromebook Plus4.
LumaFusion pro video editing on Chromebook Plus
If you're ready to try your hand at filmmaking, you can use LumaFusion's powerful and intuitive video-editing suite. Designed for both beginner and advanced editors, this multi-track editor has everything you need to perfect your footage for professional results. New Chromebook Plus users can get 25% off LumaFusion's one-time cost of $29.994.
Like peanut butter and jelly or your favorite movie and a bowl of popcorn, some things are just better together. Several of the features on Chromebook Plus — like on-device AI — work great alongside the features of Duet AI in Google Workspace. If you're interested in taking your productivity to new heights in your new Chromebook Plus, you can try Duet AI in Google Workspace today with a no-cost trial.
Even more features to come in 2024
Just like Chromebooks today, we will keep adding new features to Chromebook Plus over time. This includes bringing the power of Google's AI capabilities directly into ChromeOS5. Here's a preview of a few coming attractions.
We're making it easier to draft and refine shorter-form content across websites you visit on your Chromebook Plus. With just a right click, you can get help with polishing or adding some wit to your words, whether you're writing a restaurant review, a social media post or a YouTube video description.
Writing on Chromebook Plus is easy with the power of Google AI in a right click
We're also working on bringing image generation capabilities to Chromebook Plus5. This includes personalization capabilities in ChromeOS' settings menu, like generating custom wallpapers using easy templatized text prompts. Want a wallpaper featuring cats in impressionist style art? We've got you covered.
Personalize your wallpaper on Chromebook Plus using generative AI
We're working to add generative AI backgrounds to your video calls, too5. All you need to do is to adjust it once in your video call control panel and it'll work on any app you use to make calls on Chromebook Plus. Bored of taking video calls from planet Earth? Generate backgrounds to transport you to an office on Mars.
Personalize your video calls by generating backgrounds on Chromebook Plus
Get yours starting October 8
You can order new Chromebook Plus laptops from major retailers in the U.S. including Best Buy, Amazon, Walmart and Target starting October 8, 2023. In Canada and Europe, new Chromebook Plus laptops will be available starting on October 9, 2023. For more updates, keep up with the latest at https://www.google.com/chromebook/discover/chromebookplus/ We also think Chromebook Plus is great for educators and businesses - contact your preferred reseller or head to our blog post to learn more.
In addition to new Chromebook Plus devices, some existing Chromebooks will qualify for an OS update to include the enhanced features found on Chromebook Plus devices in the coming weeks. See here for details on eligible devices.