Introducing the world's first laptops built for cloud gaming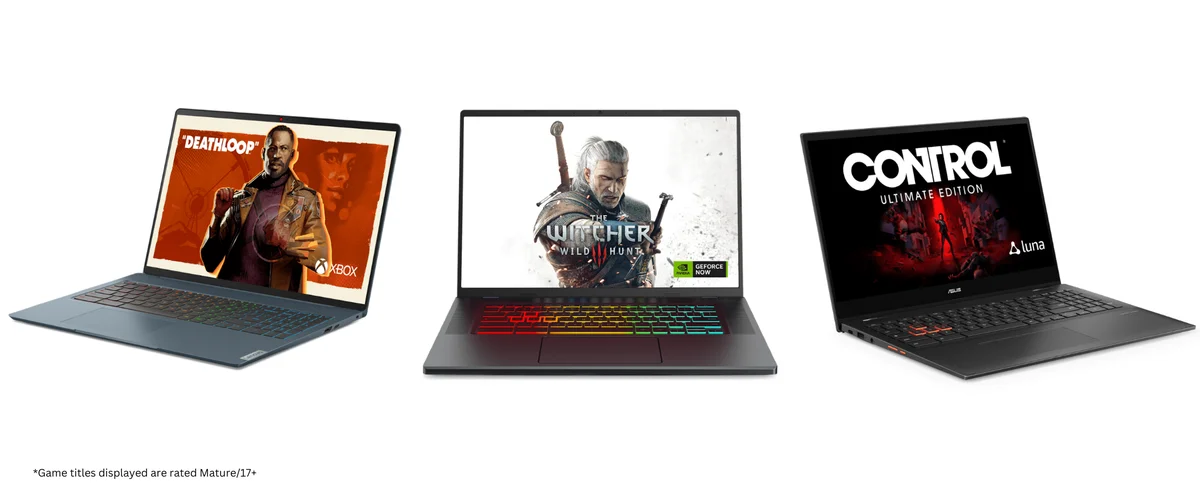 Chromebooks have always been known for being fast, secure and easy-to-use devices. Since their launch more than a decade ago, we've improved their capabilities and expanded the variety of devices for people to choose.
Today, we're taking that effort a step further, by introducing the world's first laptops built for cloud gaming along with our partners Acer, ASUS and Lenovo. These new Chromebooks bring together gaming hardware features, access to the latest games with cutting edge graphics through the cloud, and software designed to make gaming fast and easy.
A lineup of gaming Chromebooks, powered by the cloud
We are announcing three new Chromebooks today: Acer Chromebook 516 GE, ASUS Chromebook Vibe CX55 Flip and Ideapad Gaming Chromebook from Lenovo. These laptops come loaded with features that are great for gaming, including 120Hz+ high resolution screens for crystal clear visuals, RGB gaming keyboards (on select models) with anti-ghosting capabilities for added speed and excitement, WiFi 6 or 6E for seamless connectivity and immersive audio to draw you into your game.
The new cloud gaming Chromebooks

The new cloud gaming Chromebooks

The new cloud gaming Chromebooks
All cloud gaming Chromebooks have been independently tested and verified by leading game performance measurement platform, GameBench, to consistently deliver a smooth, responsive gaming experience with 120 frames per second and console-class input latency of under 85ms1.
Adding more games and capabilities to Chromebooks
We've teamed up with NVIDIA to bring support for GeForce NOW's highest performance RTX 3080 tier to cloud gaming Chromebooks, so you can stream titles like Fortnite, Cyberpunk 2077, Crysis 3 Remastered and more at up to 1600p resolution and 120 frames per second, taking full advantage of the 120Hz+ high-resolution displays.
The RTX 3080 membership also boosts your gameplay with features like ray tracing, which simulates how light behaves in the real world to make visuals hyper-realistic. The GeForce NOW app will come preinstalled on gaming Chromebooks, so getting to your favorite game will be even easier.
We've also worked with Microsoft to bring Xbox Cloud Gaming (Beta) to Chromebook through an installable web app. You can access and install this app by visiting xbox.com/play. Xbox brings a library of hundreds of games including Forza Horizon 5, Grounded and Microsoft Flight Simulator, accessible through an Xbox Game Pass Ultimate subscription.
Easy access to more than 1500 PC and console games
Chromebooks will now support three leading cloud gaming platforms — Xbox Cloud Gaming (Beta), NVIDIA GeForce NOW and Amazon Luna2 — bringing with them full PC and console games straight from the cloud.
Plus, the new cloud gaming Chromebooks make it easier than ever for gamers to find the games they love and start playing them in an instant. Just tap the Everything button, find your game on your platform of choice, then launch the game. No installs. No downloads. No hassle.
A GeForce NOW and Google Play using the Chromebook's Everything Button (3)
This search functionality will include games on NVIDIA GeForce NOW and Google Play at launch. We are seeking to include other cloud gaming platforms in the future.
Level up your gaming experience with new accessories
We know gamers love to enhance their gaming experience with accessories, so we're partnering with leading peripheral manufacturers like Acer, Corsair, HyperX, Lenovo and SteelSeries to ensure their popular mice, headsets and controllers are tested and certified as part of the Works With Chromebook program.
From left to right: HyperX Cloud II Gaming Headset, SteelSeries Rival 3 wireless mouse and SteelSeries Stratus+ controller, all of which are Works With Chromebook certified
Special offers to get you gaming
Cloud gaming Chromebooks will come with new offers that get you gaming right out of the box. New cloud gaming Chromebooks come with a three-month trial to Amazon Luna+ and NVIDIA GeForce NOW's RTX3080 tier.4
With these offers, you can play nearly 200 of the 1500+ titles available on Chromebook at no cost, including games like Control Ultimate Edition, Overcooked 2, Fortnite and League of Legends.
Visit chromebook.com/perks from your new cloud gaming Chromebook for more details on these offers.
The perfect flexible device for "undercover" gamers
As we launch the first Chromebooks designed for cloud gaming, we understand that, today, Chromebooks are not necessarily known for being gaming laptops. A lot of people know our devices best for productivity (work, school, documents, presentations and spreadsheets) or online streaming (movies, television and music videos).
But the new cloud gaming Chromebooks can actually be the perfect devices for gamers who aren't always seen as gamers — "undercover" gamers, if you will. We've worked with actor Winston Duke, as well as Jackson State University head football coach Deion Sanders and his sons, Shilo and Shedeur, to show how easy it is to game on a Chromebook, while of course getting everything else done that you need to as well. It is the ultimate cloud gaming machine, disguised as a Chromebook.
Starting this October, you can order the new Acer Chromebook 516 GE, the ASUS Chromebook Vibe CX55 Flip and the Ideapad Gaming Chromebook from Lenovo. Learn more about these devices and their features by visiting chromebook.com.
Disclaimers:
1Tested at 1080p when plugged in to power while playing Fortnite and Destiny 2 using early access test accounts on NVIDIA GeForce NOW.
2Luna is available in the mainland US only.
3Sequence sped up for illustrative purposes.
4Limited time offer. Terms and conditions apply.