Here's to five years of Chromecast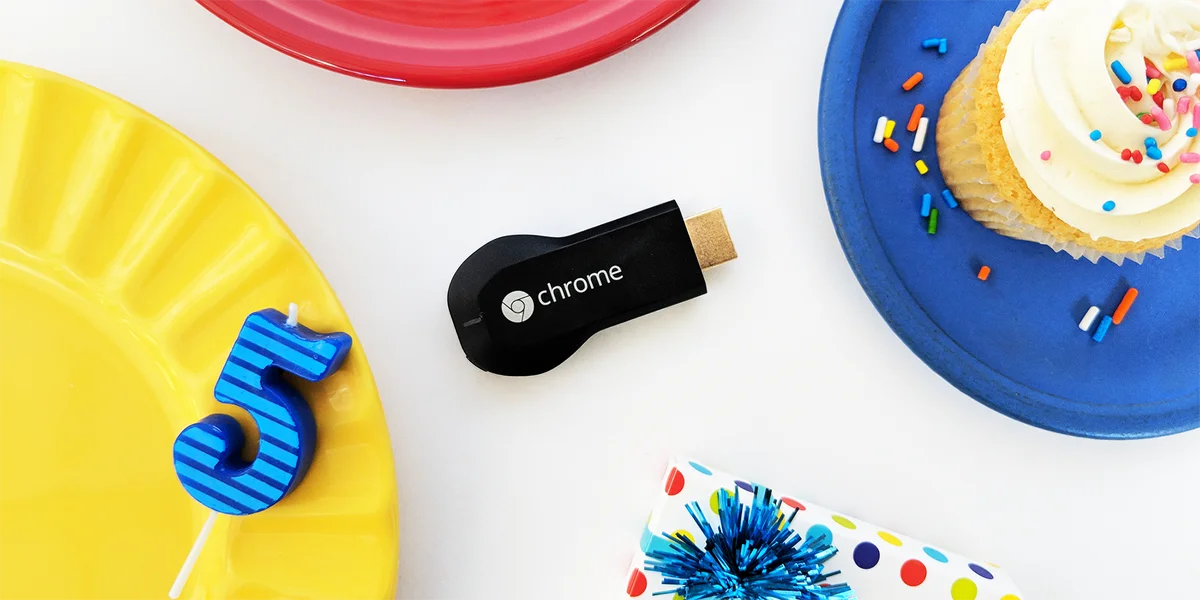 Not long ago, if you wanted to watch video online with your friends and family, your easiest option might have been to huddle around a laptop screen. If you wanted to watch on your TV, you had to search using your remote via a clunky on-screen keyboard—or if you were really enterprising, you'd figure out how to connect your computer to your TV. It wasn't easy.
Then, five years ago today, we introduced Chromecast to make watching streaming videos on your TV easy as pie. Just by opening one of thousands of content app on your phone, casting and pressing play, you can enjoy watching your favorite TVs, movies and more. Today, you can use Chromecast to stream thousands of apps to your big screen, and we continue to make it easier to watch your favorite show.

To celebrate Chromecast's fifth birthday, we asked Googler Majd Bakar—the first Chromecast engineer—and his wife, Carla Hindie—the inspiration behind Chromecast—to tell us the backstory behind our first and most popular consumer hardware device. Here's what the couple had to say:
How did Chromecast come into fruition?
Majd: This is back around 2008 or so. Carla was always looking for new stuff to watch, and I noticed how she went about starting a movie. She would go to her laptop to pick a movie using a streaming service, add it to her queue, and then close the laptop. Then, she'd open the movie on her gaming device. I used to watch her and think, "This is really hard ... Why do you do that?"
Carla: Basically, back then TV interfaces were hard to use. The search was difficult and very slow.

Majd: I said, "Okay. Let's build an interface where everything happens on the phone, and only the video plays on the large screen. And let's make the hardware device that enables this experience as small and as hidden as possible." 
Do you think it's true that some of the best tech ideas come from non-tech people?
Majd:
 I think great ideas can come from anybody—you don't need to be a tech person to think of the next best gadget. What's important is creating a product that actually solves a problem that people encounter, and makes a positive difference in their lives. People outside of tech also want solutions that are simple and easy to use, rather than complex—so their ideas may result in better products with more mass appeal.
How long did it take to create Chromecast?
Majd:
I joined Google in 2011 to create products that would change how people used their TVs. I pitched this idea and everyone got excited about it. It was 2012 when we really got started, and we launched Chromecast in July 2013.
How did you feel when the product finally launched?
Majd:
The first time I brought a beta Chromecast home, it was in late 2012. I plugged it into my TV and showed Carla.
Carla: He actually wanted me to set it up so that he could see if it was going to be easy for everyone. I'm a huge complainer if there's anything I don't get quickly, and I don't like reading manuals. So he gave it to me and said, "Here, you set it up." And it was very easy. It was a big, exciting evening in our house.

Majd: We sat down and watched YouTube, because the first thing we had working on Chromecast was YouTube. So I said, "Okay, let's watch a couple of YouTube videos." We watched YouTube videos for three and a half hours until 1 a.m. At the end of it, she said, "You've been working on this for a year, and I had no idea what a big difference this small device would make."

What's your favorite Chromecast feature?
Carla:
I like that we can actually go into anybody's house who has a Chromecast, log into their network and use it.
Majd: Yeah, I think that's really one of the most powerful features that we have. To me, the ease of use is what I like. We had an advertisement that said it was so easy for everyone to use. The first time I saw that ad, I had tears in my eyes.

And on Chromecast's birthday, how does it feel?
Majd:
I am very proud of the team. I feel lucky to be able to work on something like this—it's very humbling to pitch something and see it from the beginning. When we started, we were three people, and now we have hundreds of people working on Chromecast and other hardware products for the home. That is a huge effort. We, as a team, made an impact in this space.
Thanks to Majd and Carla sharing the story of Chromecast—and thanks, Chromecast, for letting all of us stream with ease.