How to draft an email in Google Docs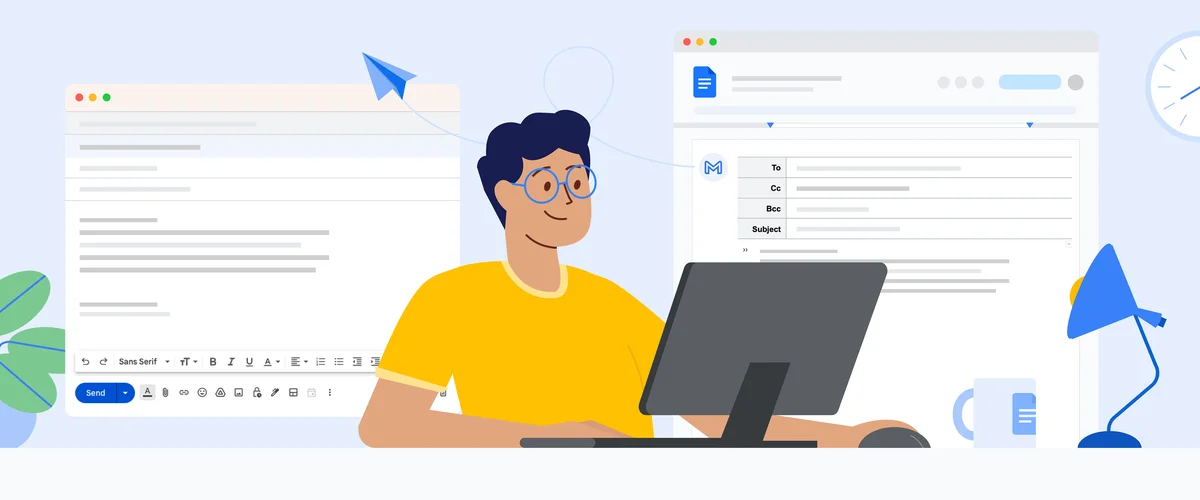 Google Docs and Gmail are a match made in productivity heaven! With Docs, you can create and edit emails using a template that easily converts to Gmail when you're ready. That means you can draft responses, collaborate with others and even track changes — all in Docs — until you're ready to send it from Gmail.
Here's how these two tools work together step by step.
How to draft an email in Google Docs
On your computer, open the Docs home screen at docs.google.com. In the top left, under "Start a new document," click Blank.
Click on the "Email draft" building block button, which you will see at the top of the blank Doc. You can also insert an email draft by typing "@email draft" and selecting the "Email draft" building block. Or, click on the "Insert" menu and select "Building blocks." Then, select "Email draft."
Add recipients in the "To" field by typing their email addresses. You can also type "@" and then start typing the name of a contact to search for them directly from your contacts.
Fill out the "Subject" field.
In the body of your email, type your message. You can collaborate with teammates in real-time by making edits simultaneously and tracking changes, writing comments with feedback and assigning actions for certain tasks. You can further refine your email with suggested edits. And to save time, you can use Help me write to generate and refine a draft based on a simple prompt.
Once you've drafted your email, click on the "Preview in Gmail'' icon on the left side of the draft. This will open a new window in Gmail with your email draft pre-populated. If you need to make any changes, exit the window and make your edits in Docs before previewing again.
When you are ready to send your email, click on the "Send" button in your Gmail draft.
And just like that, you've successfully used Google Docs to create a clear, concise and error-free email in no time! To learn more helpful productivity tips, check out the official source for updates about Docs, Sheets, Slides, Forms and Sites. And if you'd like to learn more about Help me write and other generative AI experiences, check our Duet AI in Workspace page.