I'm using Google Docs to write a novel — steal my tips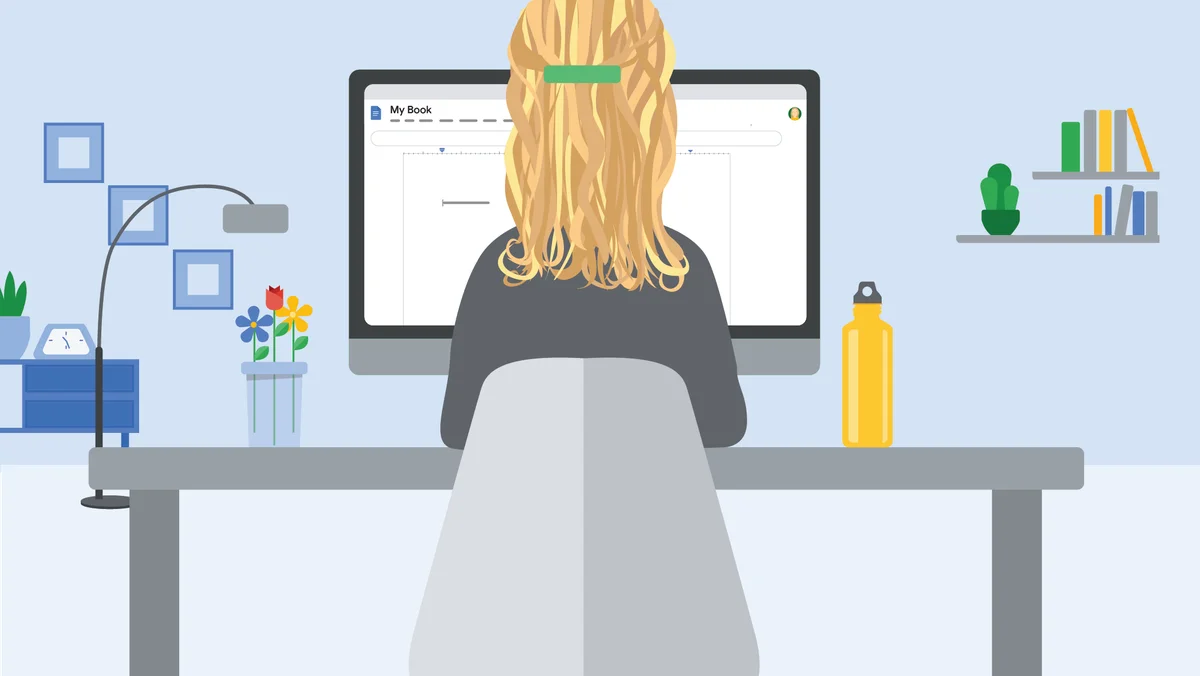 Writing a book is on many people's bucket lists, but it's easier said than done. Storytelling involves a lot more than chewing on the end of a pencil and creating genius one-liners that will be quoted for generations to come. It's a continuous process of drafting, revising and receiving feedback. As someone working on her first novel, I'm well aware of this (sometimes humbling) fact.
I realized I needed help early on in the first draft of my work in progress. Every day, it seemed like I wasn't writing quickly enough, often enough, well enough. To make matters worse, I lost all my progress when a writing program I was using crashed. I knew if I was really going to do this, I needed a tool to better support my writing. So I switched to Google Docs.
Docs provided me with the flexibility and resources I needed to power through my first draft, and I've discovered even more features while doing revisions and working on a few other stories too. If writing a novel is a goal of yours, too, here are some ways Google Docs can help you make it happen.
1. Turn on offline access
One of my favorite places to write is my local park. I'm inspired by the world around me — the hidden trails lined with trees, the hikers sharing stories from their travels, the sun warming my skin — but Wi-Fi's not always easy to find in the great outdoors. Luckily, I don't have to be connected to the internet to create, view and edit within Google Docs. Turning on offline access in my Google Drive settings lets me keep working on my draft, no matter where I am.
2. Format your draft with headings
Whether you plot out your novel ahead of time or just go where your muse takes you, a blank page can be intimidating. That's why I start my stories off with a clean title page, document outline and chapter titles formatted as headings. Rebecca Hsieh, a Product Manager on Docs, is also a fan of headings in Docs.
"As a product manager, I'm writing pretty lengthy Docs all the time," says Rebecca. "I use headings to help break up the massive wall of text and separate different topics and sub-topics, both for my mental clarity and easier reading for others. I love that with headings, you can customize and save your preferred styles so they become the defaults for new documents." For the easiest navigation possible, Rebecca also likes to add a table of contents when her documents are more than four pages or so. (As a bonus, all those headings help you get something on the page if you're nervous to really dive in!)
3. Display word count while typing
The Google Docs "Display word count" feature can be a great tool for short-term writing challenges. Pushing myself to type out 1,000 words in a writing sprint helps me increase my writing speed and combat perfectionism; I've also found that it makes writing difficult scenes more exciting. If you also find it motivating to watch that word count climb, select the "Display word count while typing" box when checking your word count in Docs.
Ideal for writing sprints, this feature lets you keep track of the number of words, characters or pages while you type.
4. Try typing with your voice
When I hit a wall, I find that voice typing is an easy way to make my writing more conversational. It also doesn't hurt that I can give my hands a break. Just be sure to use Docs' spelling and grammar check to clean up any punctuation before sending your story off to your editor, if you're working with one.
My best ideas seem to come at the least convenient times, like while I'm waiting in line at the DMV, during long bus rides or right after I've tucked myself into bed for the night. If I had to race to my laptop every time I thought of new dialogue, I'd probably give up on writing all together. Luckily, Google Docs is cloud-based, making it easy to access drafts on multiple devices. If I come up with a great piece of dialogue in the middle of the night, I can roll over, grab my cell phone and easily jot down my thoughts. In the morning, I can continue working from my laptop.
6. Use Tasks to create a writing to-do list
Writing a novel is admittedly daunting, but like any good hero's journey, the adventure takes place one step at a time. I find it way less intimidating when I focus on small steps towards my goal, like plotting out a chapter or coming up with character names, than it would be if I just sat down and told myself to write a book. Rebecca recommends using Tasks, located in the Docs sidebar, to break down chapters and edits into actionable chunks.
"If a friend leaves a comment that a paragraph needs to be reworked, you can add a task for yourself and give yourself a deadline," says Rebecca. "I use Tasks and it saves me a lot of time."
Tasks created in the Docs sidebar can be viewed in Calendar, Drive, Gmail and other Google Workspace apps.
7. Compare current and previous drafts with version history
There's a great saying that "the only writing is rewriting." If you're anything like me, it's often more accurate to say, "The only writing is rewriting, then revising just to delete everything and start from scratch again." Using Docs' version history allows me to go back and look at things I deleted weeks ago. This can be useful for finding deleted information, but I also find that reading old drafts boosts my confidence and shows how much I've improved. I can even restore earlier drafts … or not.
8. Share with beta readers
The most valuable part of the writing process for me is receiving feedback and encouragement from those I trust. Docs' collaboration features take some pain out of revising, helping me easily collect and review suggestions and comments from beta readers. My writing group also uses Docs to swap scenes. It's even possible to co-write a story with a friend by giving them edit access.
Writing a novel can be a huge project filled with challenges ranging from correcting spelling errors to overhauling an entire draft. Luckily, if you've got big literary dreams, Google Docs is filled with tools to help you along the way.