New views of beauty and fragility in underwater Street View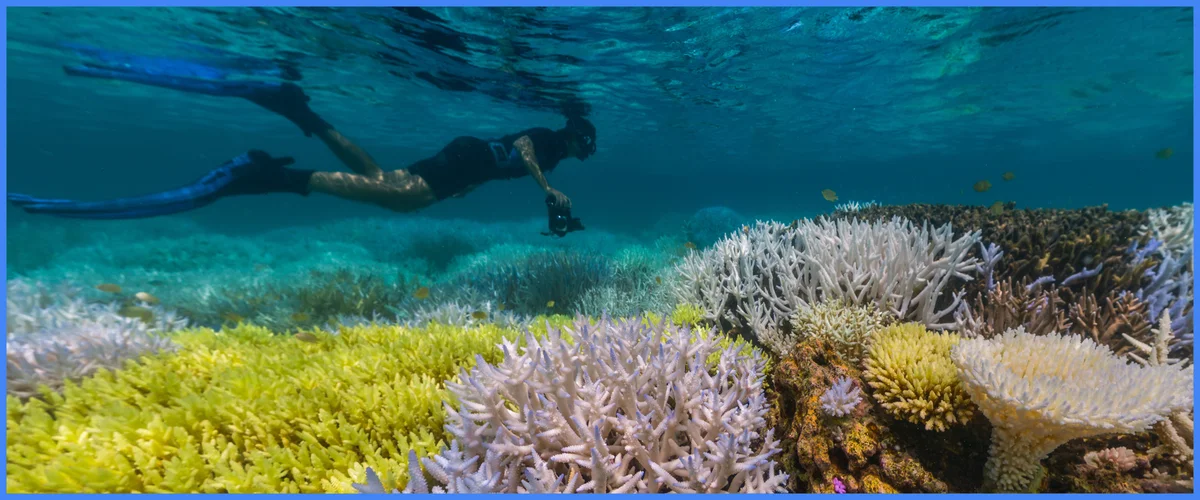 Editor's note: Today's post is by Lorna Parry, co-founder and managing director of Underwater Earth, a nonprofit that reveals stories about the ocean through technology. In honor of World Oceans Day on June 8, Lorna talks about new underwater Street View images from around the world, and how the images reveal the ocean environment.
Under the surface of the ocean lies a magical and beautiful world that most of us never get to see. Along with the beauty, there are also sobering reminders of humanity's impact on the ocean—like bleached and dying coral and plastics that marine life consume. We hope our new underwater Street View images, available today in a Google Earth collection, will encourage people to fall in love with the ocean—both its beauty and fragility—and want to protect it.
I've been diving for decades and have been fortunate to see wonders like Australia's Great Barrier Reef up close. But you don't have to put on diving gear to experience these wonders. At Underwater Earth, we create 360-degree views of the undersea environment because we believe seeing what's happening under the ocean builds understanding and appreciation for protecting it. We don't create these images because we want people to despair about the fate of the ocean, rather we want people to be inspired to save the beauty they see.
Our newest underwater Street View images, like the Great Barrier Reef's Lizard Island and New Caledonia's coral lagoons, are breathtaking. If you don't know a lot about coral reefs, then the color and variety can seem amazing. But the fluorescing colors are signs that the coral are trying, but failing, to protect themselves from the effects of the warming ocean—what we call "nature's most beautiful death."
See a stunning display of fluorescing under extreme ocean warming conditions in the coral lagoons of New Caledonia. Image collect by Underwater Earth / XL Catlin Seaview Survey.
Other new imagery in the collection shows "Million Dollar Point" in the Vanuatu archipelago in the South Pacific, where Jeeps and bulldozers were dumped when the U.S. Army left the area after World War II. The images are a reminder of the vision of the ocean as a place to endlessly dispose of rubbish, with no harm done. But the eight million tons of plastic that are dumped into the ocean each year doesn't disappear. It harms marine life, and as marine life consumes the plastics it ends up in our food.
Explore shipwrecks at "Million Dollar Point" in the Vanuatu archipelago. Image collect by Underwater Earth / XL Catlin Seaview Survey / Christophe Bailhache.
Inspired to act
Saving the ocean is not just about saving its beauty. It's also about saving the planet, and ourselves, from the effects of climate change. The ocean provides us with oxygen and food. It absorbs heat to stabilize global temperatures. It drives our climate and our weather. Shouldn't we become better acquainted with the ocean and do our part to protect it?
If people are inspired to protect the ocean, there are simple steps to take. You can reduce your reliance on plastic or buy sustainably sourced fish whose harvesting minimally impacts the marine environment. Every action, no matter how small, can make a difference.
The wonderful thing about seeing underwater Street View images is that they encourage people to learn more and to ask questions. When I take the images into classrooms, kids call me the "Ocean Lady" and ask if I've ever seen sharks. (The answer is yes: tiger sharks, whale sharks, grey reef sharks, black tip reef sharks, hammerheads—all of them are sleek, powerful and commanding creatures.) I hope these school kids will one day learn to dive, like my 9-year-old daughter. Then they can see the ocean's magic and all of these sharks for themselves.
The World's Ocean collection is available on Google Earth for web and mobile. Right: Image collect by Underwater Earth / XL Catlin Seaview Survey / Christophe Bailhache.
In the meantime, we have underwater Street View images to inspire awe about the ocean. You'll find these images, and all underwater Street View images to date, in this Google Earth collection. They're part of a new Street View category that's available in Voyager on Earth for Web, Android, and iOS. Take some time to explore images like the Julian Rocks Nguthungulli Nature Reserve. One look at the Eastern Striper fish and spotted wobbegong sharks, and you can't help falling in love with the ocean and wanting to save it.