How to find the best smartwatch or fitness tracker for you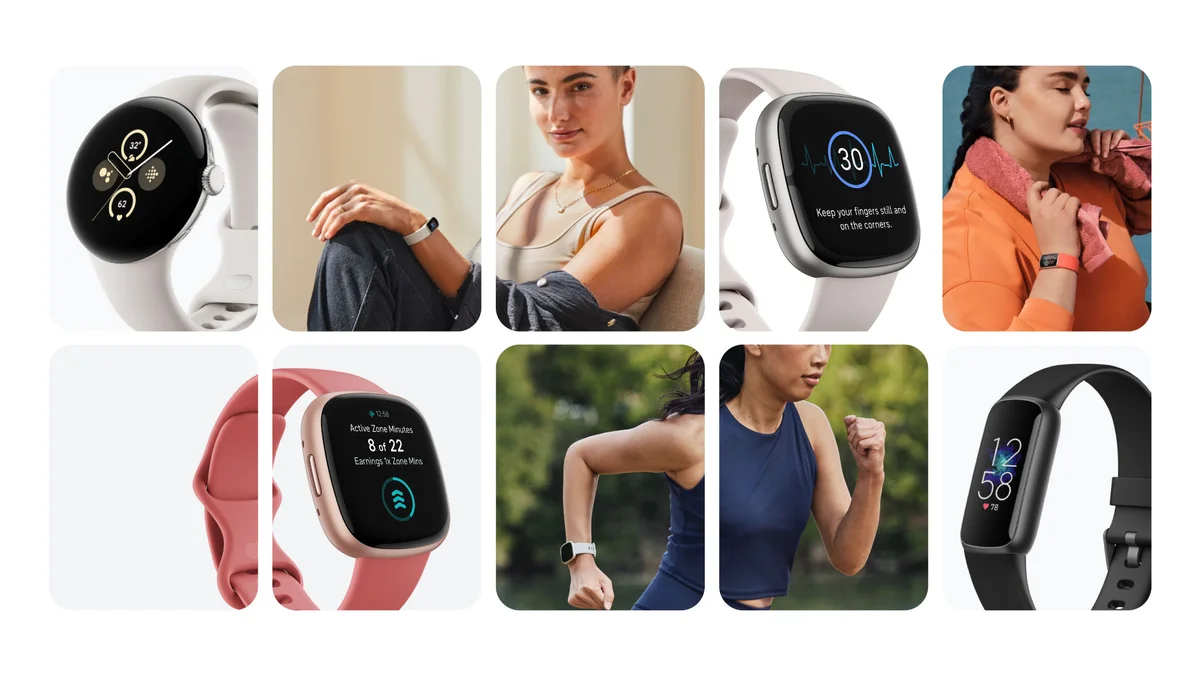 Shopping for a smartwatch or fitness tracker for yourself or someone else and overwhelmed by the options? We've got you covered just in time for holiday shopping. Here's a look at our latest lineup of wearable devices, including premium smartwatches that do it all and fitness trackers for a range of budgets.
Once you find the wearable that's right for you, head to the Google store or Fitbit.com to see all our current holiday sales — including some early Black Friday deals that have already started — and shop for wearables and accessories.
Smartwatches
Want to track your health and fitness with advanced features plus have the perks of a connected smartwatch — like a larger screen, built-in GPS and other apps? Choose one of these three smartwatches.
Price: $349.99 for Bluetooth/WiFi; and $399.99 for 4G LTE
Buy this if: You have a Pixel or another Android phone and are looking for a beautiful, premium smartwatch that's helpful at the gym or during a night out. This is our newest and most advanced smartwatch that combines Google's helpfulness and Fitbit's wellness features.
The Google Pixel Watch 2 is packed with three new sensors for deeper health insights so you can track your signs of stress, skin temperature, and heart rate with our most accurate heart rate tracking yet.1 Safety features like Safety Check and Emergency Location Sharing help you stay safe on the go2, and tools like Google Assistant and built-in Google Apps — like Gmail, Calendar and Pay — help you stay productive.
With the 4G LTE option, you can receive texts and calls and more even when your phone isn't with you. With the Bluetooth/Wi-Fi option, you'll need to have your phone close or connect to a Wi-Fi network to stay connected.
Price: $199.95
Buy this if: You're looking for an on-wrist workout buddy plus built-in Google smarts. This is a popular smartwatch option if you're focused on fitness.
Versa 4 is popular with athletes for its robust fitness features, like built-in GPS to get real-time feedback on your pace and distance, all-day activity tracking, 40+ exercise modes and heart rate and sleep tracking over time. Sensors in the watch automatically detect when you start exercising to help you track every workout.
Plus, the Versa 4's smartwatch capabilities mean you can get notifications, use contactless payments and get turn-by-turn directions with Google Maps integration right on your wrist.
Price: $249.95
Buy this if: You want to track your health and wellness with as much data as possible. This is our Fitbit smartwatch with the most health sensors and features.
Fitbit Sense 2 is our health-focused smartwatch. In addition to all the benefits of the Versa 4, you'll get even more features and sensors to help you manage stress, sleep better and live healthier. It's our highest-end Fitbit device that's built with our Body Response feature powered by an on-wrist continuous electrodermal activity (cEDA) sensor for all-day stress tracking, an ECG app that can detect heart rhythm irregularities, and a built-in temperature sensor to help you understand potential changes in your wellness.
Trackers
Want to keep tabs on your health and wellness with a smaller device? Choose from one of these four trackers.
Price: $159.95
Buy this if: You want a fitness tracker that does it all — from supercharging your workouts to getting more done from your wrist. The Fitbit Charge 6 now has helpful Google tools like Maps and Wallet.
Fitbit Charge 6, our newest fitness tracker, features all-day activity tracking and our most accurate heart rate tracking yet.3 It includes sensors to track blood oxygen levels, skin temperature, ECG readings for irregular heart rhythms, and electrodermal activity to measure your body's response to stress during mindfulness sessions. . You can also connect it with compatible gym equipment to track your heart rate during workouts.4
That's not all: The Charge 6 is also our first tracker with on-wrist control for Google apps, like YouTube Music, Maps and Wallet, so you can do more on the go.
Price: $99.95
Buy this if: You're looking for a tracker that's an aesthetically pleasing — and comfortable — addition to your wrist. This is one of our smallest trackers!
With a jewelry-inspired design and several band color options, the Fitbit Luxe is a fashion-forward tracker. But the Luxe is just as much about function as it is about form: It tracks all the essentials, like sleep, heart rate and breathing rate.
Price: $99.95
Buy this if: You want a tracker that has the basics down — like step count and heart rate. This is a great option for people new to fitness tracking.
The Inspire 3 is a great entry-level option that tracks important metrics at one of our most accessible price points. Easily keep tabs on the essentials like your daily step count, heart rate and sleep. Plus, its focus on the essentials means that the battery life lasts up to 10 days!
Price: $79.95
Buy this if: You want to get the whole family excited about staying active. This tracker is built for kids six and older.
The Ace 3 is great for families looking to build healthy habits. It keeps kids engaged with fun colors, playful virtual badges and animated clock faces. You can also control your child's connections and privacy settings through parental controls in the Fitbit app.