A totally rebuilt Sites, customer-tested and open for business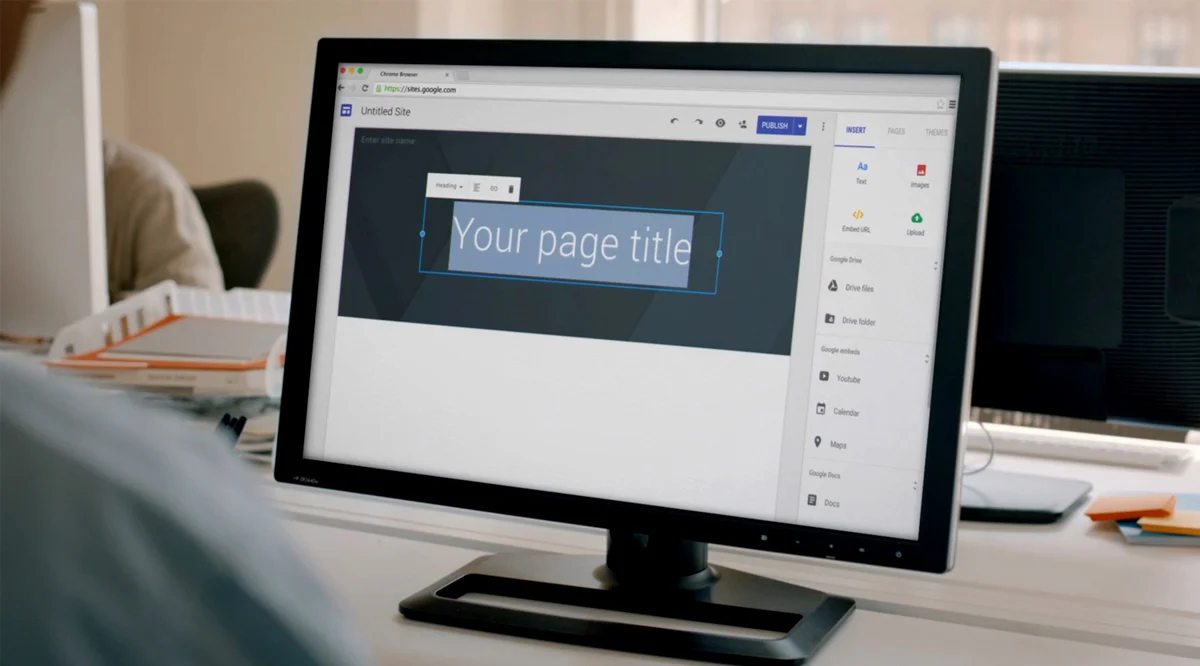 We've started turning customer feedback into new and improved features.  For example, some customers asked for the ability to measure how much engagement their sites were getting. You can now track site performance with Google Analytics. Other customers asked for more customization and different designs, so you can now choose between six themes to give your site the right look.
Nadia Lee, a product and change manager at Dow Jones, tested the new Sites to build a few informational sites for her teams and had this to say: "Sites is much more user friendly than other tools I've used, especially for non-technical people. It's nice that I can collaborate in real-time with colleagues and see the edits they're making. And, the final product looks clean and well-designed."
Since its launch in 2008, Sites has made it possible for employees to build working team and project sites without writing a single line of code (no HTML, CSS or any other all-caps acronym.) But, web technologies have progressed a lot in the past decade, and the new Sites is an even more approachable way to build a site.
Sites as easy to create as a doc
Now, it's easier than ever to create a site and add text, links, images and more with a quick cut-and-paste, or simply drag-and-drop to rearrange and resize elements on the page.
Sites integrated with your favorite apps
The new Sites is built to work with your favorite Google apps so you can insert content from the tools you use most. It's easy to embed a schedule from Google Calendar, a video clip from Google Drive, or a location from Google Maps. You can also insert content from Docs, Sheets, Slides and Forms and a live version will be presented within the site.
Sites built together
The new Sites is the first truly collaborative tool for building team and project sites. Using the same technology as Google Docs, the new Sites brings real-time, multi-user coauthoring so the whole team can add and update a project site without worrying about conflicts or locked pages.
Sites that are beautiful and functional on any screen
The new Sites also includes themes and layouts designed to intelligently scale and flex to any screen size, so they look great when you access them on a 30-inch monitor at your desk or on your smartphone during your commute. And, an integrated preview mode lets you see what your site will look like on a desktop, a tablet and a smartphone while you're editing so you can build the most useful team and project sites.
The new Google Sites is open for business. If you're a G Suite customer with Google Sites enabled, you can get started building on the new Sites now or learn how to enable Sites in the Admin Console. Customers can continue to use classic Sites as we continue to add capabilities and improve the new Sites.