Thumbs up for new emoji reactions in Gmail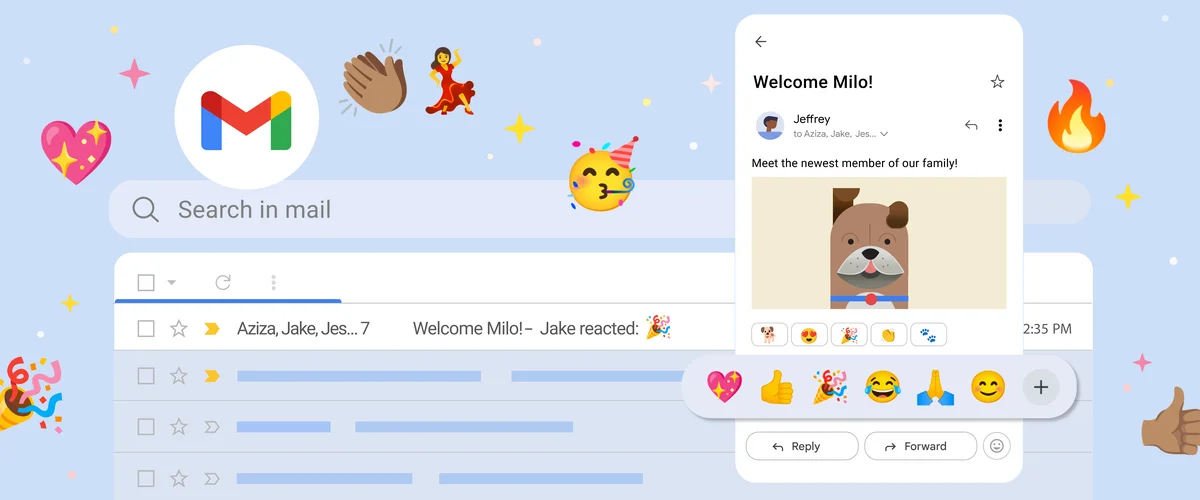 Emoji are an easy and beloved way to react in messaging apps, especially if you can't quite find the right words or don't have time to type out a response. And now, Gmail is bringing the fun to your inbox.
With new emoji reactions in Gmail, you can quickly express yourself — like thanking your partner for the forwarded hotel reservation 🙏, reminiscing over a childhood photo your sister shared 🥹, or voting for dinner options with friends 🍣 🌮 🥗 — in just one click. And for certain emoji (like 🎉), you might even see some extra flair on your screen.
Starting this month, those with personal Gmail accounts will see a smiley face icon appear below their messages on mobile and desktop. Click on it to select an emoji from the menu, then simply tap one to send. Or if another recipient already responded with the perfect emoji, just click that one to pile on. You'll get the best experience using the latest version of the Gmail app on your mobile device (available on Android and iOS). If you're using another email client, you'll receive emoji reactions as separate emails.
With this new option in Gmail, you can get even quicker and more creative with your responses. Be 🐝 on the lookout 👀 for emoji reactions in your inbox in the coming weeks. And stay tuned for more ways we're helping you free up time and focus on what matters most.