Developing a VR game in just two weeks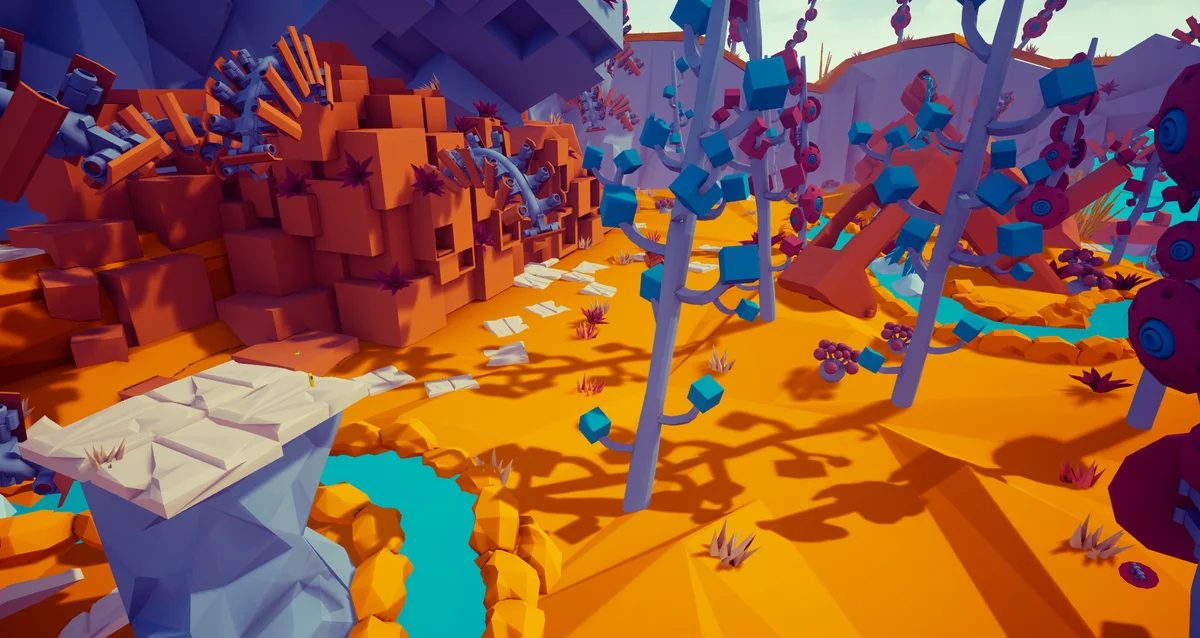 Earlier this year, 3D modeler Jarlan Perez joined the Blocks team for a two-week sprint. The goal of his time with the team was to create a fully immersive virtual reality game in just two weeks using Blocks and Unreal Engine, two tools that have significantly influenced his process as a modeler and game enthusiast.
The result was "Blocks Isle," the first level of a game that takes you on a journey to find your long lost friend in a sci-fi land of wonder. To win, you must solve a puzzle using hidden clues and interactions throughout the experience.
You start out on a strange desert island. After uncovering some clues and pulling a handy lever, a rocky pathway opens for exploration. Up ahead, hidden radios and books reveal clues to solve the puzzle.
Initial steps to get onto Blocks Isle. Levers and teleportation immerse the user in a new world.
Solving the puzzle on Blocks Isle
We caught up with Jarlan to hear more about his process and advice for other developers building immersive experiences using Blocks and Unreal Engine 4.
Brittany: Tell us about using Blocks and Unreal to develop a game in such a short amount of time.
Jarlan: Tag teaming both pieces of software worked very well! Blocks allowed me to visualize and be in the space during the modeling and conceptual phase. Unreal is like giving an artist magical powers: I'm able to fully build a proof of concept and implement functionality without having to be a professional programmer.

I found myself spending part of the day in Blocks experimenting with concepts and the rest in Unreal creating basic functionality for those ideas. This method allowed for rapid prototyping and was later beneficial when populating the space with art assets.
Basic prototype in Unreal
What tips and tricks did you uncover that made it easy to build your game?
Being able to build large parts of the environment while standing smack dab in the middle of it is wonderful.
A big thing that I found myself doing is blowing the scene up to actual size, standing in it, and using a combination of the move grip and me moving my arms back and forth to simulate walking within the space. It helped me further understand how I wanted the player to navigate the space and where certain things needed to be placed. Again all within Blocks and no code.
Simulating walking through the experience in Blocks, as part of the creation process
Another general tip, the snap trigger is your friend! I've used it for most of my modeling in Blocks to snap and place assets.
Using Blocks' snapping feature to align shapes in the environment
How did you experiment with different ideas and concepts?
I had a few different concepts when I started the project. Blocks allowed me to quickly build a mock up of each for testing.
Blocks is an amazing tool for spatial prototyping. Before bringing a scene into Unreal, I'd blow it up to scale and move around in the space to see if it makes sense for what I'm trying to achieve. This saved me so much time.
Further development of the Blocks Isle concept
Without Blocks, how might this process have been different?
After all is said and done, I still had to take the geometry from Blocks and bring it into a 3D program for unwrapping and lightmap baking.

That said, even though I am proficient in traditional 3D modeling, I think the project would have taken longer to put together without Blocks. Blocks helped me take out some steps in the process. Traditionally I'd model out the scene and export pieces as I went, bringing them into the engine, placing them, and moving around to get a sense of how the space feels. All that got combined inside Blocks. Oh, and not to mention color exploration. If I wanted to try out colors I'd also have to create materials and place them on each asset during the in-engine test which takes more time. I can easily preview all of that in Blocks.

What advice would you give to other game developers about using these tools?


Keep exploring and always stay hungry. Be on the lookout for new tools that can improve your process and don't be afraid of trying something new. If it doesn't work out, it's ok. We learn so much more from the challenges we take on than from the ones we don't face by walking the easy path.

There are some amazing low poly games and artists out there. I think many artists would benefit from making models in VR using Blocks. If I was able to finish this project in two weeks, I can only imagine what a small team could do. Give it a try, and post your creations or questions using #MadeWithBlocks.
If you'd like to experience Blocks Isle on the HTC Vive, you can download the game.