More great stuff to watch and a holiday sale on popular Daydream apps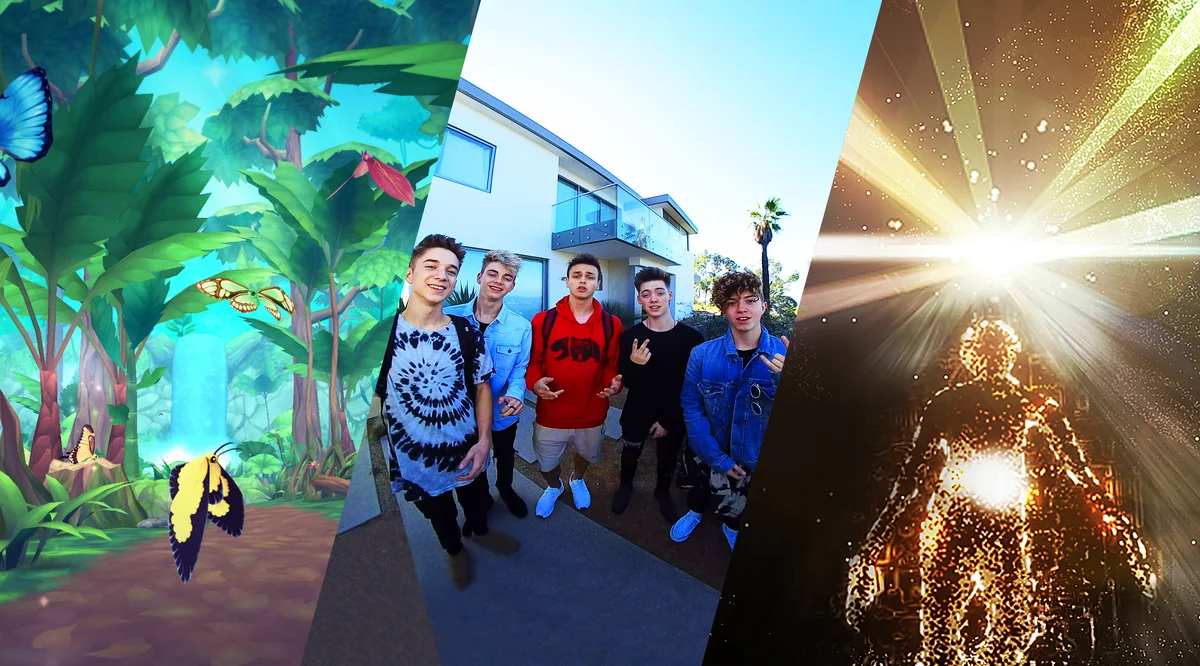 With cold weather outside and the holidays fast approaching, now's the perfect time to take a moment and kick back with Daydream. We're launching an update to make it easier to discover great content both in and out of VR, plus loads of new VR experiences to keep you entertained.
Find great VR content easily
With the latest Daydream app, you can now see what's new and trending on the Google Play store in VR. And when you're on the go without your headset, you can still search for apps and games, or explore content categories that refresh weekly right in the app on your phone.

Watch immersive VR videos
There's more and more VR content available all the time. From music and comedy to travel, check out some of our recent favorites.
Go behind the scenes with your favorite musicians

Why Don't We: Step inside the house of Why Don't We in VR180. Take a behind-the-scenes tour with band members as they walk you through their house and talk about the milestones and memories made in their house, including songs recorded, deals signed and videos shot.
Austin City Limits: Backstage - Episodes 1 to 3: Venture backstage at Austin's legendary Moody Theater to hang with your favorite artists like Ed Sheeran and Zac Brown Band, and meet the crew that brings the legendary ACL television show to life in Unsung Heroes.

Looking for a laugh?
The Confessional - Episode 4: Hear from Judd Apatow in the latest episode of "The Confessional," a series where today's biggest comedy stars share intimate (and funny) stories from their lives in a virtual confessional booth.
See new sights and meet extraordinary people


Discovery TRVLR - Continents 1 to 4: Travel around the world—starting with Auckland, Hanoi, Mexico City and Yerevan—and connect with personalities and adventurers across the globe.


Female Planet - Episode 2: Discover the world of Inna Braverman, co-founder of Eco Wave Power, a company that converts wave power into usable energy.
Looking for cutting-edge VR creations?


Explore new apps—and get favorites on sale
Developers have been busy building some awesome new experiences for Daydream. Here are some of our favorites:

A timeless classic now in VR

Rez Infinite: Blast through waves of enemies and giant transforming bosses, with colors and sounds that sync and blend to the beat of the app's techno soundtrack.

Coming soon to Daydream


ASTEROIDS!: Following the initial teaser, the highly-anticipated full-length film will be launching next week. From the director of Madagascar comes the follow-up episode to the Emmy award-winning film INVASION!. The film follows the journey of quirky aliens Mac and Cheez (voiced by Elizabeth Banks), and their sidekick Peas as they traverse the challenges of space.

Flutter VR: Explore the beauty of the Amazonian rainforest as you discover real butterfly species and see the environment change from day to night and rain to sunshine as you meet and discover new creatures. 

Some original VR favorites are now 50% off for a limited time, too (discounts valid 12/7/17 to 12/14/17). Explore imaginary worlds with Beartopia and So Let Us Melt, embark on new adventures with Hunters Gate and Spark of Light, and hone your reflexes with Drift and Fishing Star VR.
We have lots more new features and exciting experiences in the works for 2018. If you're new to Daydream, or you haven't tried it in a while, now's a great time to jump in. And remember, you can always bring your friends and family along on your VR adventures by casting what you see to a TV.