Announcing Google Cloud Next 2018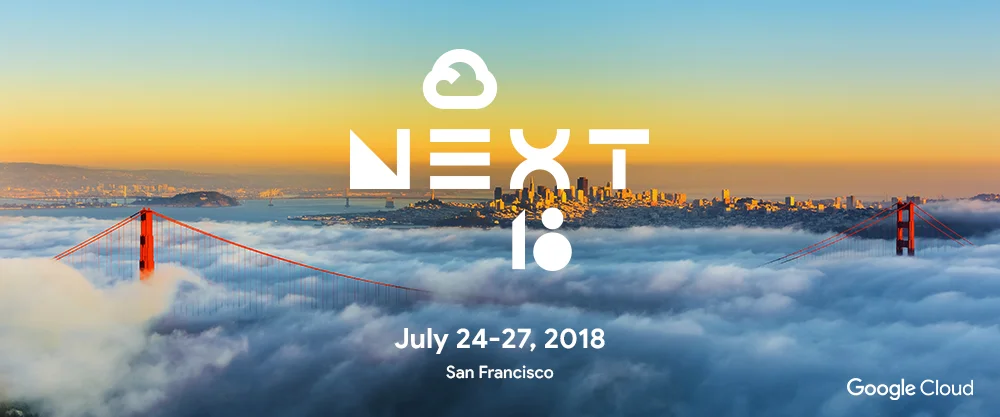 Google Cloud Next '18 is coming! Mark your calendars for July 24-27, 2018 at Moscone Center in San Francisco.
Google Cloud Next is where customers, partners, developers, influencers and the greater global cloud community get inspired and learn. Together, we're working to make the cloud useful and accessible to everyone.
Dive deep into Google Cloud technology through hundreds of breakout sessions, code labs, demos and hands-on training, covering everything from infrastructure to devices, and security to machine learning. You'll get the chance to connect with the entire Google Cloud team, including our engineers, product leadership, developer advocates and more to unlock new opportunities for your business.
At Next '17, more than 250 Google speakers and 70+ customer speakers presented at 200 breakout sessions. We made 100 announcements at Next '17, and we're gearing up for more big news next year. Next '18 will feature tracks that encompass all aspects of our Google Cloud portfolio: application development, containerization, collaboration & productivity, data & analytics, infrastructure & operations, hybrid cloud, machine learning & artificial intelligence, maps, security, mobility & devices and much more. Be on the lookout for information on how to register coming in March 2018.
Know someone we can all learn from, or want to contribute yourself? We're actively soliciting proposals for speaking sessions that will educate and engage attendees. If you have an interesting idea or expertise that you would like to share at Next '18, please submit your proposal by January 26, 2018. The earlier the better.
We're excited to create an inclusive space that brings people together, fosters collaboration and inspires innovation at Next '18. We can't wait to see you in July!