Empowering businesses and developers to do more with AI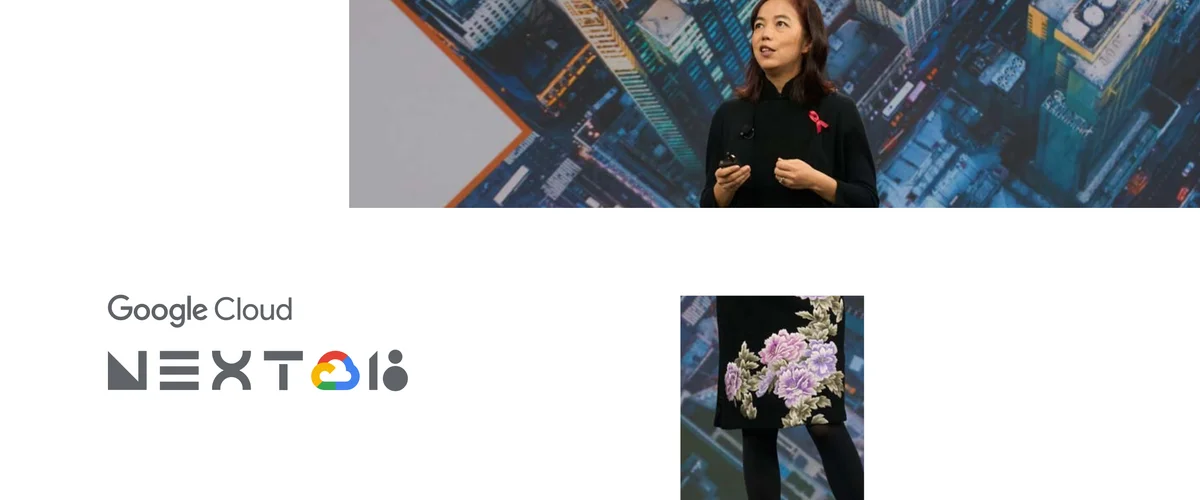 AI has evolved dramatically in the last two decades. Technologies like image recognition and machine translation are now a part of everyday life for millions. AI has transformed industries all over the world, and created entirely new ones. And in the process, it promises an increase in quality of life and work never before imagined. But there's still much more we can do—after all, AI is still a nascent field of many opportunities and challenges.
AI is empowerment, and we want to democratize that power for everyone and every business—from retail to agriculture, education to healthcare. AI is no longer a niche in the tech world—it's the differentiator for businesses in every industry. And we're committed to delivering the tools that will revolutionize them.
Today, we're sharing news on a number of new products and enhancements to do just that:
Cloud AutoML Vision, Natural Language, and Translation, available now in beta

New enhancements to Dialogflow Enterprise Edition, available now in beta

A new solution, Contact Center AI, available now in alpha
Cloud AutoML: The next step in democratization
A significant gap exists between the extremes of what's currently possible with machine learning. At one end, experienced practitioners such as data scientists use tools like TensorFlow and Cloud ML Engine to build custom solutions from the ground up. At the other end, pre-trained machine learning models like Cloud Vision API  deliver immediate results with minimal investment and technical proficiency. But what about the countless customers that fall in between? Many have needs beyond what's available with pre-trained models, but don't have the skills or resources to build their own custom solutions.
To address this middle ground, earlier this year we announced Cloud AutoML. It makes it possible for anyone to extend powerful ML models to suit the specific needs of their domain, without requiring any specialized knowledge in machine learning or coding. Our first release, AutoML Vision, extends the Cloud Vision API to recognize entirely new categories of images. After refining the experience with our alpha users, we're excited that today, AutoML Vision goes into public beta.
But image classification is just one of countless applications of machine learning, and we're dedicated to addressing as many challenges as possible. Today, we're introducing two new AutoML offerings. AutoML Natural Language helps you automatically predict custom text categories specific to domains our customers desire. And with AutoML Translation you can upload translated language pairs to train your own custom translation model.
We've already heard from many of our customers that they're eager to explore how AutoML can help them take advantage of machine learning.
"As one of the world's largest publishers of magazines and newspapers, the Hearst team is always looking for better ways to manage content. At Hearst Newspapers, we're looking forward to using AutoML Natural Language to apply our custom universal taxonomy to our content," says Esfand Pourmand, Senior Vice President, Revenue of Hearst Newspapers. "AutoML Natural Language allows us to create custom models that meet our specific needs, with higher accuracy than other solutions we considered."

"Nikkei Group is a leading media organization with trusted news sources around the world—from The Nikkei, our flagship Japanese-language paper, to our English-language publication Nikkei Asian Review, to the Financial Times. Translating content so that it can be distributed and shared globally is an absolute necessity for us," says Hiroyuki Watanabe, Managing Director, Digital Business, Nikkei. "AutoML Translation has the level of customization we need, and we've been impressed by its accuracy."
"Keller Williams Realty is using AutoML Vision to bring to market the most advanced home search experience for consumers," says Neil Dholakia, Chief Product Officer, Keller Williams. "By training a custom model to recognize common elements of furnishings and architecture, customers can automatically search home listing photos for specific features like 'granite countertops,' or even more general styles like 'modern.'"
You can learn more about AutoML on our website.
Advancing what's possible with AI
Over the last year, we've done a lot to make AI not just more powerful, but more accessible. For example, last year we introduced our Cloud TPUs, custom processors designed from scratch to dramatically accelerate machine learning tasks. Today, we're announcing that our third generation of Cloud TPUs are available in alpha, making support for larger amounts of machine learning computation possible for more businesses.
We've been amazed at what our customers have accomplished with Cloud TPUs. For example, TPUs allowed eBay to reduce the training time of their visual search model by a factor of almost 100—from months to days.
We're also continually thinking about how we can turn the latest AI research into products that make AI easier to use. Today, we launched several important updates to our core machine learning APIs. Cloud Vision API now recognizes handwriting, supports additional file types (PDF and TIFF) and product search, and can identify where an object is located within an image. We're also launching improvements to Cloud Text-to-Speech, such as multilingual access to voices generated by DeepMind WaveNet technology and the ability to optimize for the type of speaker from which your speech is intended to play. And in Cloud Speech-to-Text, we're including the ability to identify what language is spoken as well as different speakers in a conversation, word-level confidence scores, and multi-channel recognition so you can record each participant separately in multi-participant recordings.
Using AI to enhance how we work
We're also in the early stages of an evolution in the way people and machines work together. With intelligent tools that offload repetition and support human strengths like creativity and problem solving, we're demonstrating that AI's greatest potential lies in complementing and enhancing human skills, not replacing them.
One way we aim to do exactly that is by enhancing the contact center experience. When we studied the challenges faced by real contact centers every day, we found that customers often have simple transactional or informational requests. For contact center employees, this can mean repetitive work, increased pressure on caller turnover, and less time to solve complex problems. For the callers themselves, it can mean frustrating menus, longer hold times and a diminished experience overall. This got us thinking about how we could use AI to dramatically improve the experiences of both customers and the contact center representatives that help them.
Our vision began with Dialogflow Enterprise Edition, our comprehensive development suite for building conversational agents. We introduced it last November, and more than 600,000 developers across a range of industries are already putting it to use. We saw that many of Dialogflow's features could dramatically improve efficiency across an enterprise contact center, but it wasn't yet a comprehensive solution. Today, we're announcing new capabilities to complete that picture.
Dialogflow already offers accurate speech recognition through Cloud Speech-to-Text. To this we added new features like Text to Speech capability via DeepMind's WaveNet and the Dialogflow Phone Gateway for telephony integration.
But our true goal is to empower a contact center's human agents, as well as the customers that rely on them. To do this, we built a complete solution with our partners that includes Dialogflow Enterprise Edition, as well as additional capabilities that are particularly useful for contact centers—all with a commitment to using a responsible, human-centered approach to AI. We call it Contact Center AI, and we think it has the potential to elevate every aspect of the customer service experience, from start to finish. Let's talk about how it works.
When a call is placed, the caller is immediately greeted by a Virtual Agent that answers questions and fulfills tasks all on its own. Google has several technologies that help users take action or communicate over the phone, and while Contact Center AI and the recently announced Duplex share some underlying components, they have distinct technology stacks and aims overall.
When a caller's needs surpass the Virtual Agent, it transitions to a human representative. From there, the system shifts to a supporting role whereby Contact Center AI's Agent Assist system supports the conversation and provides the agent with relevant information. Leveraging Dialogflow's Knowledge Connectors, the assistive technology surfaces the most relevant knowledge articles from a company's knowledge base, ensuring contact center agents are proactively presented with the best solutions for customers in near real time.
The result is a flexible solution that adapts to the needs of each and every call, and provides a seamless experience between live and virtual agents, playing as big or as small a role as the situation demands, It's compliant with our data privacy and governance policies, and it does it all without infrastructure, on a platform that scales as much or as little as you need.
Lastly, we're working with several of our Contact Center AI partners—including Appian, Chatbase, Cisco, Five9, Genesys, Mitel, Quantiphi, RingCentral, Twilio, UiPath, Upwire, and Vonage—to engage with us around the responsible use of Cloud AI. This includes best practices such as disclosing when customers are talking to a bot, and education around issues such as unconscious bias and the future of work. We want to make sure we're using technology in ways employees and users will find fair, empowering, and worthy of their trust.
Contact Center AI is the first of many solutions we have in development to enhance how we work. For example, our Talent Solution is built on top of deep learning matching technology to improve enterprise talent acquisition—saving recruiters time by finding the best past applicants for a role, and helping candidates find the right jobs that match their skills and interests. We'll share more on Contact Center AI, Talent Solution, and other AI solutions in the coming weeks. In the meantime, you can read a more detailed wrap-up of the new features in Dialogflow Enterprise Edition as well as our newly-announced Contact Center AI in this post.
Continuing to bring AI to everyone
From hardware like Cloud TPUs to software like AutoML and vertical solutions like Contact Center AI, we're working to advance the state of the art while lowering the barrier to entry — serving customers with a wide spectrum of needs and expertise. And we're doing this with the aim to enhance the human experience at the center of it all.
To learn more about machine learning on Google Cloud, visit our website.