How to be healthy at home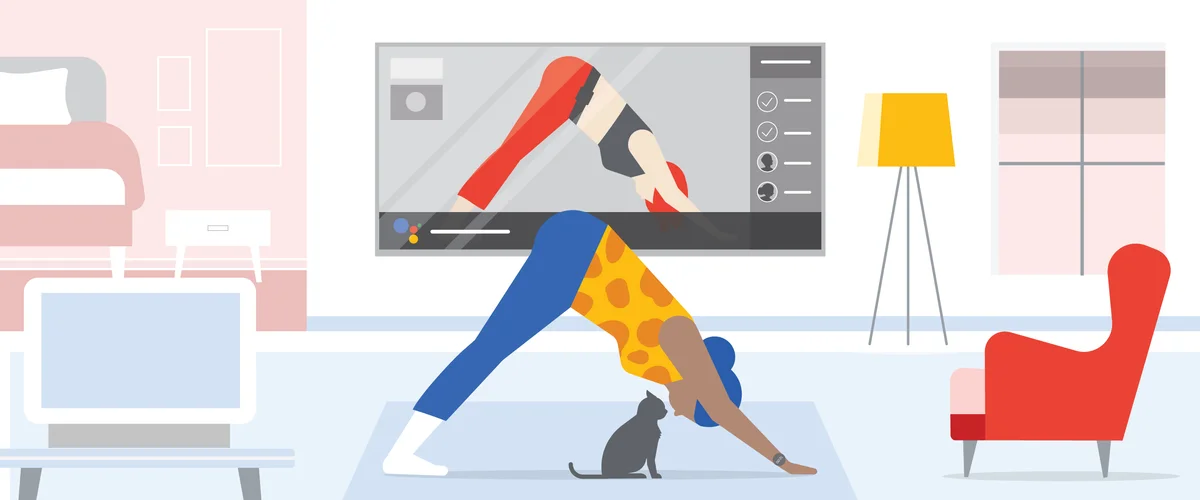 Right now, your home could be an office, a gym, a playground or even your own personal restaurant where all of your friends (virtually) hang out. While we're all trying to figure out how to stay well and adjust to health routines at home, search interest in "exercise" and "handwashing" have reached an all-time high. Since health and wellness are top of mind right now, here are a few resources to help you be well.
Make the most of your time at home
YouTube is encouraging the world to Stay Home #WithMe by featuring videos from creators that help you promote mental and physical wellbeing while you're at home. Check out topics ranging from "Meditate With Me" to "Work Out With Me" and "Dance With Me."
Google Play is featuring special offers on helpful apps while you're at home.
Also on Android TV, Google Play is adding new collections to help you find useful apps for your smart TV quickly.  Starting with the "Stay mindful & fit" collection in the U.S., you can easily find apps like Peloton, which offers workouts that can be done with or without equipment, to help you get moving right in your living room. "Stay mindful and fit" will be rolling out to Google Play on Android TV devices starting this week.
New app categories for Google Play on Android TV surface useful apps for your TV.
You can also kickstart a workout by asking Google Assistant, "Hey Google, show me workout videos" and follow a YouTube tutorial on your Smart Display, like Nest Hub Max, or on your phone.
Performance at a glance
Whether you're in the middle of your at-home workout, yoga session or taking a quick jog around the block, the latest Google Fit update on iOS and Android app bring bold text and bright visuals to the design, making it easier for quick check-ins on your activity goals. You'll also start to see tips from WHO for reducing the risk of catching or spreading infections.
Google Fit redesign makes it easier to check progress towards activity goals.
On Wear OS by Google smartwatches, we've made it easier to keep track of your at-home workouts and see how you're doing throughout the day or week at a glance. The latest design includes visual updates to the Heart Points tile which now shows your progress toward the World Health Organization-recommended amount of physical activity. We've also added a new Workout tile to start tracking your go-to workouts with just one tap.
Wear OS by Google tiles bring quicker access to the best of Google Fit.
Help washing your hands
WHO
 recommends washing your hands for 40 seconds, which might be longer than you're used to. Over the last month, search interest for 
"hand washing songs"
 spiked 850 percent in the U.S. To stick to 40 seconds, simply say, "Hey Google, help me wash my hands" and Google Assistant will play a song on your Smart Display, smart speaker, phone (Android and iOS) or Wear OS by Google smartwatch with speakers. If you want to skip the tunes, Google Assistant can set you up with a 40 second timer, or on Wear OS you can now add a hand-wash timer as a tile or as a shortcut on your watch face.
Get help washing your hands for 40 seconds.
These new features are all currently available, or rolling out in the coming weeks. We're also always adding more apps and content to our collections, so stay on the lookout for more ways to stay healthy.