Tackle your health goals in 2021 with Google Fit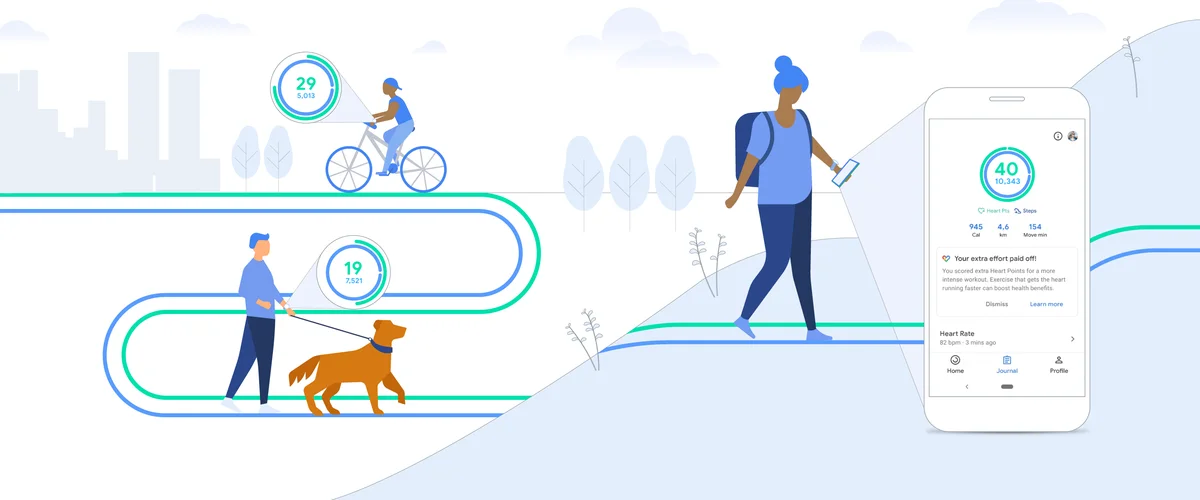 It's the beginning of a new year, and for many of us, it's also time for a renewed approach to our health. Maybe you want to figure out a new fitness routine that doesn't require a gym or finally carve out time for meditation. Whatever your goals are, the most important thing is to get started and stay on course. But it can be hard to stay motivated in our busy lives. That's why Google Fit is designed to address common challenges we all face in reaching our goals. Here are some simple tips for using Google Fit to set yourself up for success. 
Measure what matters 
Steps, miles, calories. Tracking so many different things can be overwhelming. A simpler, proven way is to follow the science. The American Heart Association® and the World Health Organization recommend getting at least 150 minutes of moderate to vigorous physical activity per week to improve your chances of getting better sleep and having more energy, as well as lowering your risk of diabetes and heart disease. That's why we designed Google Fit's primary metric to be Heart Points, one simple way to measure what matters: You get one point for each minute of moderately intense activity, like walking briskly, and double points for more intense activities, like running.
Stay motivated
It's one thing to kick off a new routine, but it's quite another to stick with it. One way to commit to a new healthy habit is to make it social and fun. Sharing your workouts with friends and family helps keep you accountable to your goals, and the new Google Fit social sharing feature makes it easy to share your activity directly from your journal. Have fun with it and include a post-workout selfie or that beautiful snap from your hike.
Make every move count
No gym? No problem. Even brisk walking earns you Heart Points. If you want to be more adventurous or creative, Google Fit tracks more than 100 activities, from table tennis to sledding. You can also connect your
favorite fitness tracking apps
and devices with Google Fit so that you get credit—and gain Heart Points—for all of your activity, and it's tracked in one place.
Invest in rest
If you aren't well-rested, it's hard to do anything else. Adequate sleep is a significant part of maintaining your health. A number of sleep apps and devices connect with Google Fit so you can collect your sleep data in one place. Check your weekly stats at a glance on the homescreen, and look at a deeper view for insight into your sleep patterns over time. 
Adopting meditation and mindfulness practices can help you find balance. Wear OS by Google watches have guided breathing sessions to help you get started.
I hope these tips help you get started and stay on track to reach your health goals in the coming year. If you're new to Google Fit, try the app out on your Android phone or iPhone. Here's to a strong start and a healthy 2021!