Make at-home learning more fun with 3D and AR in Search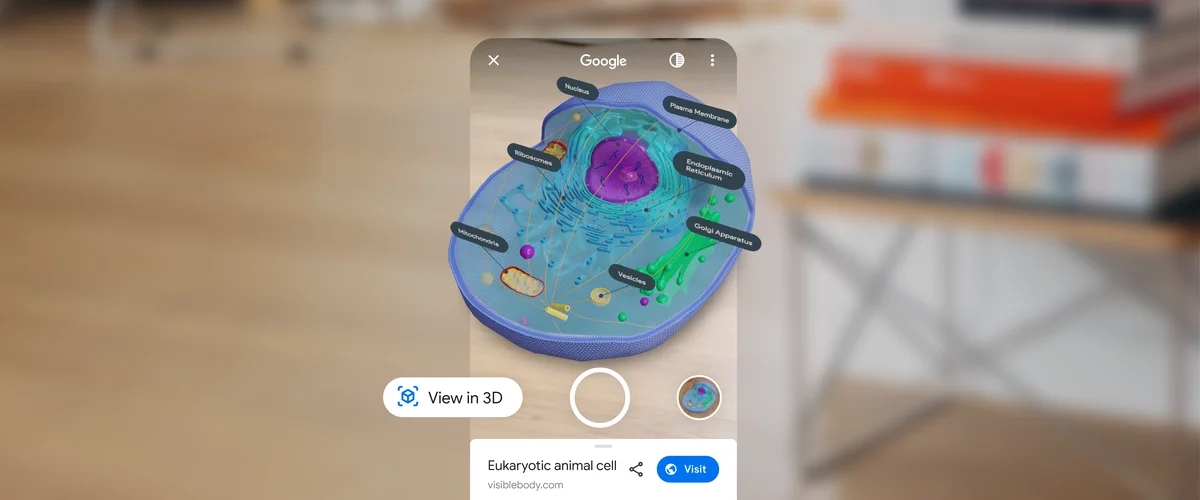 Augmented reality (AR) in Search lets you bring 3D objects and animals into your space so you can turn your living room into a virtual zoo, explore the Apollo 11 spacecraft up close, or take a picture with Santa. I love seeing how much fun families are having with this experience at home. AR in Search can also help you discover and explore new concepts. Here are a few new ways you can use AR (and a little imagination) to learn at home.

Take a virtual trip through the human body
It's one thing to read about the human heart, and another to see one up close to understand how it pumps blood to provide oxygen. We're partnering with
BioDigital
so that you can explore
11 human body systems
 with AR in Search on mobile. Search for
circulatory system
and tap "View in 3D" to see a heart up close or look up
skeletal system
to trace the bones in the human body and see how they connect. Read labels on each body part to learn more about it or view life-size images in AR to better understand its scale.
Get a magnified view of our microscopic world
Seeing is often understanding. But tiny organisms, like cells, are hard to visualize unless you can magnify them to understand what's inside. We've partnered with
Visible Body
to create
AR models of animal, plant and bacteria cells
, including some of their key organelles. Search for
animal cell
and zoom into its nucleus to see how it stores DNA or search for
mitochondria
to learn what's inside it. With AR, you can bring a 3D cell into your space to rotate it, zoom in and view details about its different components.
Turn your home into a museum
Many museums may be closed right now, but with Google Arts & Culture and institutions like the Smithsonian National Air and Space Museum, you can turn your home into one using AR. Search for
Apollo 11
on your phone to see its command module in 3D, look up
Neil Armstrong
to get a life-size view of his spacesuit, or step inside the
Chauvet Cave
to get an up-close look at some of the world's oldest known cave paintings, which are usually closed off to the public.
Easily explore, record and share 
To help you quickly explore related content, we're rolling out a new carousel format on Android, as well as a recording option to share social-worthy AR videos with friends and family.
Explore content with the carousel format on Android
We hope that you enjoy exploring all of these 3D and AR experiences on Google. Tag us on social with #Google3D and let us know how you're using AR to learn and explore new things in your home. We can't wait to hear where your imagination takes you next!