5 Google Home updates to easily manage your smart home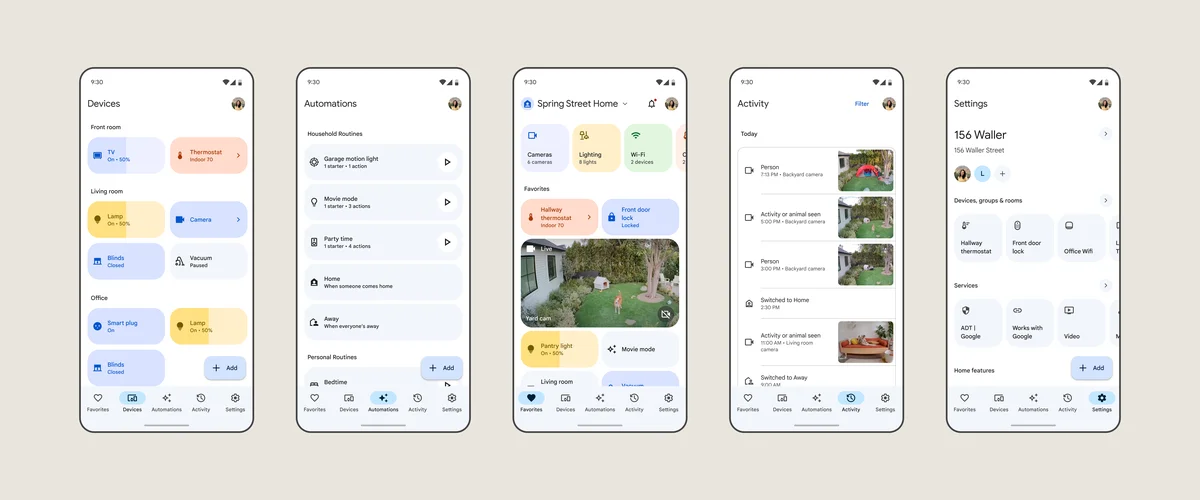 Last year we shared ways we're making it easier to manage and customize your smart home. Now we're unveiling new features coming to Google Home on your phone, tablet and smartwatch to help you keep a closer eye on what's most important to you.
Here are five updates to check out in Google Home.
1. Redesigned app to easily access and control your smart home
The redesigned Google Home app has a five-tab layout that makes it easier to control your connected devices, create home automations and see what's happening in your home.12
It will open right to your Favorites tab, where you can pin your most-used devices, actions and automations and view your Spaces, where devices are automatically grouped into categories like lights, cameras, Wi-Fi and climate. Reorder and edit those Favorites any time to reflect what matters most to you.
The app also includes an Inbox to catch up on important updates such as device issues or subscription reminders. And you can visit the Activity tab to find your device and camera history in chronological order, making it easy to see exactly what and when something happened in and around your home.1
Thanks to feedback from over half a million Public Preview testers, this new and improved version of the app will start rolling out to everyone May 11.
2. Easier ways to view your cameras, including some original Nest cameras
It's easier to access and view your Nest cameras in the new app, too.3 Check out all your feeds in one spot by tapping the Cameras Space, or add them to your Favorites tab to see the live streams as soon as you open the app.
And with new vertical video history scrubbing, you can easily scroll through hours of video history in seconds — with important events labeled and organized by type, such as person, package, vehicle or activity.
We're also rolling out support for our early generation Nest Cameras in the coming months. Starting in July, Public Preview users will be able to start using the Google Home app first with Nest Cam Indoor (1st Gen), followed by Nest Cam Outdoor (1st Gen).
Add your cameras to the Favorites Tab for quick access, and easily review footage with vertical video scrubbing.
3. Support for more Matter-enabled devices
The new Devices tab in the app gives you a clear view and central spot to manage all your smart home devices, including those paired with Matter. We've rolled out new and improved controllers for more than 60 device types that are either Matter-enabled or certified Works with Google Home devices. So you can control all your different smart devices — like your garage door opener, shades, washing machine and lawnmower — from a single place.
We're also expanding Matter support to iOS users. With iOS 16.5, you'll be able to set up and control your Matter devices in the Google Home app on iOS devices.
4. More places to access the Google Home app
Building on our Public Preview features, we're adding more capabilities to the Google Home app for Wear OS. In addition to scrolling through your rooms on your smartwatch, you'll be able to access your Favorites to make even quicker adjustments. You can even receive camera notifications with animated previews so you know, for instance, the minute that package you've been waiting for has arrived. The Google Home app for Wear OS will become generally available starting May 15.
We're also optimizing the Google Home app for tablets, with improvements for landscape and portrait orientations. That includes support for navigating your camera's timeline view and event list in landscape mode. These updates will be available for Pixel Tablet and Android tablet users in June.
The Google Home app has been optimized for tablets for better viewing in both landscape and portrait mode.
5. A new home panel for Pixel devices
We're launching a new home panel on Android devices, which gives you quick, one-tap access to Google Home directly from the lock screen or quick settings. Rolling out first to Pixel phones, including Pixel 7a and Pixel Fold, and the Pixel Tablet next month, you'll be able to do things like turn off your lights, adjust your thermostat or view your cameras without opening the app or even unlocking your device. When the Pixel Tablet is docked and in Hub Mode, anyone in your household can tap the home icon on the screensaver to access the panel and view and control devices.
With the home panel on the new Pixel Tablet, anyone in your household can easily control your devices.