Reimagining the future of Google Home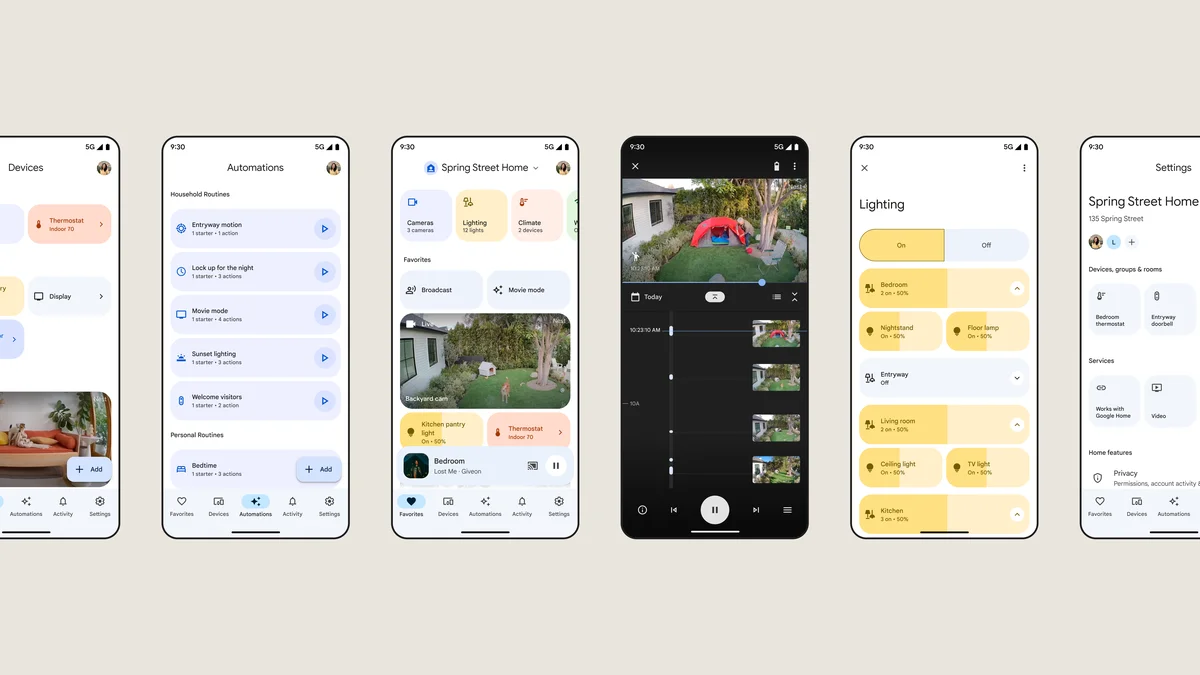 When we built the Google Home app nearly 10 years ago, our average user had fewer than three devices. Now the average US household has 25 connected devices and it's growing fast. While more of our devices are connected to the internet today, we're still far from a truly smart and helpful home. Devices are hard to set up, they don't always perform when you need them to, they don't all work well together and there are multiple apps to navigate.
So we set out to imagine what it would take to make the smart home as simple and reliable as the light switch on your wall. We envisioned a future where your smart home is easy to navigate and reflects the unique needs of your home. Where you could control everything in one place, from any surface, and where all your compatible devices work together to be more helpful.
We believe that Matter, the new smart home connectivity standard, will help to address many of these challenges. And, we think that the Google Home app can be the single best place for you to set up, control and automate your compatible devices. Not just for your Nest devices but all your devices, including every Matter device and the 80,000+ devices that work with Google Home today.
With updates on Matter for Android and Nest devices, and a new and improved Google Home app, we're taking a big step towards that vision. Whether you have a few smart lights or are a smart home enthusiast with dozens of connected devices, the Google Home app will improve your smart home experience. The new app will be available in Public Preview first so you can test out the latest features, share feedback and help us shape the future of Google Home.
Fast Pair with Matter
Setting up a smart light bulb can feel like it requires an engineering degree. With Fast Pair for Matter, this will literally become plug and play. Your Android phone will automatically detect a Matter device and help you securely set it up quickly. Matter setup and app linking will be available by default on billions of Android devices with Google's launch of Matter support later this year. We are even working directly with top device makers to ensure we have support across as many Matter-supported devices as possible. We're also ​​updating our existing Google Nest smart speakers, smart displays and routers to control Matter devices.
Your home, your way
With the rapidly growing number of compatible devices in people's homes, it was clear to us that there was no one size fits all model to organize the home. That's why we're making customization and personalization a core principle for the new Google Home app and why the first thing you see in the app is the Favorites tab.
For me, I care most about making sure our doors are locked and viewing our security cameras, while my wife loves quick access to the thermostat. With favorites, you can your own personalized view of their devices, actions and automations that matter most. And this also includes being able to favorite all of your Nest cameras so you can view your live streams, right when the app opens, no additional taps required.
Spaces make it quick to access devices grouped by important categories like your lights, cameras, thermostats or network devices in one simple view. Next year, we will be adding even more customization options with custom spaces. For example, you can create a space for your cat that groups together all your compatible pet cams, cat feeder, vacuum and air purifier.
And we can't forget to mention the media mini player, that allows you to see what's playing in your home. You can quickly adjust the volume or access the remote when you want to change the channel.
The Favorites tab will be the first thing you see on the new Google Home app

A sneak peak of Custom Spaces, coming next year.
A better, more familiar, camera experience
The Nest app made security cameras accessible and easy to use. We wanted to honor that by combining the best of the Nest app with the best of Google Home app. The result is a completely refreshed Nest camera experience that works for both battery cameras and wired cameras like the new wired Nest Doorbell, that's launching today in the U.S. and Canada. The new Nest camera controller also allows you to quickly find important moments and do a detailed scrub so you can get to the critical 10 seconds in the clip. You can scroll through hours of video history in seconds and thanks to machine learning capabilities on Nest Cams and Doorbells, important events will be labeled and organized by type, such as person, package, vehicle, activity or animal.
Over the last year, we've focused on building the right camera experience in Google Home app for our latest Nest cameras and doorbells and over the next year we are committed to add support for our legacy Nest cameras too.
Nest Camera improvements showing the new view and how to scrub videos
A helpful, more automated home
While smart devices can now do more on their own, the real helpfulness happens when they all work together — regardless of who made the device. When I'm away from home for the day, all my compatible lights automatically turn off, my Nest Thermostat goes into Eco mode, and my smart locks auto lock. When I connect my smart water meter to my Nest speakers, it announces when my plants need some love and water. This is why we're making home automation front and center in the new Home app with the new automation tab. We're also expanding Household Routines to support more of your smart home devices as starters and actions so you can create automations like these, more accessible, more capable and easier to set up.
We also understand that many of our most advanced users want to create even more powerful home automations. Early next year we plan to launch a new script editor, which will offer more than 100 new features and capabilities to fit your unique understanding of your home and what you want it to do.
Expanded Household Routines

A preview of the Script Editor coming in 2023
Home is everywhere you are
There are times where using your phone to control your home isn't convenient, like if you're on a run and want to adjust the temperature in your home or when you want to check in on your Nest cameras from your computer. We want to ensure your home experience is unified and available everywhere you are — from your display, tablet and phone to your TV, watch and laptop. That's why we are bringing the Google Home app to Wear OS and the web.
The new Google Home app for Wear OS, that we gave you a sneak peek of on the upcoming Google Pixel Watch at Google I/O earlier this year, will be rolling out to Wear OS 3 devices over the coming week. You will be able to turn off the lights, adjust your Nest Thermostat, get notifications from your Nest cameras and more — all from your wrist.
In a few weeks we'll also be rolling out a new camera experience on Google Home for the web that lets you view all your Nest camera and doorbell feeds. On home.google.com you'll be able to easily check in on live views in full screen, zoom in to see more details, view camera status, and more all from your web browser.
Google Home app on Wear OS and on Web
Thank you for the feedback
As we build a more helpful home, we want to thank everyone who's given us feedback to help us get there. We are listening and are far from done. We appreciate you being on this journey with us, and we'll continue to focus on getting the experience right. The new app on iOS and Android will be available first to users in our Public Preview program in the next few weeks.