Need a dose of Disney+? Just ask!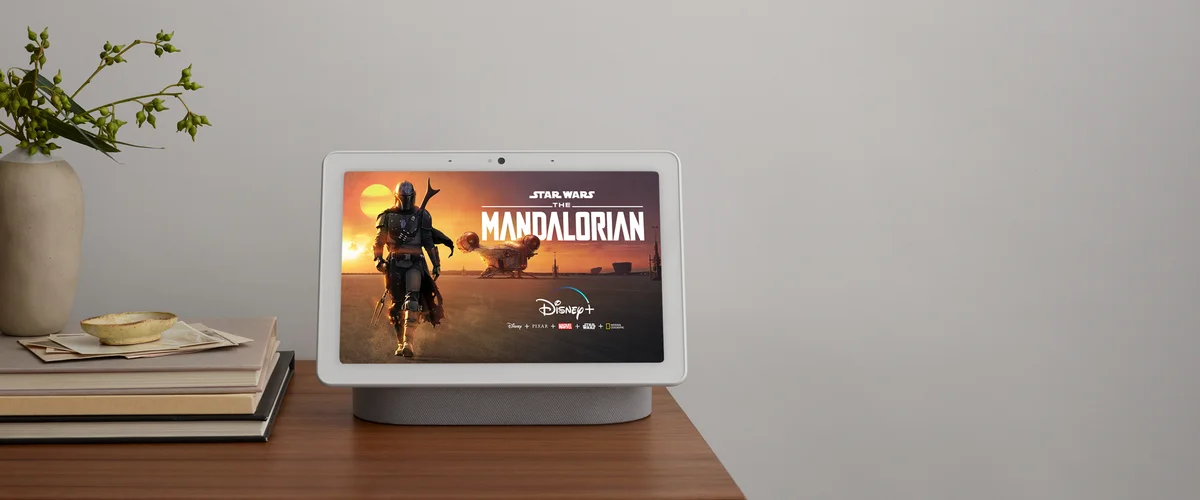 Disney+ is a one-of-a-kind experience that transcends generations. Whether it's a classic like Snow White or the new, live-action series The Mandalorian, Disney+ has something for everyone to love. And starting today, you can navigate Disney+ content on Google Assistant-enabled Smart Displays, like Nest Hub and Nest Hub Max, in select markets around the globe—just by using your voice. 
If you have a Disney+ subscription, simply link your account in the Google Home or Assistant app and you can play movies and shows from Disney, Pixar, Marvel, Star Wars, National Geographic and more. Say, "Hey Google, play 'The Mandalorian' on Disney+" to start streaming instantly. You can also already cast Disney+ from your compatible mobile devices to your Nest Smart Displays and Assistant-enabled devices by opening the streaming service's mobile app and tapping the Cast icon, or stream anytime on your Android TV.
And there are more ways Google is bringing the Disney experience home: 
Dress up your Mini as Mickey 
Our friends at OtterBox created a custom base accessory that lets you give your Google Home and Nest Mini Mickey Mouse makeovers. Just clip your device into the base to showcase Mickey's iconic ears in any room. 
Journey through the world of "Frozen" 
Join some of your "Frozen" favorites—Anna, Elsa, Olaf, and Kristoff—around the campfire as they tell legends exploring the world of "Frozen 2." You can hear these stories on Google Assistant-enabled Android and iOS phones, smart speakers and Smart Displays. To get started, just say, "Hey Google, tell me a 'Frozen' story" and you can pick which character you'd like to narrate.
Whether you're indulging in nostalgia or experiencing a new generation of movies for the first time, Google now makes it easier than ever for everyone to enjoy Disney.