How the Nest Hub Max helps keep families connected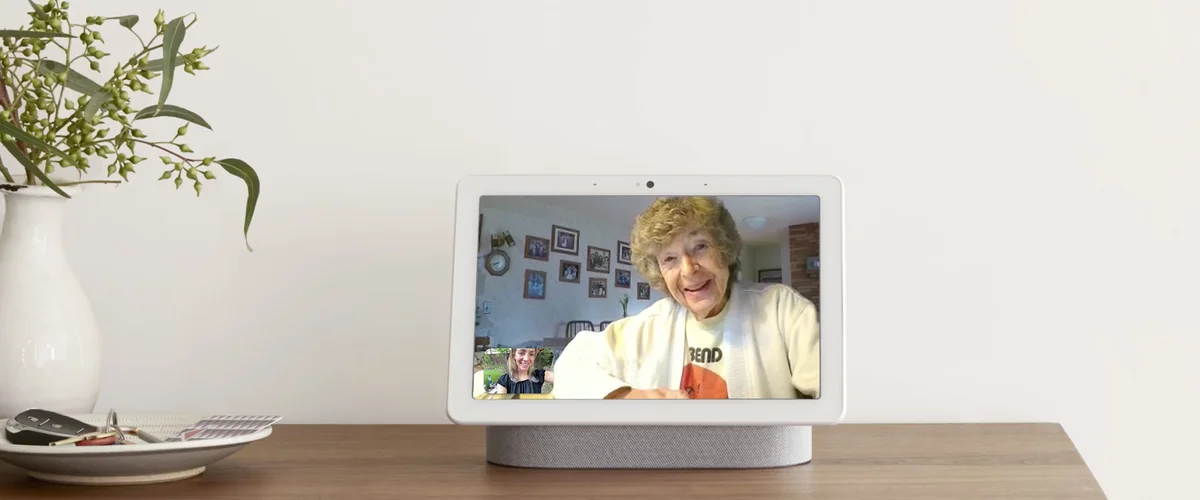 As a kid, I could navigate from my home to my grandparents' house blindfolded—that walk remains muscle memory for me. My grandparents' place was really my second home, nearly as familiar to me as my own. Today, my 92-year-old grandma, Maryjane (yes, that's how it's spelled, but she prefers Marty anyway), still lives in that house. She lives there alone, and although she has my parents and a few of my aunts and uncles nearby, COVID-19 has been extremely isolating for her. 
Despite protests she wouldn't be able to figure out how to use it, I sent my grandma a Nest Hub Max. After getting her an old smartphone simply for setup purposes and helping her create a Google Duo account, I now get to actually see my grandma regularly while we're in quarantine. "Oh, I love it," she told me recently when I asked her how it was working out. It's easier than clicking on a link to start a video chat on her laptop, and she likes that the Nest Hub Max stays in one place and that she can answer video calls with a simple tap. She's even learned to ask Google Assistant to play Frank Sinatra, who's always been one of her and my grandpa's favorites. 
It's important for seniors' mental and emotional health to stay connected, and social isolation during this quarantine makes doing that especially hard. As I learned with my grandma, Nest Hub Max and Duo video calling can help keep us "together" while we're apart. My family isn't the only one that's unable to be around our grandmother; seniors everywhere haven't been able to have visitors or join others for social activities in recent months. To help make things a little easier, Google is giving nearly 1,000 Nest Hub Max devices to residents in seven Merrill Gardens retirement communities in Washington State —giving them a way to connect with family and friends. 
Bob Marum, one of the residents of Merrill Gardens, says he's missed getting together with family and friends. "Talking on the phone is nice, but it's nothing compared to chatting over coffee or a glass of wine." He says the Nest Hub Max sounds like it will be "a tremendous addition. It would improve the liveliness of our life."
In addition to providing Nest Hub Maxes, the Nest and Google Assistant teams wanted to make setup even easier for less tech-savvy users. The teams created a new experience that we're kicking off with Merrill Gardens residents, where they will have access to a pre-loaded shortlist of contacts, making video calls even easier. There are new "What can you do?" cards, too, that act like shortcuts for showing weather reports, setting alarms or playing relaxing sounds. 
And all of this was done in a way that preserves privacy for the residents, as the devices are managed on Nest's fleet management system and run in a "signed out" mode, meaning no audio is stored and all activity is anonymous. 
For my grandma, I think video calls are going to remain her favorite part of the Nest Hub Max. All she has to do is say, "Hey Google, call my favorite granddaughter on Duo" and just like that, I'll be there. (I'm sure that's how she has me listed in her contacts, right grandma?😉)