How the Nest Wifi team set up their home networks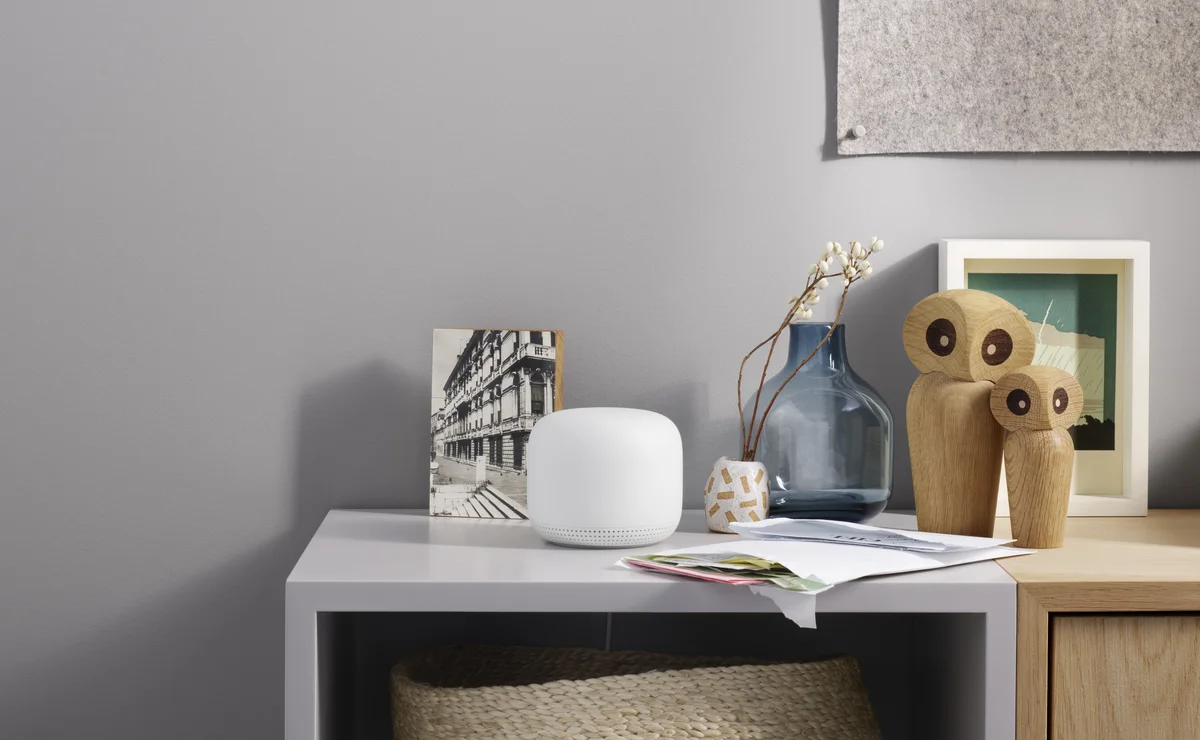 The building I live in was built in 1912—and 100 years ago, nobody was thinking about Wi-Fi signals when building homes. So I've had to improvise. My fiancé and I have a Nest Wifi router set up in our living room, at the far end of our one-bedroom apartment. But even though our apartment is only 850 square feet, we've found having a Nest Wifi point gives us the signal boost we need, even down three stories to the building's garage and backyard. We placed our Nest Wifi point in the kitchen, and since the device doubles as a smart speaker with the Google Assistant, I can listen to music and my favorite podcasts while I'm cooking dinner or doing the dishes. 
Every home is unique, and that's why we designed the Nest Wifi system to be completely modular. While most homes up to 3,800 square feet will be covered by a Nest Wifi router and point, you can also get a three-pack consisting of a Nest Wifi router and two points for homes up to 5,400 square feet. You can even purchase a standalone Nest Wifi router for a smaller home, or a standalone Nest Wifi point to add to an existing network. Plus, Nest Wifi is backward compatible with Google Wifi, so you can easily upgrade your network. 
Nest Wifi is on shelves today at the
Google Store
,
Amazon
,
Target
,
Best Buy
and more retailers. Here's how a few people behind Nest Wifi have used it to make the most of their home's connectivity.
Pushkar Sharma, product manager
I live in a 1300-square-foot house with a large backyard. I have a Nest Wifi router in my garage, because that's where our cable drops in. But one of the bedrooms behind the kitchen often drops to low speeds. I have now added a Wifi point in my daughter's bedroom, and it extends our signal to all rooms and even the backyard. So now I can make Google Duo video calls on my phone to my parents while I sit outside. As a family, we love asking the Google Assistant on our Wifi point to answer questions or play Bollywood songs.

Shea Ritchie, product marketing manager
We live in a long, old, San Francisco apartment, with high ceilings and thick walls, and the cable box is in the living room, on one end of the apartment. Our Nest Wifi router sits in there next to the TV–we cut the cord last year, so good Wi-Fi is critical for watching our favorite shows and sports without constant buffering. My boyfriend works from home, so halfway down the hall in his office we have his work's access point plugged into the Google Wifi point we've been using for the last few years. Without the Google Wifi point in the office, his work network wouldn't be strong enough for him to actually get online. At the other end of the apartment, I keep the Nest Wifi point in Mist next to my bed so I can listen to guided meditation at night and the news every morning. We use the Google Home app to manage our network, share the guest network password and troubleshoot from anywhere. 
Melissa Dominguez, engineering manager
We live in a two-story house with a large backyard. We have the Nest Wifi router in the office, which is downstairs at the front of the house, and a Nest Wifi point in the main bedroom, which is upstairs at the back of the house. This gives us great coverage for the whole house and yard, access to the Assistant from the adjoining bathroom so I can ask about the weather while I get ready. Plus, I can enforce bedtime with Wi-Fi pause schedules and remind the kids to get out the door on time with a scheduled broadcast reminder. This helps the kids build good habits without constant nagging from their parents. 
Sanjay Noronha, product manager
We have a U-shaped house with stucco exterior walls—a big no-no for Wi-Fi signal. The Nest Wifi router is at the end of one of the legs of the "U." We put a Nest Wifi point in the kitchen, which is at the opposite side. We spend most of our time in the kitchen, where having a Wifi point in plain view allows for a fast and robust signal where we need it the most. Even our garage door opener is Wi-Fi connected, so we can verify we didn't forget to close it after we've left home. I've got Safesearch turned on for everyone so we don't stumble upon explicit content, and we have Wi-Fi schedules set up for the kids.