New from Google Nest: The latest Cams and Doorbells are here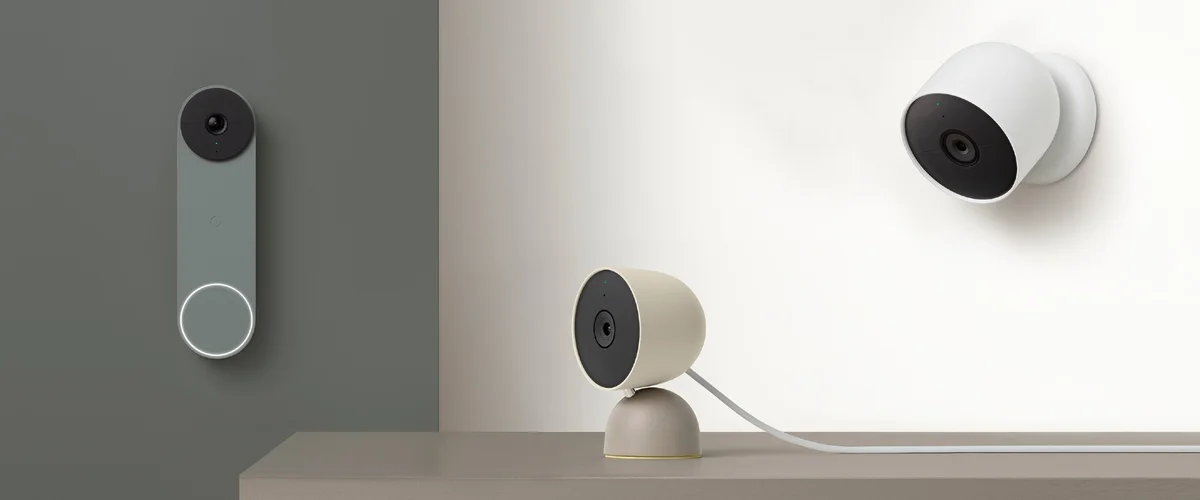 Google Nest's mission is to create a home that takes care of the people inside it and the world around it. All of this starts with helping you understand what's happening within the walls of your home and outside of it. 
One of Nest's first goals was to simplify home security, and we did this with our first line of cameras. So when we started dreaming up what our next generation of cameras and doorbells would be like, we wanted to incorporate the way the connected home — and your expectations — were heading. That included smarter alerts, wire-free options for installation flexibility, greater value and beautiful designs, plus enhanced privacy and security. We wanted our new line to give you the most comprehensive set of intelligent alerts right out of the box, and easily work with your other Nest products, like displays.
Today we're introducing our next-generation Nest Cams and Doorbell: Google Nest Cam (battery) is our first outdoor/indoor battery-powered camera ($179.99); Google Nest Doorbell (battery) is our first battery-powered doorbell ($179.99). Then there's Google Nest Cam with floodlight, our first connected floodlight camera ($279.99) and finally the second-generation Google Nest Cam (wired), a wired indoor camera and our most affordable Nest Cam ever ($99.99).
The new battery-powered Nest Cam and Nest Doorbell are available for preorder today and will go on sale on Aug. 24. Nest Cam with floodlight and the new wired indoor Nest Cam are coming soon.
Nest Cam (battery), $179.99

Nest Doorbell (battery), $179.99

Nest Cam with floodlight ($279.99)

Nest Cam (wired, indoor), $99.99
Security with smarts
Because we're all overloaded with notifications every day, our next-generation cameras and doorbell are made to send you the most helpful alerts. They detect important events that happen in and around the home, including alerts for people, animals and vehicles — and in Nest Doorbell's case, also packages. Our new cameras and doorbell can do this because they process what they see on-device, which means more relevant notifications and added privacy and security. On-device processing means that all of this works right out of the box, no subscription required. 
More versatility for your home
Nest's new camera and doorbell line are truly made for every home. Battery technology allows you to install Nest Cam and Nest Doorbell nearly anywhere in your home — not just where there's a power outlet or existing doorbell wires. The wire-free design makes installation even easier, too. And for those who prefer the option to wire their devices, we've  added the ability to wire the battery-powered Nest Cam and Nest Doorbell. The Google Store is stocked with accessories for Nest Cam and Nest Doorbell so it's easy to install them where you want.
Nest devices that work together
Customers have told us how much they appreciate that their Nest products all work well together. These new devices are no different. With the new Nest Cams and a display, you can keep an eye on the backyard from your kitchen and get alerts when the doorbell rings. Our new cameras are also fully integrated with the Google Home app, giving you access to all your compatible home devices in one place. With a Nest Aware subscription, you can unlock even more: Extend your event video history from three hours to 30 or 60 days, gain advanced features like familiar face detection (not available in Illinois) and get continuous 24/7 video history on wired Nest Cams with Nest Aware Plus. 
Reliability when you need it
In case of a power or Wi-Fi outage, Nest Doorbell,  both Nest Cam (battery) and Nest Cam with floodlight have local storage fallback, meaning they'll record up to one hour of events on-device (about a week's worth of events). Nest Cam (wired) also records on-device if your Wi-Fi is down. When service returns, the devices will upload your events to the cloud, so you can review what happened.
Made with care 
We believe that technology for the home should be welcoming, and complement your decor rather than distract from it. When designing our new products, we drew design inspiration from lighting and architecture to create products that look great together and in lots of different settings. In the U.S., the new indoor wired Nest Cam and battery-powered Nest Doorbell come in several colors inspired by nature, and all of the new devices are designed sustainably with recycled materials.
Learn more about the new battery-powered Nest Doorbell and Nest Cam, available for preorder today and on sale Aug. 24.